Our team has been working on this for the last six months, and we can't wait to let you have a go at it!
Last year, we launched our new Audience Web App and Panels. With the upcoming release of our new Dashboard, it marks the culmination of our efforts to modernise our platform and improve every aspect of your Pigeonhole Live experience.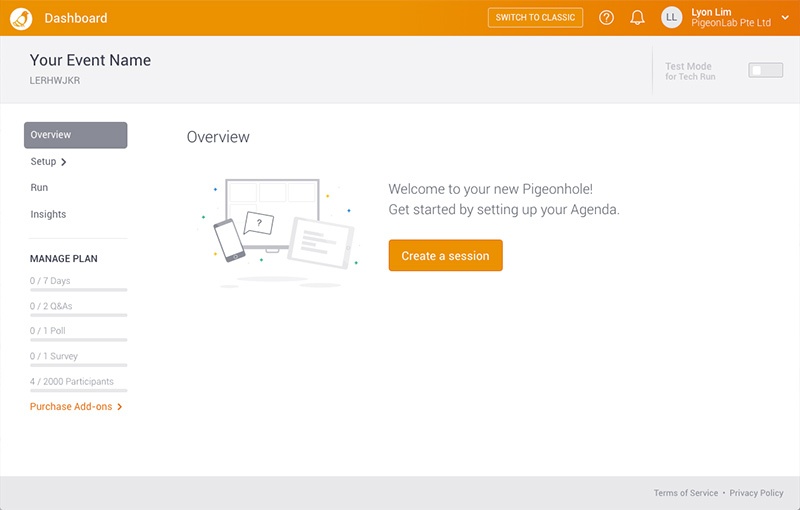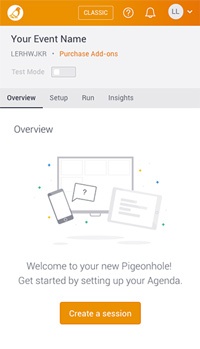 For our existing users, you'll feel right at home in the new Dashboard. The functions, pages and the information you've come to expect from the Dashboard are still there. What the new Dashboard introduces however, is a modern, streamlined interface, designed to help you move around and setup your Pigeonholes faster. You'll find the interface to be cleaner as well, as we use subtle design cues to bring to focus the important details on each page.
The new Dashboard is also fully compatible on smartphone devices, so you can manage your Pigeonholes on the go.
Behind the scenes, our team also worked to vastly improve the performance of the Dashboard.
Summary of key changes:
New Dashboard interface
Preview Mode renamed as Test Mode
Fully mobile optimised!
New Knowledge Base with articles covering the new Dashboard.
---
When will this new Dashboard be available? What about the current Dashboard?
Launching this May, there will be a one and a half month transition period where the new Dashboard will exist alongside the current Dashboard. Users can safely switch between either Dashboards during this time. On 1st July, the new Dashboard will replace the current Dashboard.
Beginning mid-May— all Dashboard users will be able to try this new Dashboard. When you sign in to your Dashboard, you'll receive a prompt to try the new Dashboard. The current Dashboard will also now be known as the classic Dashboard.
From mid-May till 30th June— you'll be able to safely switch back and forth between the new, and the classic Dashboards. Both Dashboards are fully compatible with one another.
From 1st July— the classic Dashboard will no longer be available. All Dashboard users must use the new Dashboard. You'll not lose any setup or event data.
When should I start using the new Dashboard?
Short answer: right away. However, depending on your event date, you may choose accordingly. For example, if you have an upcoming event (before 1st July) and have been using the classic Dashboard, we recommend you to continue using the classic Dashboard. If you are planning for an event that's after 1st July, you should definitely start using the new Dashboard.
Will I lose any past or present event data/setup?
No. You'll absolutely not lose any data. Both Dashboards are fully compatible with one another. When setting up your Pigeonhole, you can for example, add a Q&A on the classic Dashboard, then switch over to the new Dashboard to edit it too.
Although we've tested this thoroughly internally, as it's newly launched, there may still be some teething issues in the beginning. Please bear with us, and report any issues you encounter.
---
If you have any further questions, please email me, your account reps, or contact us via support request from your Dashboard.
Share this post