It's been six months in the works, and I know our whole team is eager to put it in the hands of our users. We previewed this in an earlier post. I'm happy to say that the wait is finally over and our new Dashboard is now live!
When you sign in to your Dashboard, you'll see a prompt inviting you to use the new Dashboard. If you don't see that, click on the "NEW!" button at the top.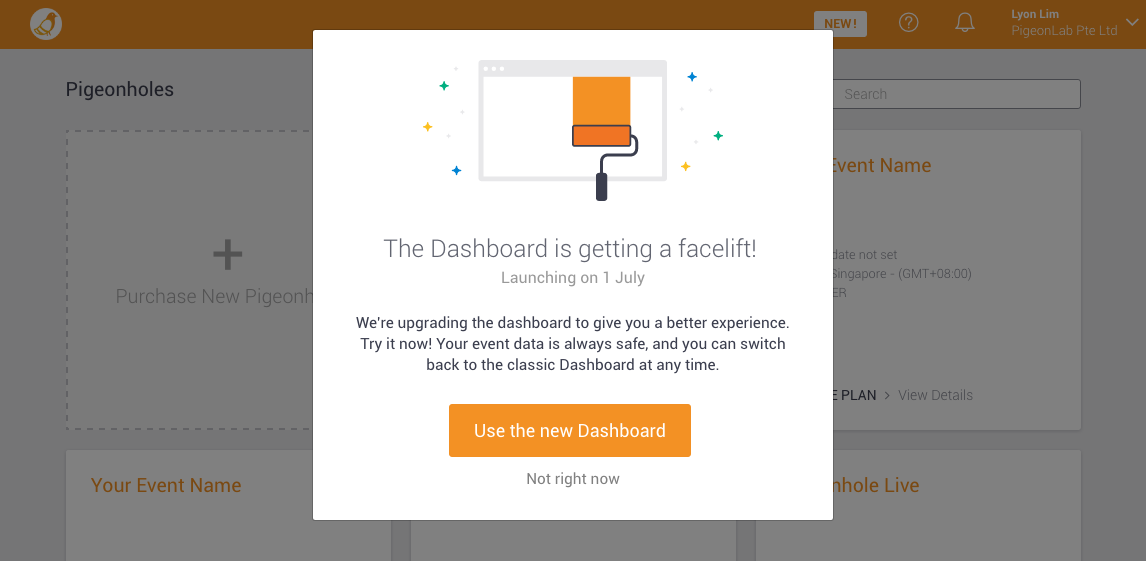 Go ahead, try it out. You can switch back to the current (classic) Dashboard anytime. We made both Dashboards fully compatible and at no time will your data or setup be at risk.
Important: 1 July 2016
Take note of this date. That's when classic Dashboard will no longer be available. If you're preparing for an event on or later than 1 July, please transition to use the new Dashboard as early as possible.
New Knowledge Base
As part of our new Dashboard, we also revamped our entire Help Centre, with a new Knowledge Base. You can now see articles relevant to the new Dashboard at https://pigeonholelive.zendesk.com
Preview Mode is now Test Mode
We renamed Preview Mode to Test Mode to make it easier for our users to understand what it's for. The feature works the same way as before, nothing has changed apart from the name. Continue using Test Mode for your Tech runs and testing of your Pigeonhole setups.
Share this post