What's New
$0 Basic Plan
New, lower priced Manage, Engage and Captivate Plans
Unlimited Polls and Surveys in paid plans
All plans come with:

Private and encrypted data
Fully featured Agenda with Speaker Profiles
Support up to 1,000 participants

Logo Branding
New Enterprise Plan with team collaboration
See the new pricing plans on our website
---
Over the years, we've seen how Pigeonhole Live has transformed conversations at global events and staff town halls. It is heartening to see that enterprises are driven to improve their teams with open and transparent communication. We also know that many are hampered by the lack of a platform that provides data privacy and is affordable.
Inspired by our customer's drive to have more open and meaningful conversations, we are now offering a free Basic Plan. Our new Basic Plan provides a robust Q&A environment for 1000 participants at an event, while keeping all data private and encrypted.
$0 Basic Plan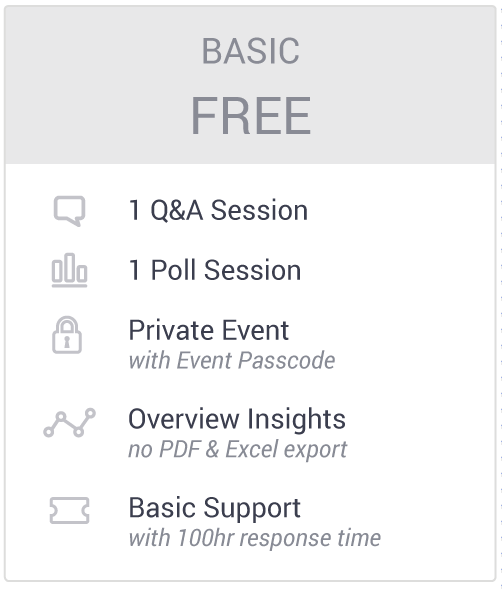 With all data kept private and encrypted on our Basic Plan, internal meetings like staff town halls and all-hands can use Pigeonhole Live for interactive Q&A with staff and be assured that any potentially sensitive company data remains private and belongs to the customer.
Basic Plan is ideal for your event if you:
Require all data to be private and encrypted
Need a simple interactive Q&A tool that supports up to 1,000 participants
Require a full featured Agenda with Speaker Profiles
Require just an overview of the engagement level but not the actual user response data. If the need arises to have full data reports, you have the option to enable this by purchasing the Engagement Insights $188 anytime, even after your event.
When do I need a paid plan?
If your event requires any of the following:
Support for more than 1000 participants
More than 1 Q&A and/or Poll
Filtering in Q&A and Open-Text Polls
Survey
Logo or Custom Branding
Lower Priced Plans + Unlimited Polls and Surveys in all Paid plans
(For differentiation, the previous Pricing Plans are referred to as "Classic Pricing Plans" and the newly released Pricing Plans as the "new Pricing Plans")
We noticed that not everyone uses all the Q&A sessions in our classic Manage and Engage Plans. Yet, they often purchase additional Polls and Surveys. We also learnt that events with the highest engagement levels are often those that use all three interactive features on Pigeonhole Live (Q&A, Poll and Survey) to actively engage their audiences.
In light of this, we have simplified the decision process for choosing a Manage, Engage or Captivate Plan for your event:
New Manage and Engage Plans come with 1 Q&A. Filtering is enabled only for Engage Plan.
You can purchase additional Q&As at USD 98 each.
New Captivate Plan now comes with unlimited Q&As.
Unlimited Polls and Surveys in all new Manage, Engage and Captivate Plans.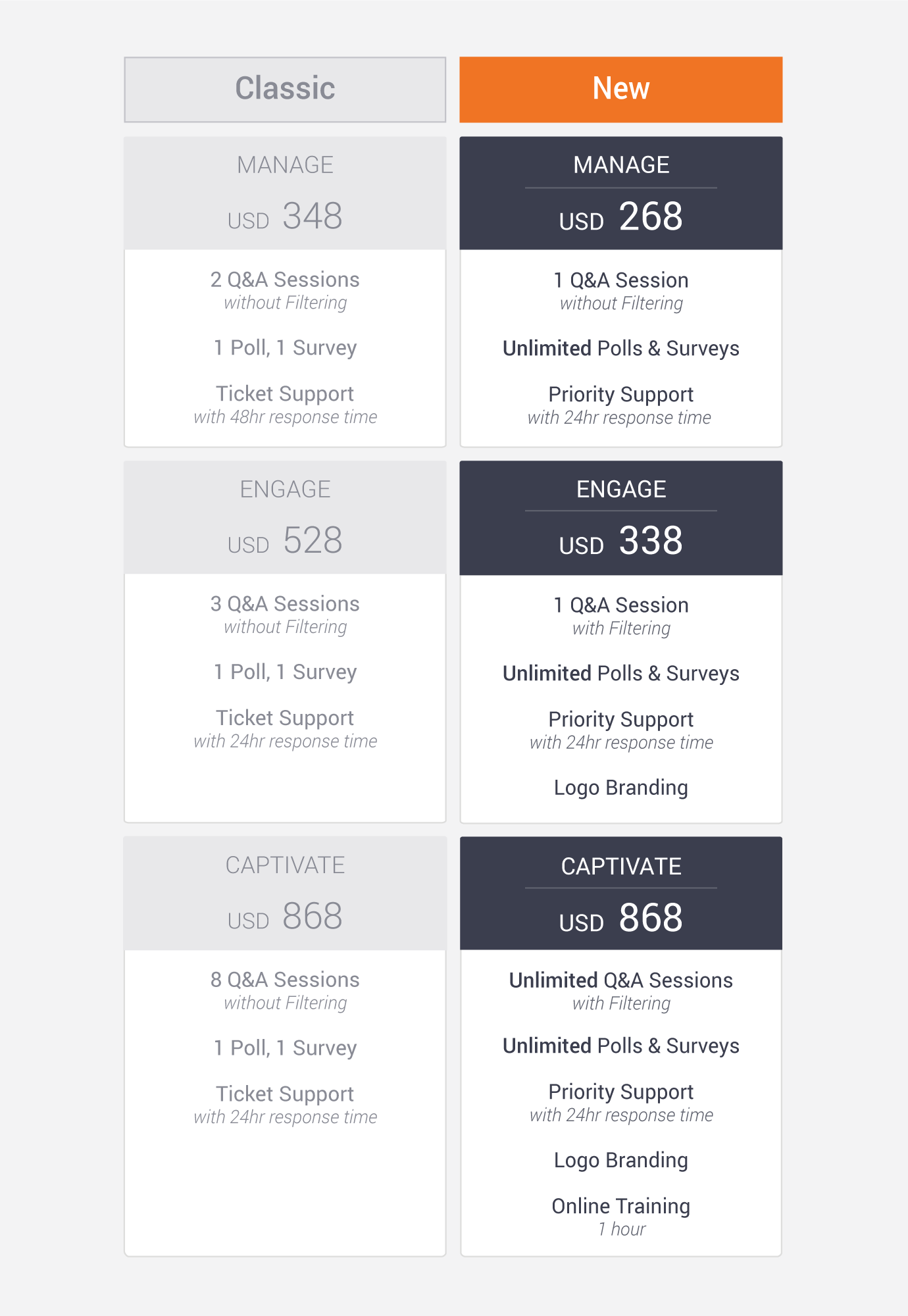 We also updated your Dashboard to provide smart recommendations, so if your order for new Engage Plan + additional Q&As exceeds the price of a new Captivate Plan, we will recommend the Captivate Plan instead.
Logo Branding
We understand the value of connecting your brand with attendees at events such as customer engagement events and well-established industry conferences. If done right, incorporating your branding on Pigeonhole Live can improve your brand perception and brand recall among your audiences by being synonymous with digital, innovation, interactivity and of course, engagement.
In addition to our existing Custom Branding, we are now introducing Logo Branding in the new Engage Plan and Captivate Plans!
With Logo Branding, you can easily place your event logo or corporate logo on the Projector Panel through the Dashboard! Find out more.
Of course, if you are looking for a more extensive brand presence across all Pigeonhole interfaces, our Basic and Pro Custom Branding would be a better fit. In any case, let us know and we will be in touch.
New Enterprise Plan
Enterprise Plan is an annual subscription plan designed for teams looking to implement Pigeonhole Live regularly and collaboratively at events.
If you're new to Pigeonhole Live, we recommend that you start with a single event first. From there, if there's impetus within your team to implement Pigeonhole Live more regularly throughout the year, contact us to discuss how we can get your team on board the Enterprise Plan.
Two things that will never change
All data on Pigeonhole Live remains private and encrypted, including Basic Plan
Our singular focus on simplicity, from choosing the right plan for your event, to implementing Pigeonhole Live at your event. This is for a single objective to driving meaningful, insightful and engaging conversations at events.
---
What this means to our existing customers
(For differentiation, the previous Pricing Plans are referred to as "Classic Pricing/Pigeonhole Plans" and the newly released Pricing Plans as the "new Pricing/Pigeonhole Plans")
I purchased a classic Pigeonhole Plan for an event that is happening after 5th April 2017. Will I be entitled to the new features in the new Pricing Plans?
Yes! All classic Pigeonhole Plans will be upgraded to support unlimited Polls and Surveys. Classic Engage and Captivate Plans will be upgraded to support Logo Branding.
An account representative will reach out to you personally to communicate the update of your Plans. If you haven't heard from us, email me or send in a support request and we'll be in touch.
I purchased a classic Manage Plan for an event that is happening after 5th April, may I downgrade to the new Basic Plan?
Sorry, we do not provide refunds, but you can enjoy the new perks of unlimited Polls and Surveys!
Logo Branding is sufficient to meet my event's branding requirements, can I cancel the Basic Custom Branding that I've already purchased?
It depends. If our team has already started work on the Basic Custom Branding, we will not provide any refunds.
Share this post