Even though we launched our core live Q&A feature almost 7 years ago, we're still constantly working to improve on it. This month, we have a big update that improves the live Q&A experience for attendees in an active Q&A session with lots of questions.
This is timely because we're seeing Q&A sessions with several hundred questions, and thousands of votes being cast on a regular basis now. That's great news as it means organisers are hearing more from their audience. However, for the people in the audience, it can sometimes be challenging to keep up with all the new questions.
Introducing, New Question Discovery
Our goal is to help attendees get up to speed with new incoming questions. If a new question also interests them, we want to make it easy for them to vote up the question. This allows popular questions that are submitted later to rise to the top faster.
Check out how it works below, for attendees who are already in an ongoing Q&A session, and when attendees return to the Q&A session. This works for open-text poll sessions as well!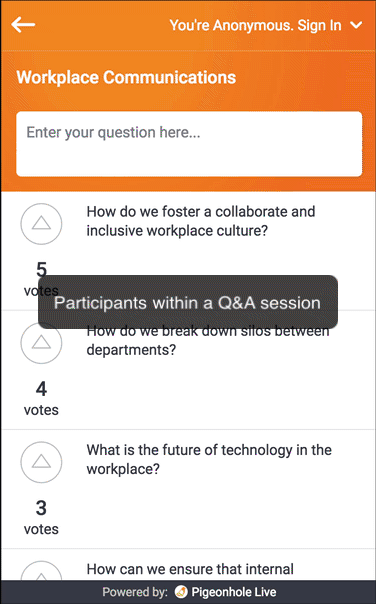 If you haven't tried Pigeonhole Live Q&A, give it a go! Start free with our Basic Plan, and upgrade to higher paid plans with more features.
There isn't a better live Q&A platform than Pigeonhole Live!
Share this post