Company Culture
10 Ways to Use Pigeonhole Live this Festive Season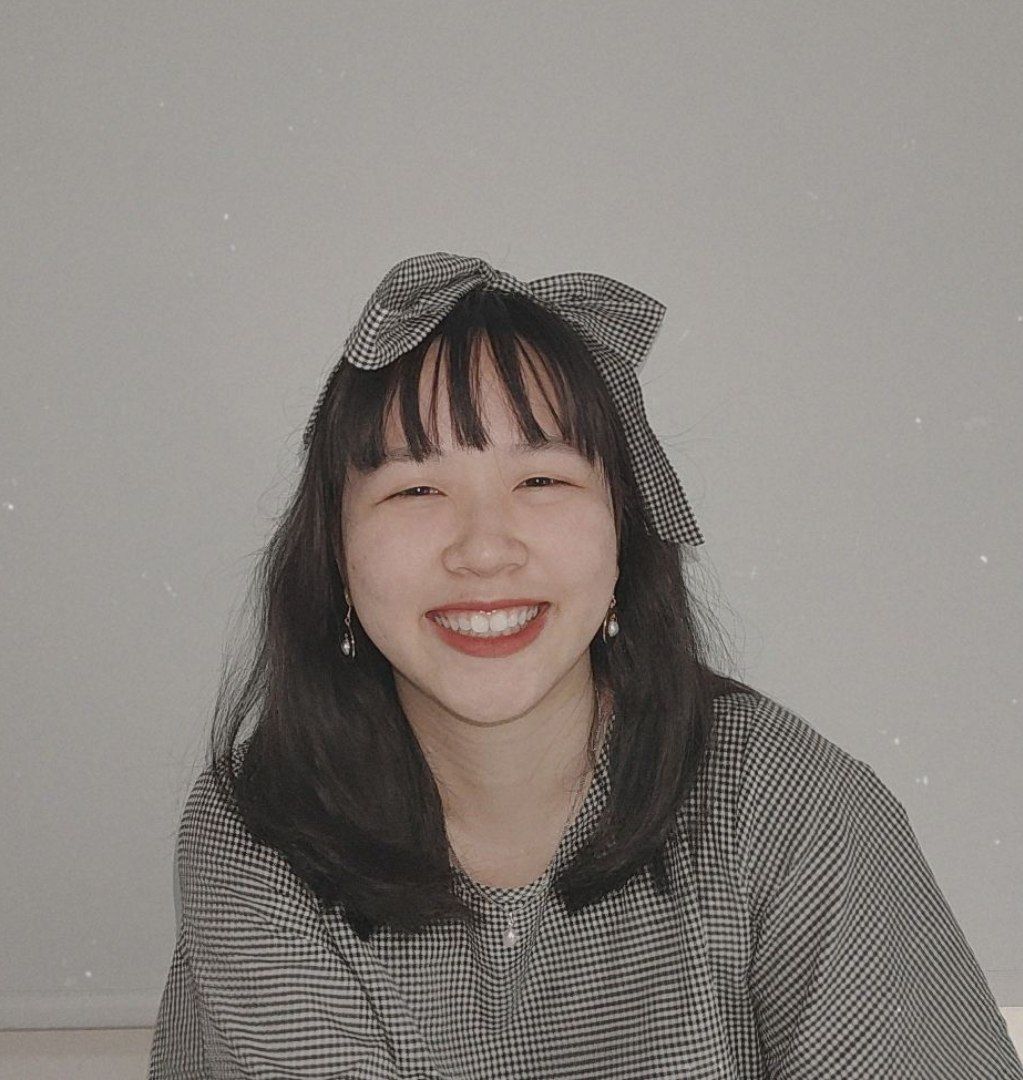 Xendy Ong
December 8, 2020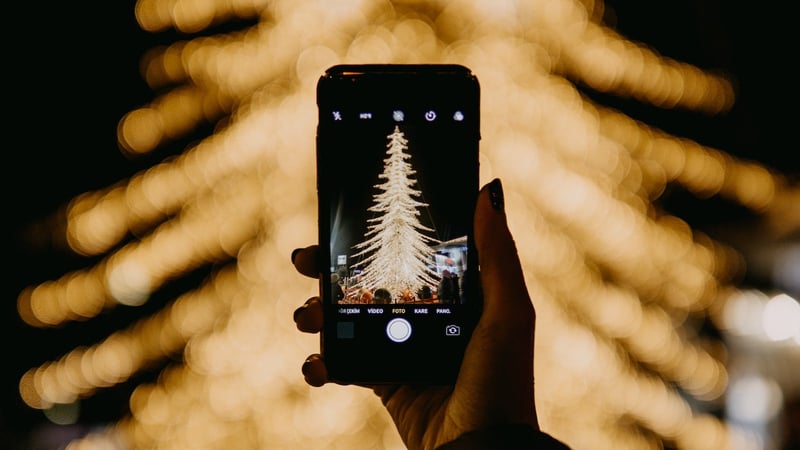 The holiday season usually means decorations around the office and company parties with lots of food, alcohol, and Secret Santas. But with quarantine, restricted gatherings, and remote working arrangements, this holiday season isn't shaping up the way most would hope.
But the holidays this year don't have to disappoint. With Pigeonhole Live, you can make planning for the holidays a team effort and celebrate in a way that really resonates with your team. Here are some ways that you can use Pigeonhole Live when you're stuck celebrating the holidays remotely.
Getting into the spirit
1. Collaborative holiday playlist
If there is anything the holidays cannot do without, that is festive music. Holiday music is a staple in any sort of festive celebration as it rings in the most wonderful time of the year. In fact, 7 out of 10 listeners said that music is one of the most essential elements of the holidays, outranking food, gifts, and even decorations in a survey done by Pandora.
Using Pigeonhole Live's Q&A feature, employees can request for their favourite holiday songs to be added to the company holiday playlist.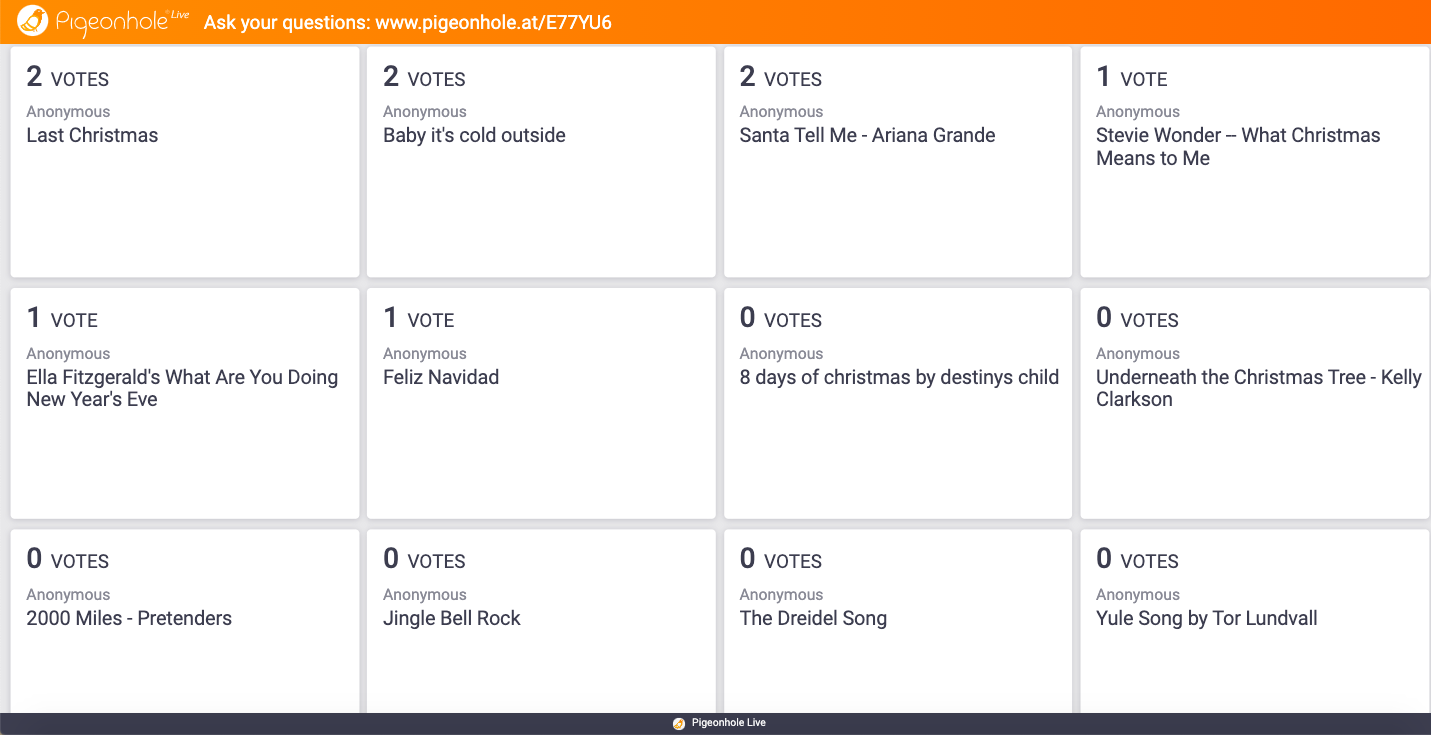 As its name implies, the collaborative holiday playlist gives everyone a chance to contribute. This makes the party-planning feel like more of a group effort and helps to reiterate that everyone plays a part in defining your team culture, all the way down to the holiday season.
2. A holiday calendar
The holiday season can be a busy time for everybody, so little surprises, even those out of good will, may not be so welcome. Be it for a surprise food delivery, or a game of holiday trivia, you can inform your employees of when you require their time by building a holiday calendar with Pigeonhole Live's agenda feature.
This feature can help your employees plan their schedules better, and your respect for their time is sure to be appreciated. Employees setting aside predetermined lots of time will also boost the attendance for your holiday activities.
Defining the holidays for your team
3. Voting on holiday activities
Anyone who has celebrated holidays in the workplace will know that oftentimes, activities that sound exciting do not turn out as expected. For example, Secret Santa can be an extremely divisive holiday tradition.
With Pigeonhole Live's survey option, your employees can vote for the activities they genuinely enjoy. This way, you can get a better idea of which activities to skip over, and which actually help to boost morale within the team.
You can have them vote on whether or not they'd like to have activities like:
White Elephant
Giving everyone an office stocking
Bring the kids to work
Potluck
Happy Hour
It can also help you understand the rationale behind why your employees may or may not enjoy certain activities, when you provide open-text questions for more descriptive responses. This will in turn help you plan future events better.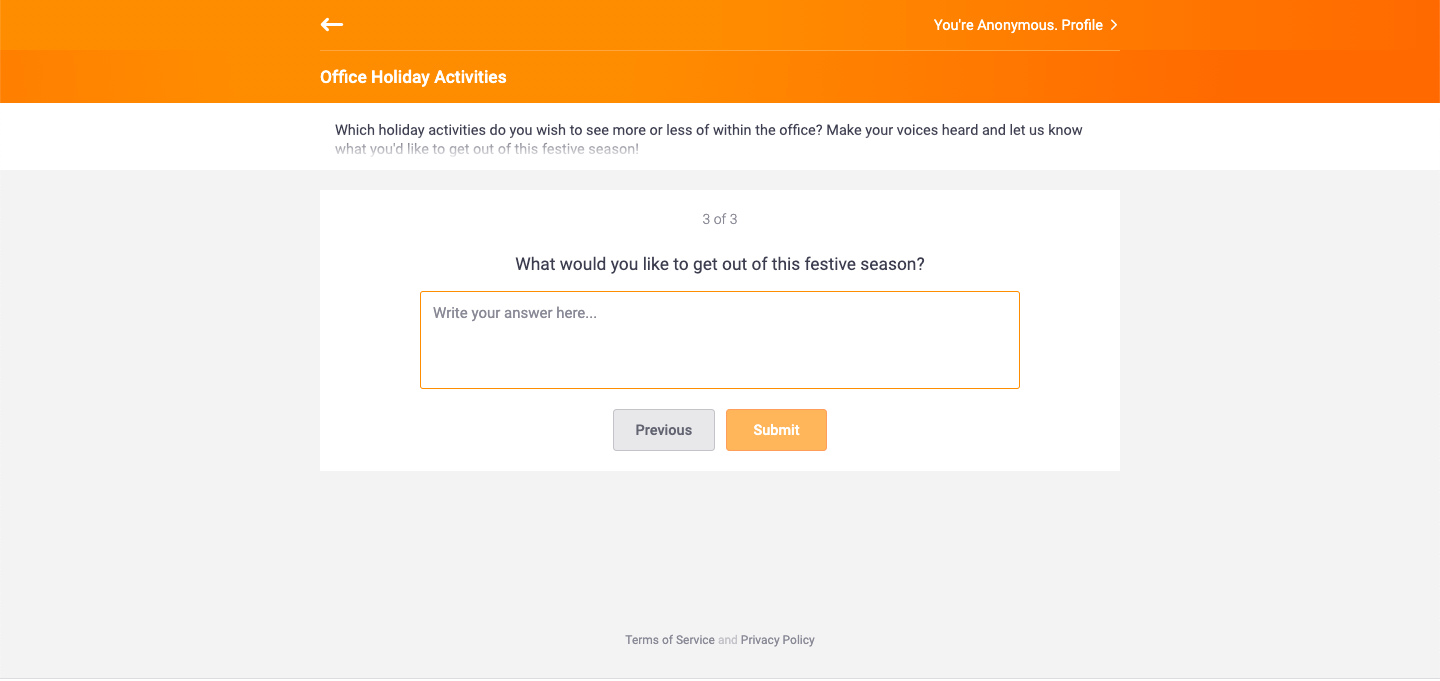 4. Team Word Cloud
With our WordCloud option, you can ask a question and let your employees respond in short form answers.
Examples of such prompts include:
What are your holiday guilty pleasures?
What's your favourite holiday movie?
What's your ideal gift this year?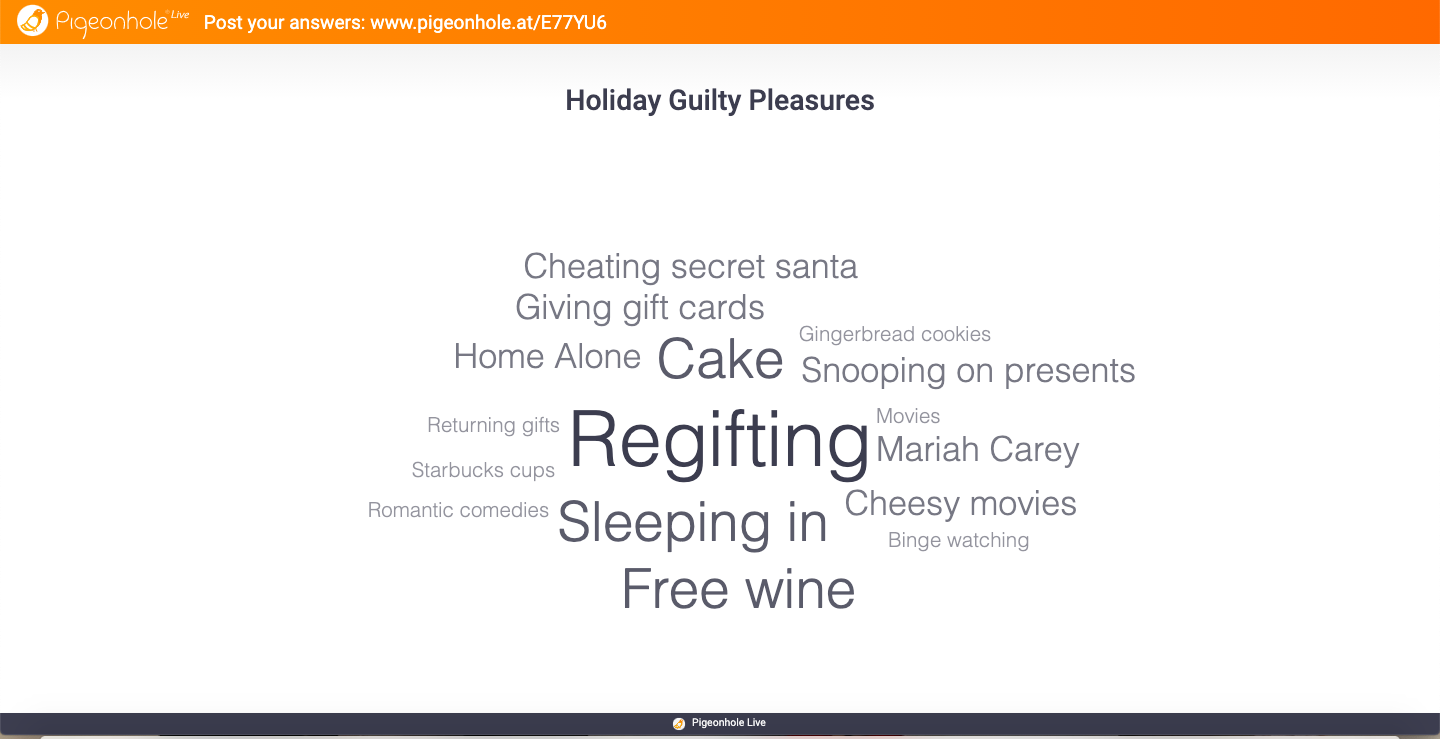 The results will be projected in a real-time word cloud.
This feature can help strengthen your group identity, as it highlights the similarities and differences within your group. It can also help you get to know your employees better as it can encourage your employees to share their own holiday stories too.
5. Collaborative Holiday Newsletter
With Pigeonhole Live, your team can chronicle the festive season together through a collaborative holiday newsletter. And since the holidays of 2020 are sure to be a unique one, this newsletter can also serve as part of your office time capsule.
There are many different topics you may employ to fill up your newsletter. Here are some ideas:
Holiday playlist
Festive word cloud
Ranking holiday movies & TV shows
"Christmas where I grew up" (if you have foreign or remote workers)
Recommending holiday recipes
Sharing interesting holiday stories
Personal anecdotes/memories with popular Christmas characters
There are many Pigeonhole Live functions that may be helpful here. In particular, the Q&A, multiple-choice poll, and survey functions can help you get rankings and longer form answers from your employees.
Afterwards, simply compile the responses and display the results as bullet points or highlights, graphs, or pie charts.
This newsletter is not only something to remember your office holidays 2020 by, but also a good way to spread updates among the team and help remote colleagues get to know each other better.
Virtual party activities
6. Team Dinner
Food is an important element of any seasonal gathering. And since your remote employees cannot have a holiday potluck this year, that doesn't mean that you cannot feed your crew during your online party. So why not treat them to a meal delivered right to their doorstep.
It is important to ensure that your meals are suitable for everyone though, and that's where Pigeonhole Live comes in. Use the survey feature so your employees can complete a series of questions letting you know what they can or cannot eat.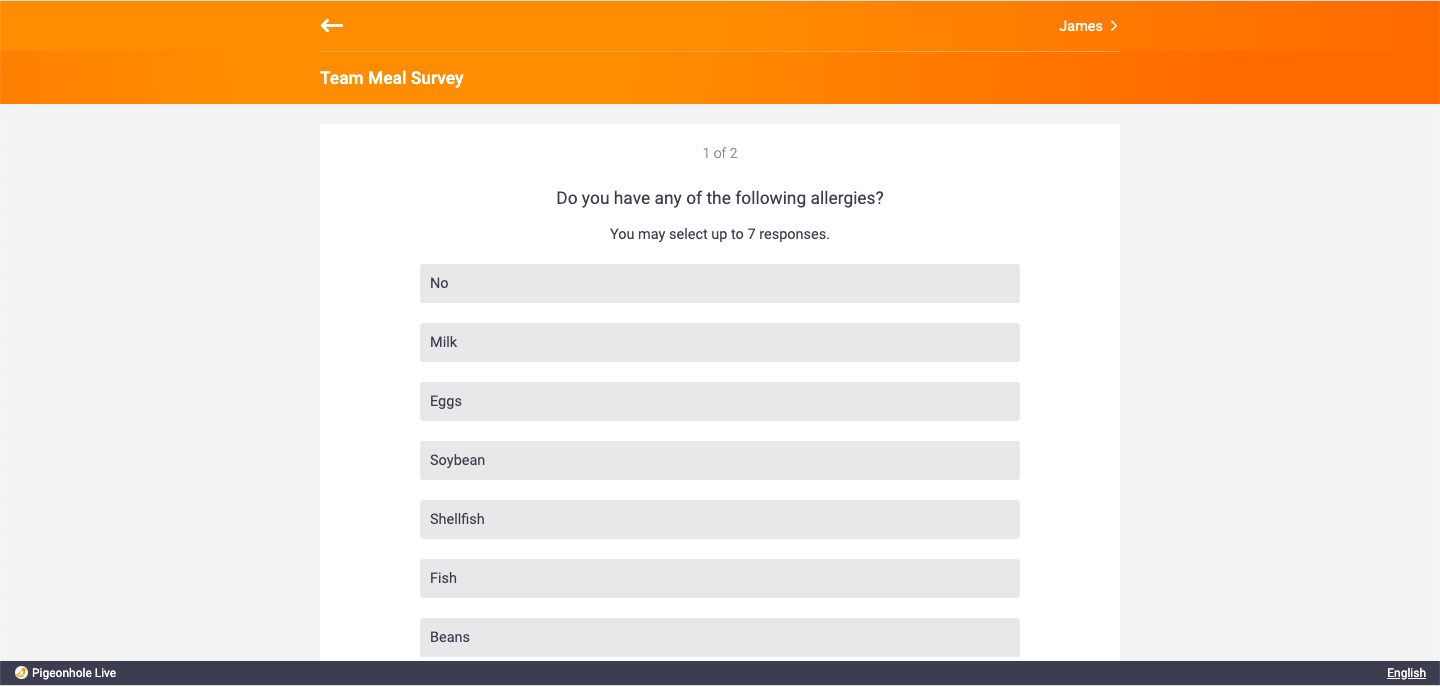 7. "Tradition or not?"
From an ugly, but kind, witch controlling gift-giving in Italy to having a porcelain doll squatting with his pants down in the nativity scenes in Spain, every culture has their own interesting holiday customs and "Tradition or not?" will have your employees guessing which traditions are true and which are made up.
To make it more personal to your team, you can turn the game into a festive version of "Two Truths & A Lie" by having each member of your team share a quirky holiday tradition ahead of time. This helps you learn more about your teammates outside of a workplace context and celebrates the diversity in your team as they may share familial or cultural traditions.
You can then utilise the Quiz feature on PigeonHole Live to make your employees compete for a winning spot on the real-time leaderboard.
8. Holiday trivia
Trivia quizzes are the backbone of any parties. Use the Quiz feature on PigeonHole Live to create a fun holiday trivia quiz including questions about pop trivia and holiday riddles, like:
Which of these is the highest grossing Christmas song of all time?
In the song "12 days of Christmas", what is given on the 6th day?
How many of Santa's reindeer have names that begin with the letter "D"?
Guess the holiday movie from these emojis 🏢 💣 👨‍✈️ 🚁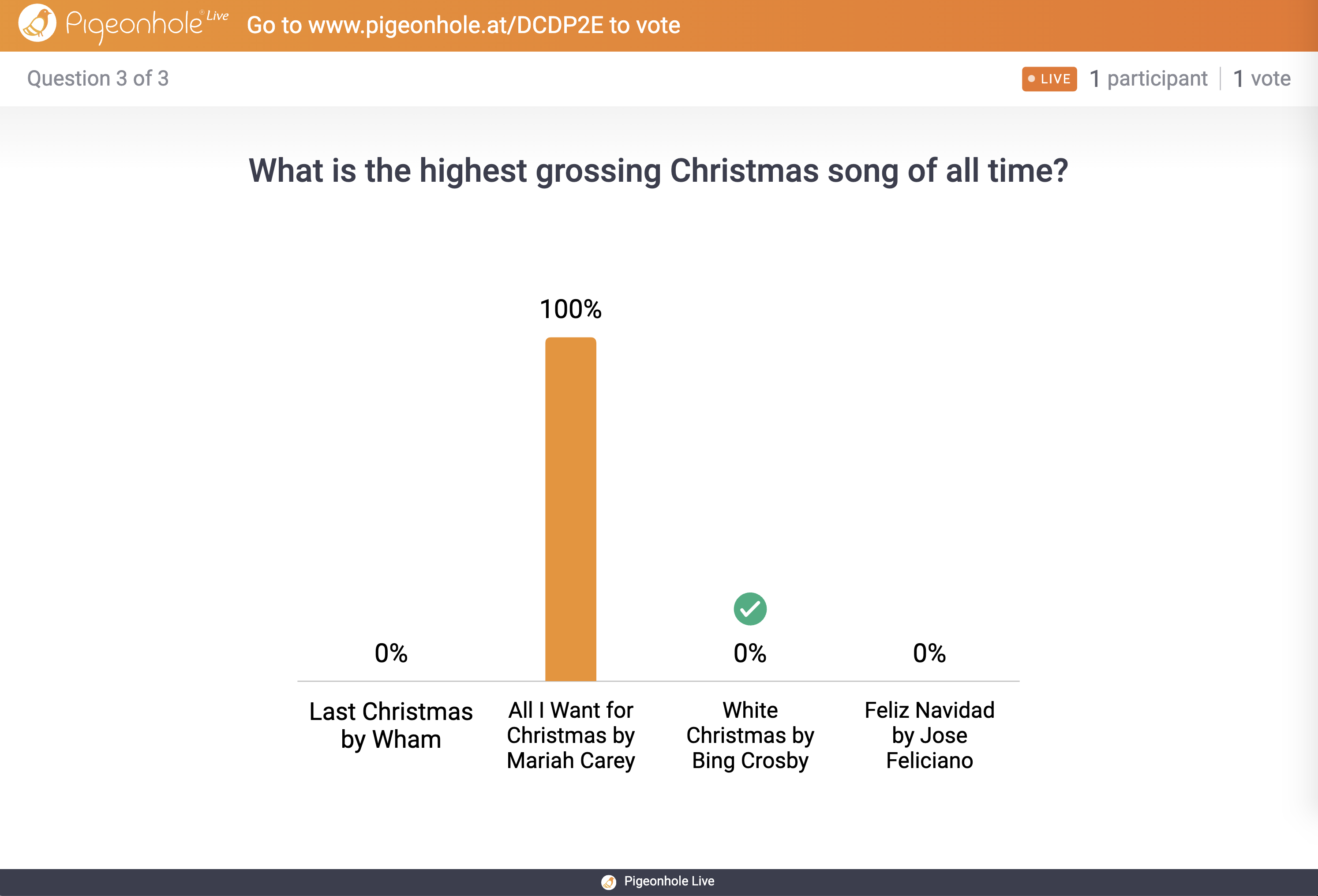 Bringing out their competitive side is a surefire way to energise and boost morale within your team. For extra motivation, you should offer awards to the top 3 participants.
9. Guess the Gift
Gift guessing and snooping are traditions honoured by naughty children and adults alike. You can harness this innate curiosity to have your employees take part in a game of Guess the Gift.
Before the party, have your HR team wrap several gifts up. To make sure the gifts aren't guessed too quickly, wrappers can get tricky and wrap the package deceptively through their size and shape.
If additional hints are needed, you may give hints, shake the gift to include audio clues, or even peel off bits of the wrapping paper.
Using Pigeonhole Live's Q&A feature again, your employees can send in their guesses and the first to get it right, wins the gift.
Employee engagement
10. Feedback
Lastly, and arguably the most important, is to get feedback from your employees. Holidays are a time for reflection and giving thanks.
Using the Survey feature, you may find out just how successful your virtual festivities were, what employees disliked, what you may wish to include more of in the future, and how else you can better engage your employees during the holidays. You may also explore what you've done well throughout the year, and what you may not have done so well in to keep improving.