Remote Work
20 Collaboration Platforms for Productivity In The Pandemic and Beyond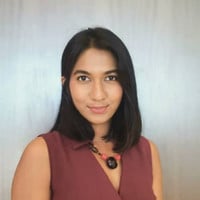 Ashkvina
May 19, 2020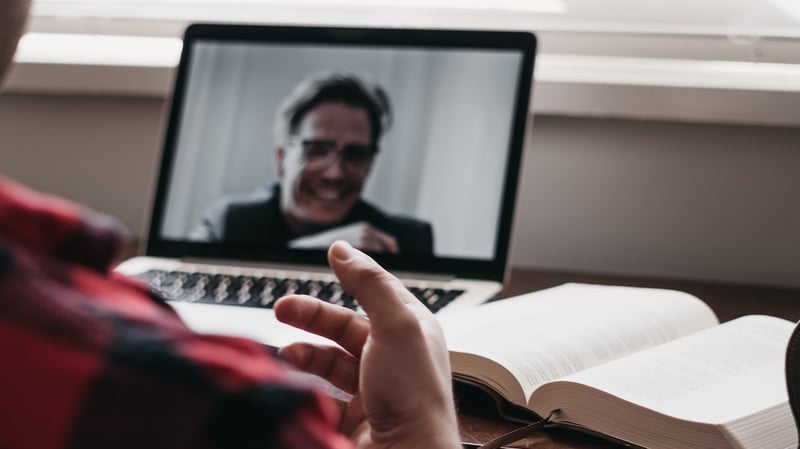 Taking the occasional meeting or presentation online is not a foreign concept to most of us. But being thrust into a full remote work arrangement where daily communication and collaboration takes place online, only–it's safe to say that that's new to most of us.
If your company hasn't already invested in the right platforms to support remote team collaboration, the current situation may have forced you to look into it. And if the pandemic has taught us anything, it's that having a remote setup ready to go in no time couldn't hurt. It might have just nudged you into preparing for the future of remote work.
Here are some of the platforms to consider when looking for the right remote collaboration solutions:
Daily communication and collaboration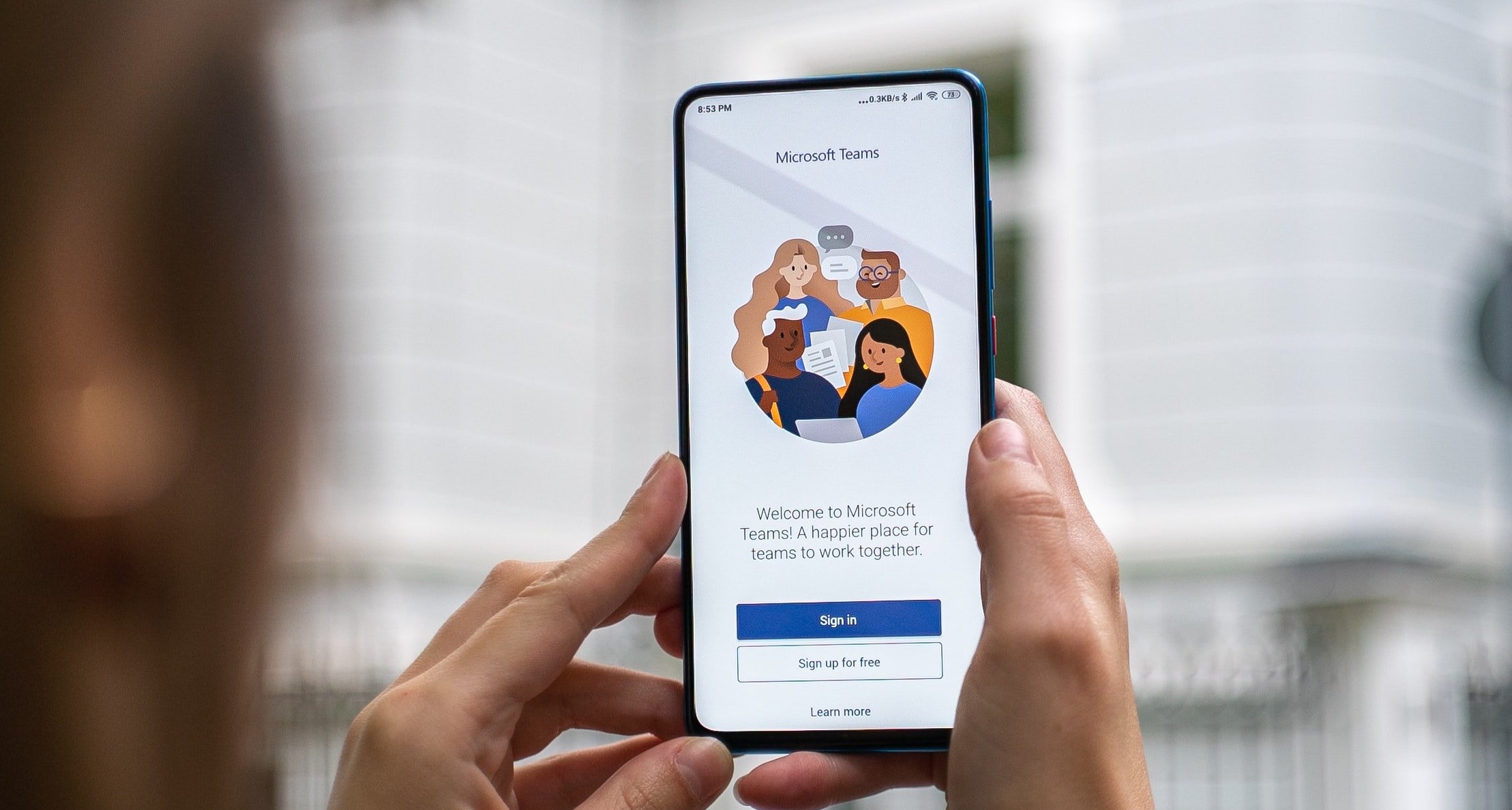 Microsoft Teams is a chat-based collaboration platform that is fully integrated into the Microsoft365 suite. It comes equipped with video and audio call functions, document sharing, collaboration on Office documents, as well as integrations with hundreds of other apps.
Their free plan comes armed with unlimited users on the chat and document collaboration functions while allowing up to 20 person video and audio calls. If you upgrade to a paid plan, that number goes up to 250 people. If you are on the lookout for an everyday communication platform, Microsoft Teams is a strong alternative to Google Suite or Slack.
Pros:
Has a free plan
Supports video and audio calls with screen sharing
Supports inline transcription and translation for calls
Supports cloud recording
Integrates with numerous of other productivity and collaboration platforms for seamless user experience
Cons:
Support only up to 20 participants in a video call under the free plan
Gallery view supports only up to 9 participants in a single screen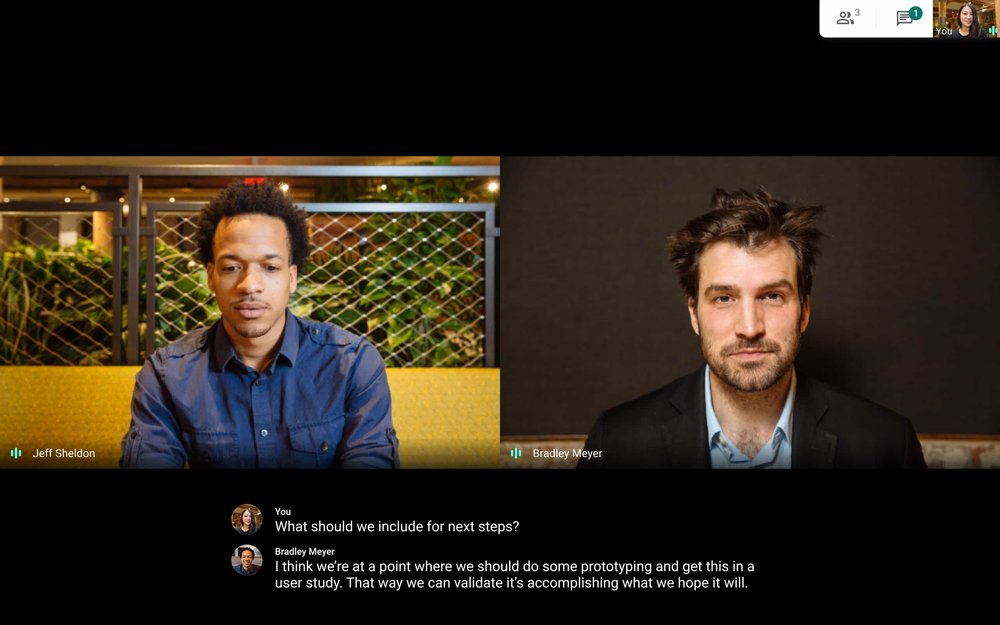 Like Microsoft Teams, Google Meet (previously known as Google Hangouts) comes fully integrated with G-suite. Google Meet is a strong alternative for video calls, supporting up to 100 people. With Google Meet you will also have access to Google's instant messaging platform.
Pros:
Has a free plan
Fully integrated with G-Suite
Supports screen sharing
Gallery view supports up to 16 participants in a single screen
Supports inline transcription and translation for calls
Supports cloud recording
No time limit on free calls (until September 2020)
Support only up to 100 participants in a video call under the free plan
Cons:
No end-to-end encryption on calls
Slack is basically a business chat platform for everyday communication and collaboration. Slack lets you organise your conversations in dedicated channels and group chats, share files, and automate repetitive tasks with workflows and bots. You can also host audio and video calls on Slack for up to 15 people.
Pros:
Video and audio calls available on free plan
Has screen sharing and annotation functions
Can integrate with all popular meeting platforms to host meetings
Supports group chat in calls (limited characters per message)
Cons:
Has a message history limit of 10K on free plan
Group video calls support only up to 15 people even on paid plans
Tends to be quite laggy especially with more people in the call
Does not support scheduling
Does not support call recording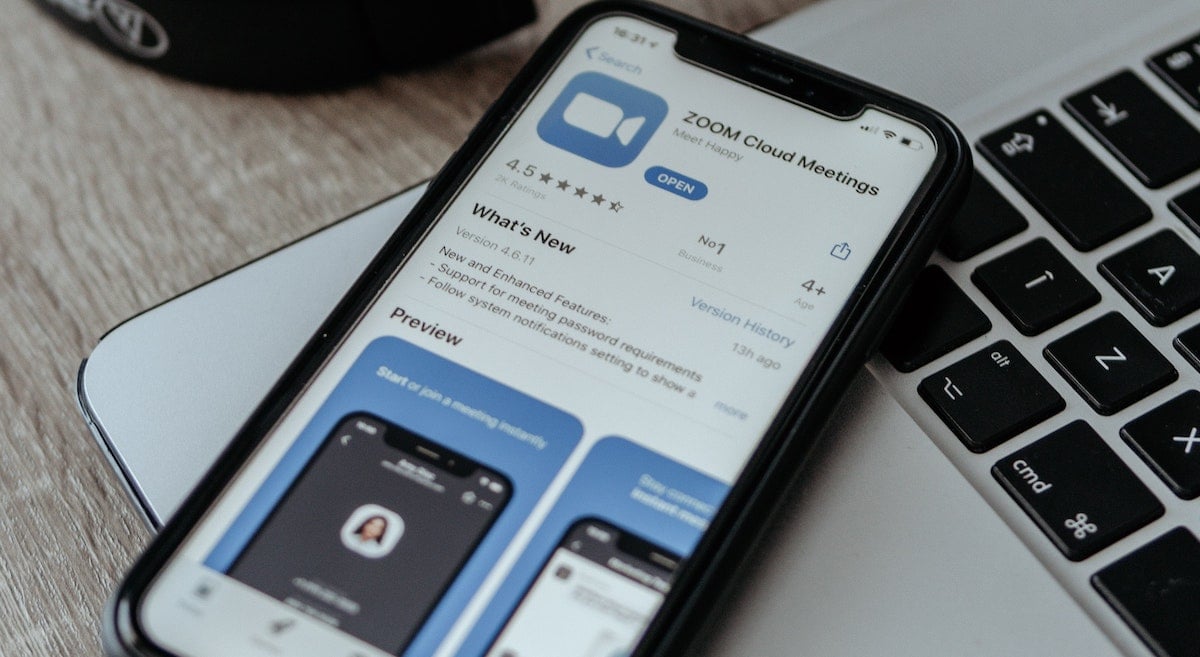 Since the Covid-19 pandemic, mentions of Zoom in both professional and personal spheres have skyrocketed. It goes without saying that Zoom is the most popular video conferencing platform out there, despite its recent security issues. Users love it for the easy setup, high quality videos, and large meeting capacity. Zoom is also particularly favoured for it's gallery view showing up to 25 participants in one screen.
Pros:
Supports up to 100 participants per call
Can view 25 people in a screen gallery view (largest available)
Highly customisable experience with beauty filters and virtual background to block your environment
Supports chats, raise hand and polling
Supports multiple screen shares
Supports cloud recording
Cons:
Free version is limited to 40 mins
Security has been an issue lately with Zoom meetings being hijacked maliciously in an act known as Zoom-bombing. They have rolled out several security fixes to address that since.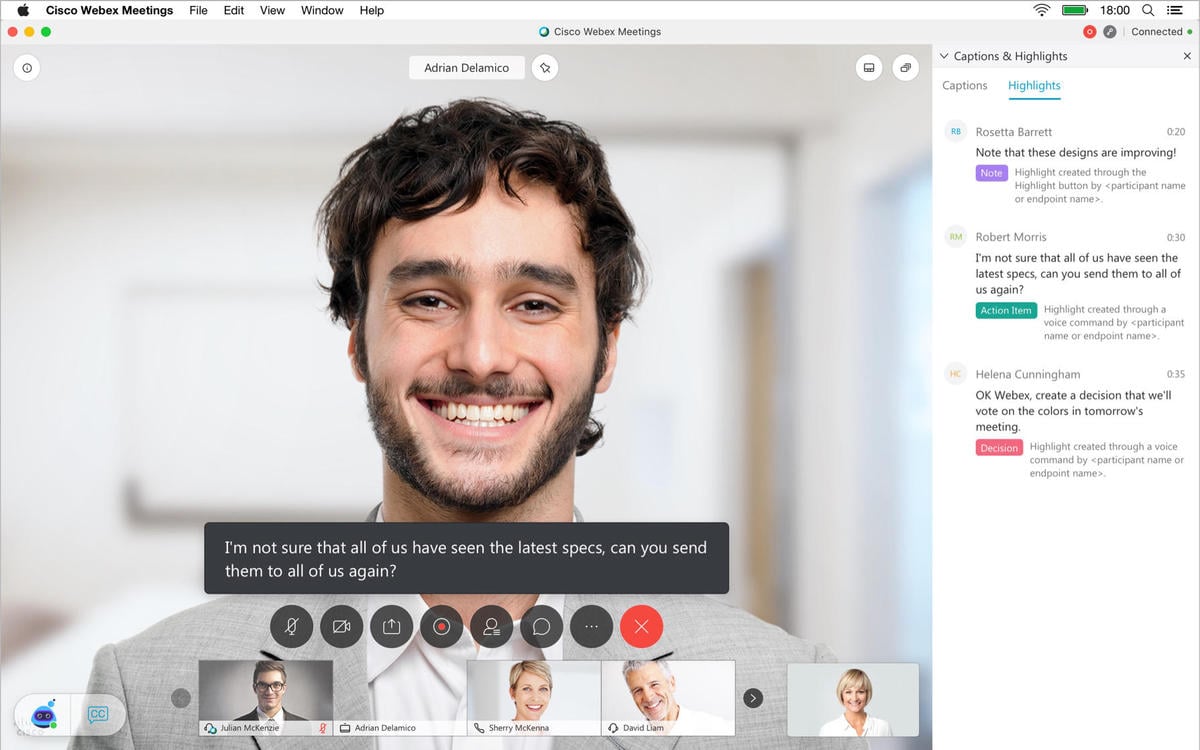 Cisco Webex Meetings is one of the more secured and well-rounded video conferencing tools out there. Their free plan not only matches Zoom in supporting a large number of participants and 25-grid gallery view, making it great for team meetings, but Webex also does not impose a time limit on your meetings on their free plan. One of Webex's unique features is that it's built to support external multimedia sharing during meetings, making it intuitive to load complementary services to accompany Webex meetings.
Pros:
Supports up to 100 participants in the free plan
No time limit on video conferencing
Can view up to 25 participants on gallery view
Share external multimedia easily on the side tab
Supports chats, notes, raise hand and polling
Supports cloud recording
Cons:
Distracting beep sound when muting and unmuting the microphone

Powered by Dolby Sound, BlueJeans Meetings boast highly quality natural voice output with background noise cancellation for optimal meeting experience. The platform is also highly secure and designed to work together with other softwares such as Facebook Workplace, Microsoft Teams and Slack. One of the unique selling points of BlueJeans is their Smart Meeting functions that allows you to capture important discussion points and create highlight reels as the meeting is happening.
Pros:
No time limit on meetings
Supports screen sharing and annotations
Supports group chats
Supports transcription, note taking, highlighting, and tagging action items during meeting
Supports cloud recording
Cons:
No free plan (but they do offer a 14 day free trial)
Low participant limit on their paids plans: 50 participants on BlueJeans' Standard, 75 on Pro and 100 on Enterprise.
Gallery view only supports up to 9 participants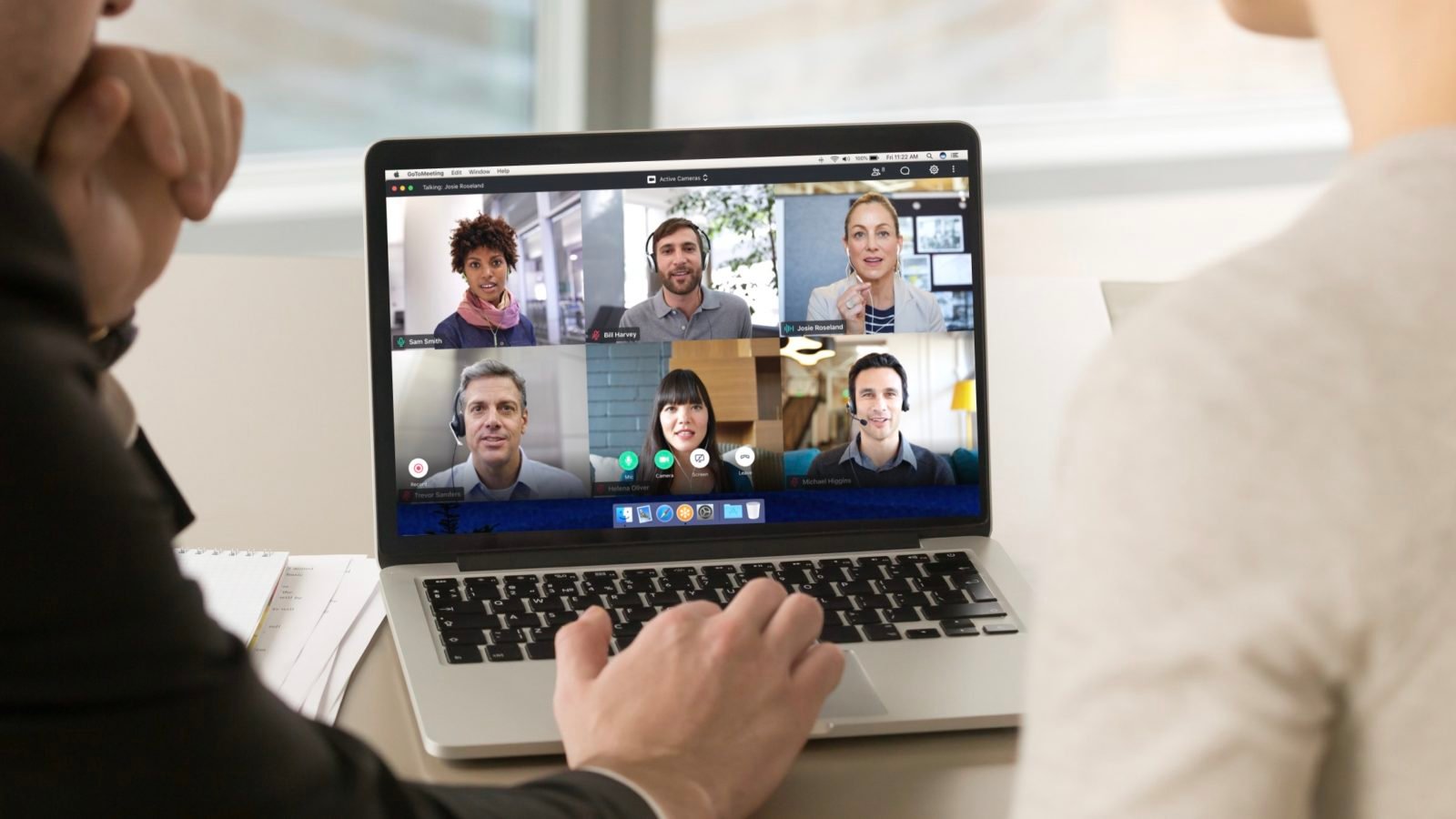 GotoMeetings is a highly secured, scaleable meeting platform. It comes equipped with a full suite of features including group chat, recording, integration with numerous other tools, and instant scheduling.
Pros:
Supports large number of participants–150 participants and up
No time limit on meetings
Supports screen sharing
Can view up to 25 people on gallery view
Supports inline transcription and note taking for calls
Cons:
No free plan (but they do offer a 14 day free trial)
Pricier than other platforms offering similar services
Want to find out how to use your favourite communication and webinar platforms with Pigeonhole Live?

Documentation
Having the right tool to keep everything documented and accessible to everyone can take the stress out of remote collaborations.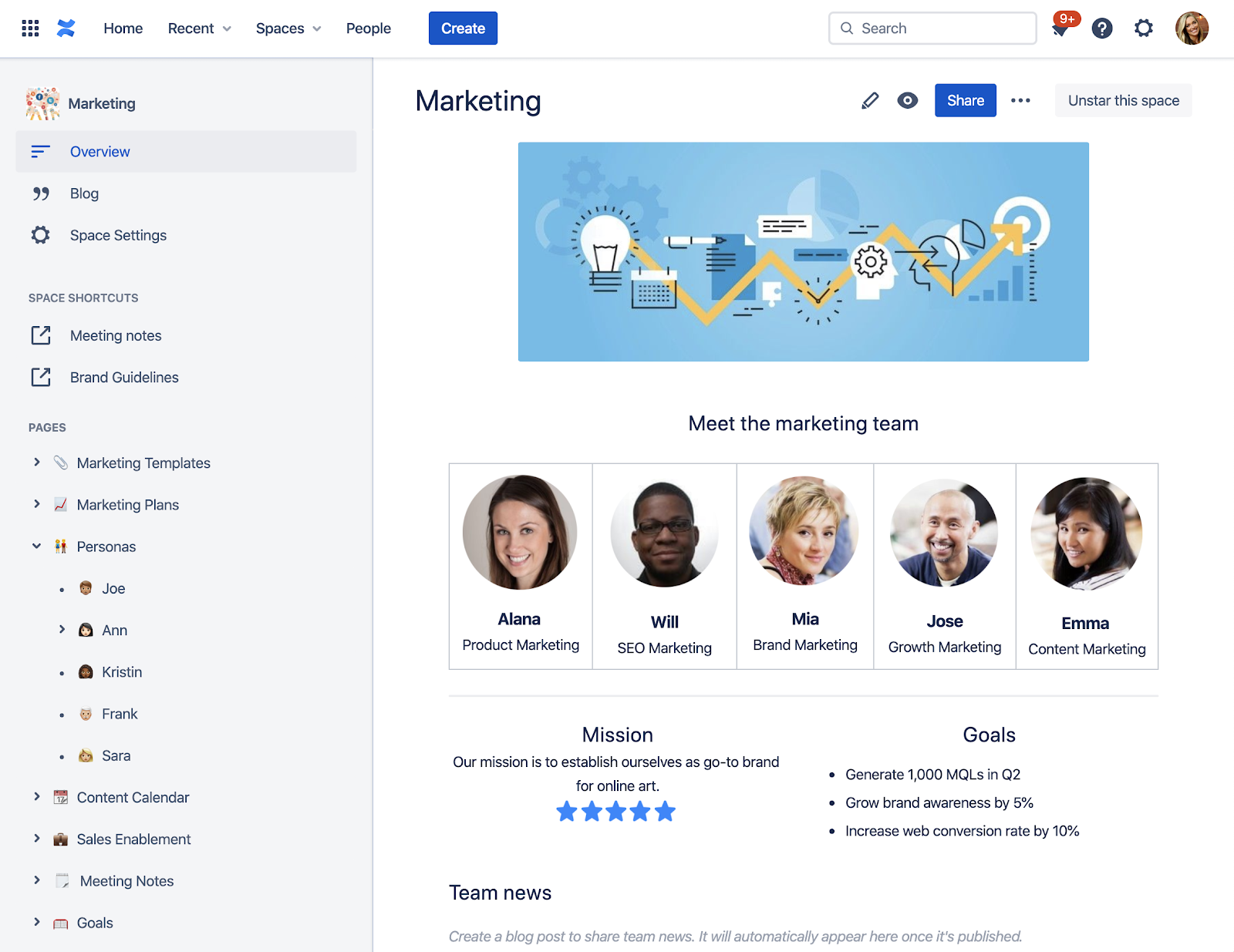 Atlassian's Confluence is a full-suite content collaboration tool that allows teams to share knowledge efficiently with the whole company. You can create and organise content within dedicated spaces, pages, and blogs. Confluence basically serves like an internal wikipedia for the company - a one point reference for everything you need to know to get your job done, if properly utilised. Confluence also offers tons of handy templates for just every type of document you may need to create, whether it's a retrospective, marketing plan or a user manual. It also comes fully integrated with project management and agile software like Jira and Trello so you can keep everything running smoothly.
Pros:
Multiple collaborators in one document
Tons of useful templates
Highly customisable
Cons:
Multiple collaborators function tends to be laggy at times and is only reflected when someone publishes the document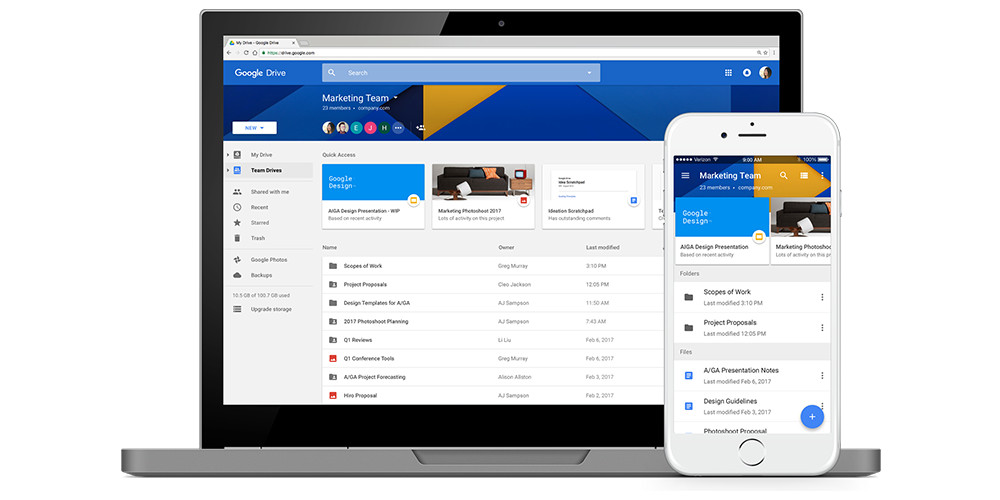 When talking about collaborating on documents, there's no name more popular than Google Drive. If your company is already on G-suite, you can maximise it by using Google Drive to document information. Google Drive is known for the convenience and ability to create, share, and collaborate on documents, spreadsheets and presentations. Depending on your plan it also comes with unlimited cloud storage to ensure all your documents are safe and backed up.
Pros:
Tons of useful templates
Highly intuitive layout and great for real time collaboration
Fully integrated with G-Suite
Integrates with other popular project management and collaboration tools like Asana, Trello, Slack, and more
Cons:
Only one-level of organisation–you can only put documents into folders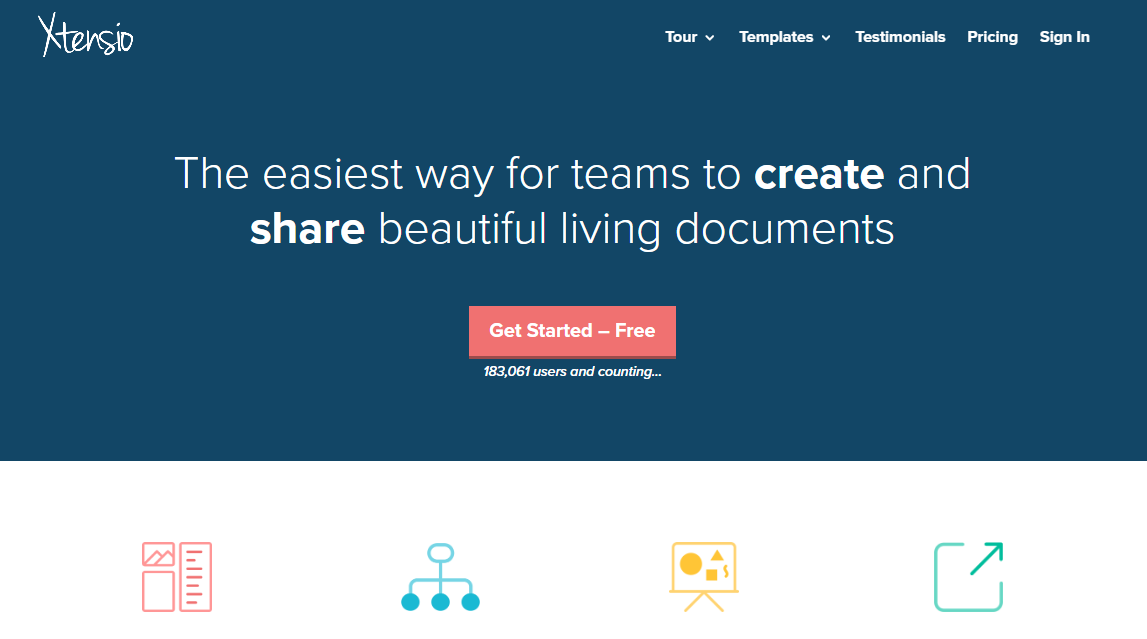 Xtensio is a strategy and communications platform that allows teams to create and share with ease. You can create pitch decks, sales sheets, reports, and more. With Xtensio, everyone can work under one team space, and all changes will be saved in real-time. Xtensio also offers many interactive templates and presentation tools that would be useful for companies or teams who are currently in the brainstorming phase of a project.
Pros:
Tons of useful templates and tools
Lets you work under the customized dashboard
Highly secure platform
User-friendly and professional design
Cons:
Price of paid subscription is on the higher side
Takes time to familiarise with the processes
Project management and coordination
Besides everyday communication, another aspect of work you need to give a lot of thought to is task allocation and manpower management. With remote working it may not be possible to casually check in on everyone's progress with work. Having the right software to support you with resource allocation can save you time and take off some mental load.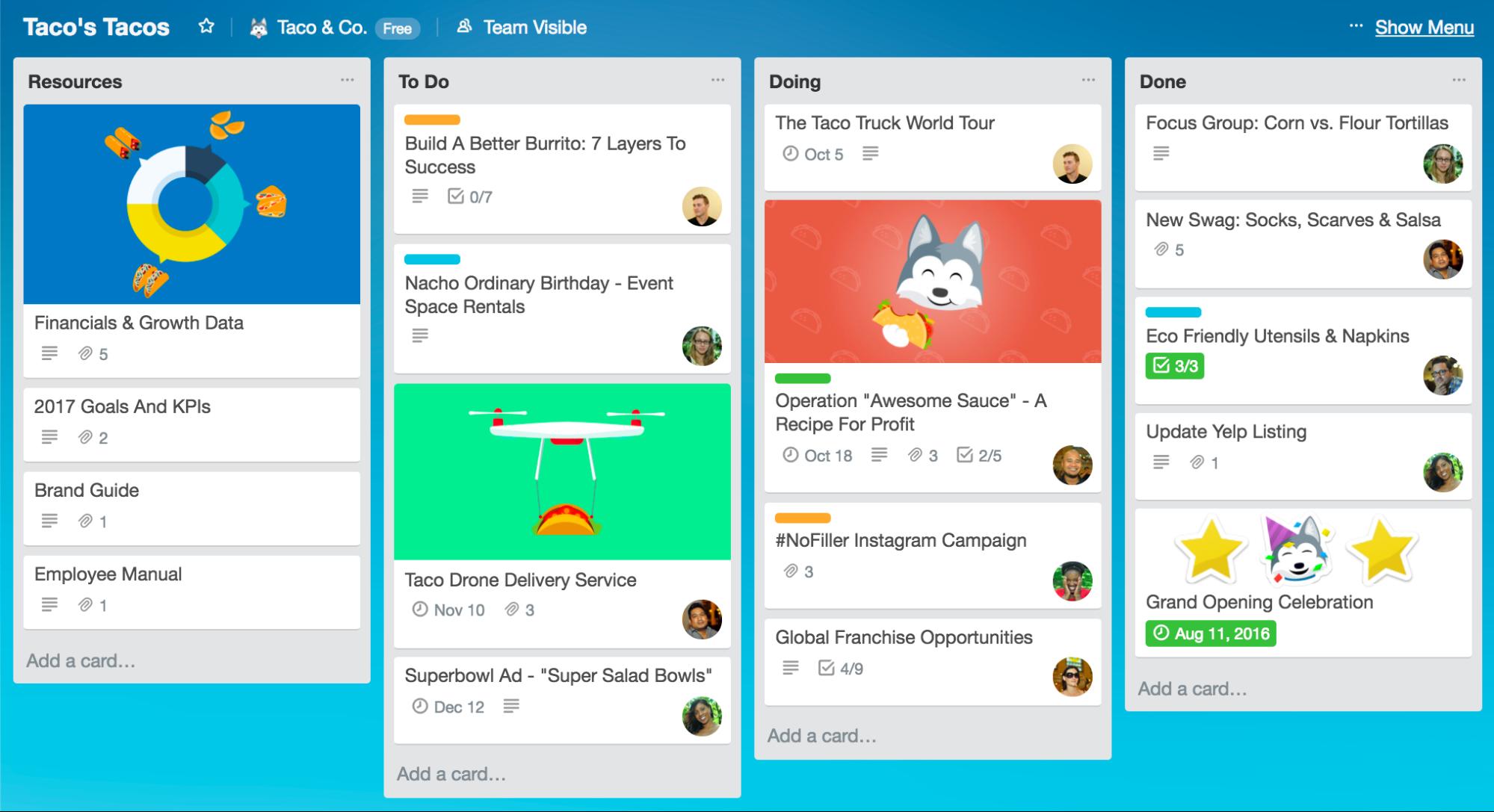 Because of it's fun, flexible, and easy to use design, Trello is a popular project management tool both for professional projects and personal ones. It uses Kanban-style lists that are organised in dedicated boards. Trello makes planning project timelines and tasks easy with drag and drop functions. You can also create team boards, automate tasks, run commands to make project management a breeze. Trello offers over 100 integrations with other collaboration tools like Slack and Google Docs and agile management software like Jira.
Pros:
Powerful free plan with unlimited boards, lists, and cards
100 over integrations
Tons of useful templates for almost every type of project
Has an app
Cons:
Can get fairly messy and complicated with large scale projects
Can't hold discussions or conversations within the platform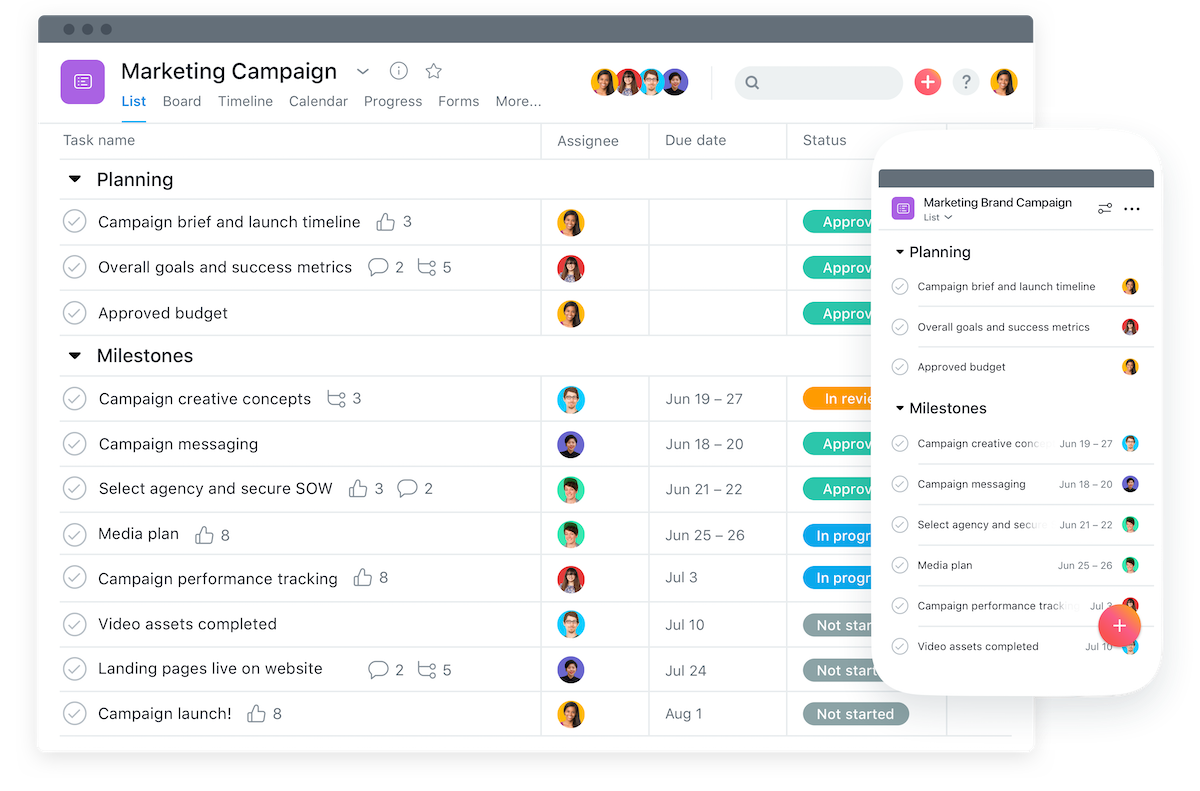 Asana is a pretty powerful project management tool that allows you to map out project details, assign tasks, and keep track of your team's workload. Built with a great user interface, Asana makes it easy for you to visualise project workload and how pieces of the project fit together with real time update of progress. You can also automate manual and repetitive tasks, brainstorm ideas, and integrate with an arsenal of other platforms to make Asana work seamlessly with your favourite tools.
Pros:

Has a powerful free plan
Multiple views for tasks: lists, boards, calendar etc
Can post status updates, start conversations, and brainstorm ideas all within the platform
Integrations with other collaboration tools
Has workload monitor to ensure team members are not overworked or underworked
Has an app
Cons:
Can't assign a task to more than one person – this can get pretty annoying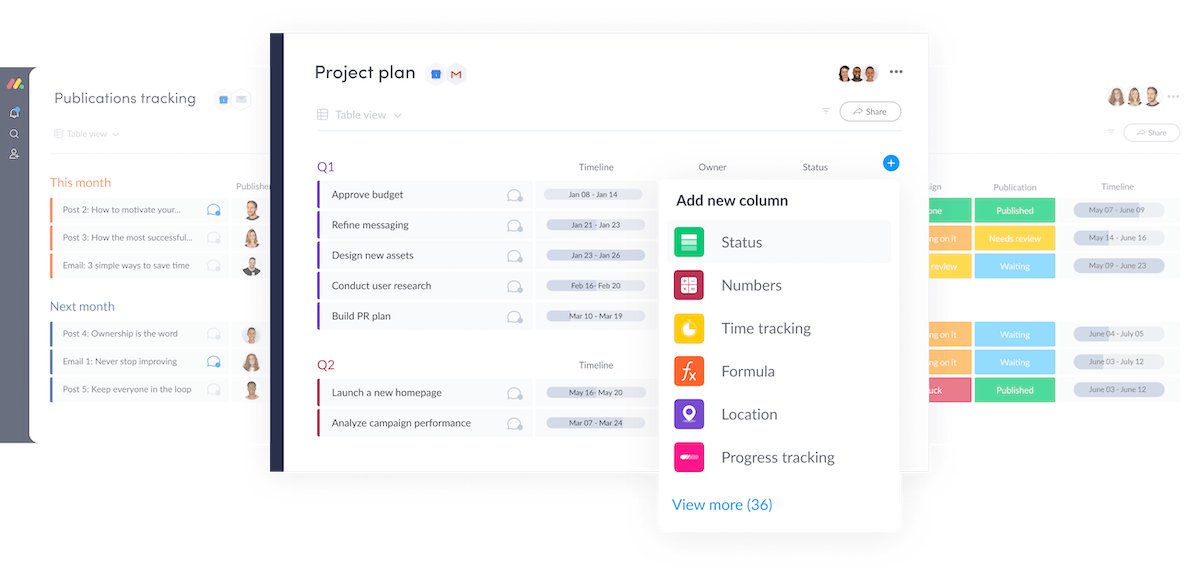 Monday.com is another popular project management and collaboration tool that allows you to automate workflow, manage timelines and receive real time progress reports. It offers integrations with over 50 platforms to help you create seamless automation and workflows. Monday.com allows you to consolidate data from multiple projects to help you visualise overall team workload.
Pros:
Templates for a variety of projects
Collaborative whiteboard feature to brainstorm and edit together
Has time tracking feature
Has an app
Cons:
No free plan (but they do offer a 14-day free trial)
Limited views (some are only available on higher plans)
Training and Webinar Tools
Just because you're apart doesn't mean learning needs to stop. Whether it's onboarding new hires and training your team on new products, the right tools can help you deliver your message clearly while optimising resources.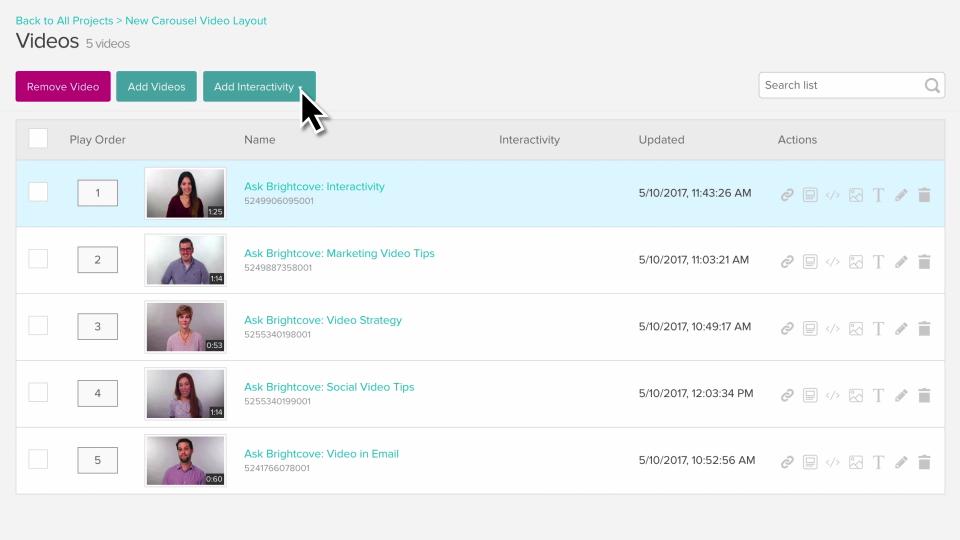 If you've got a larger budget for training and employee engagement, then Brightcove is a great end-to-end solution to create and host large scale branded videos. With their reliable cloud solutions, you can host high quality videos anywhere. Brightcove also allows you to create videos in a wide variety of playouts and add interactive elements both within and outside the video player.
Pros:
High quality video production
Reliable cloud hosting
Highly customisable set up
Cons:
No free plan
High cost
Needs studio setup, unless using third party broadcasting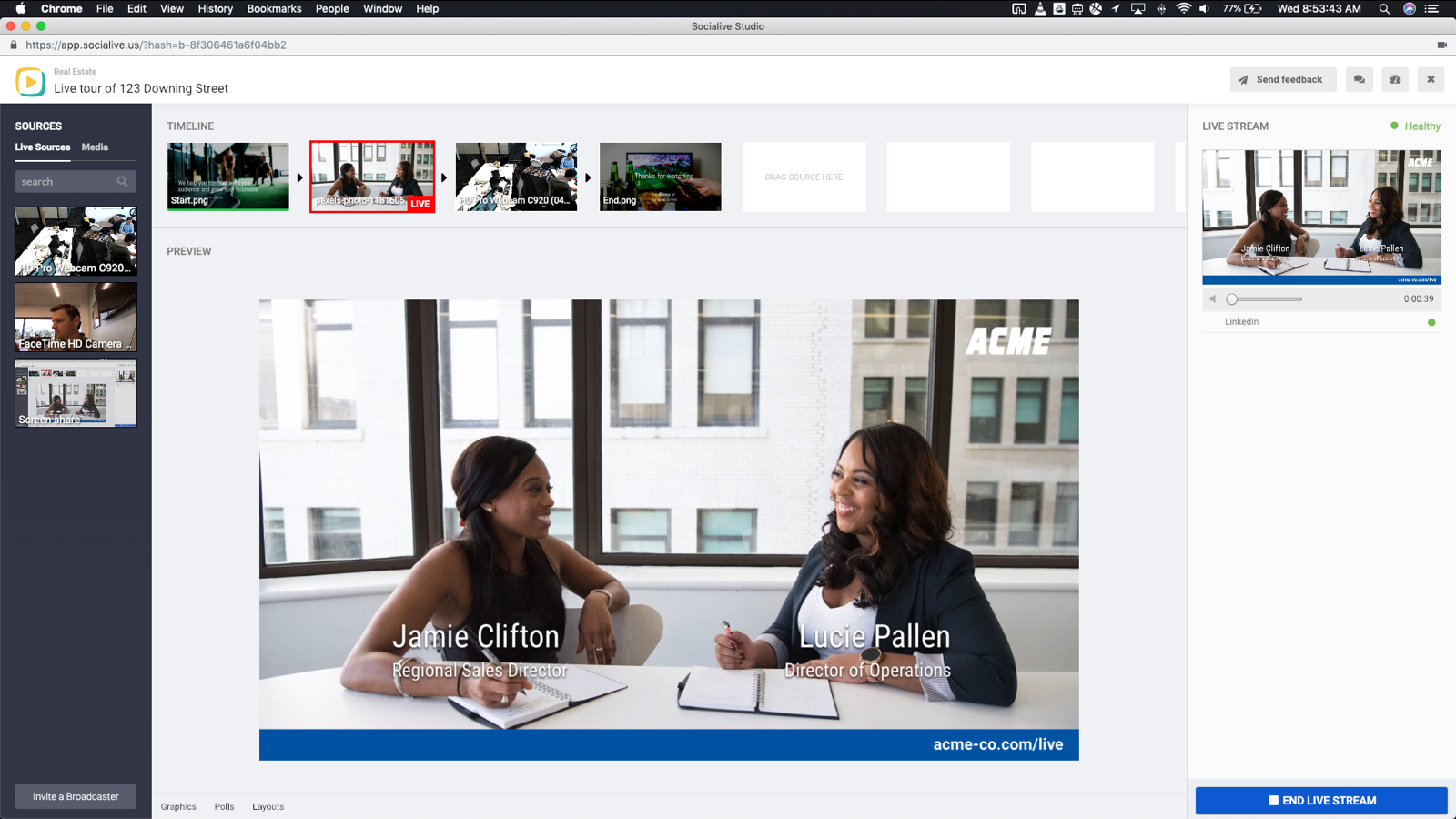 Socialive makes it really easy for you to capture, create and distribute videos to your employees. Their intuitive software allows you to edit live videos with recorded ones, graphics, and layout to create rich, on-brand videos for your employees. You can also easily stream live or simulive videos or add on-demand videos to your internal channels and collaboration tools like Microsoft Teams. The pricing for Socialive is calculated based on the features you select.
Pros:
Video production capabilities
Highly quality videos
Easy production and distribution
Cons:
No free plan
On the pricier side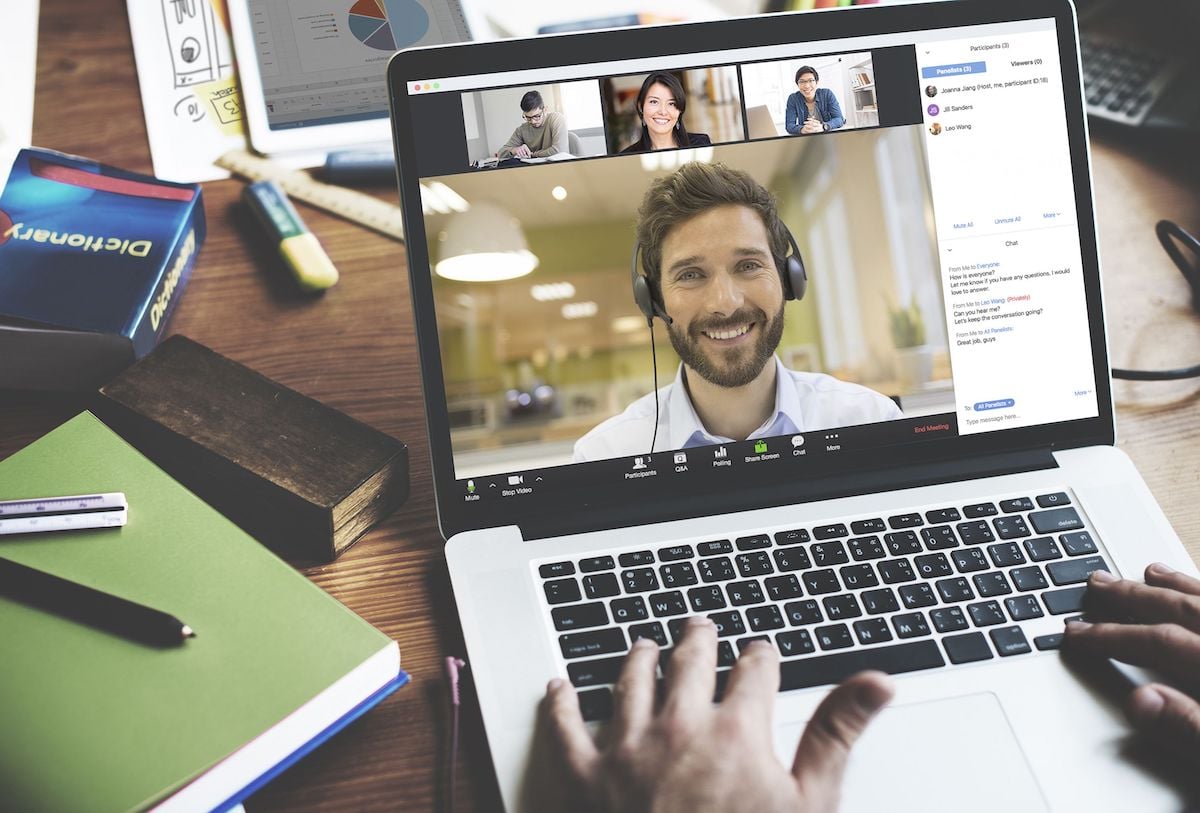 Zoom Webinars allows you to host live webinars and on-demand webinars at a lower cost. The software may not be as powerful or varied as those offered by Brightcove or Socialive, but at 15/host/mo, it's a good enough alternative.
Pros:
Cheaper alternative
Has built in chat, Q&A, polling and raise hand features for interactivity
Offers integration with CRM tools
Cons:
Only 1GB of cloud recording for your on-demand videos
Branding limited to registration form
Design
Collaborative design is the new norm for companies. It is important to have the right online collaboration tools that enable your creatives to work together effectively.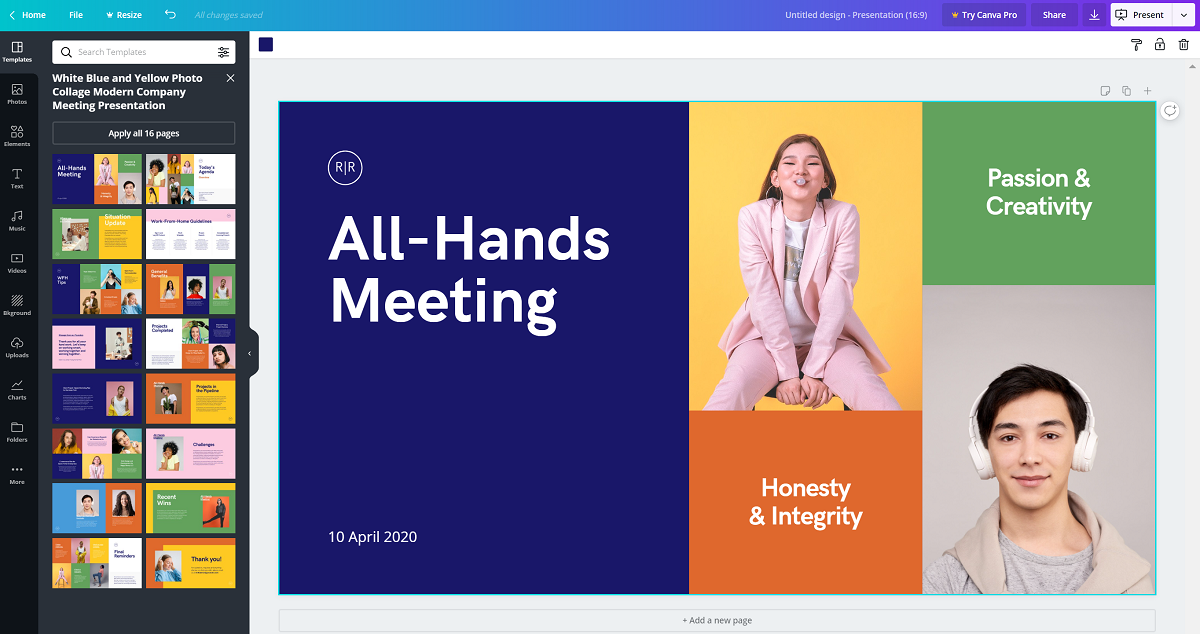 From infographics to presentation slides, Canva is a great platform for you to create simple yet effective designs. With its intuitive drag-and-drop interface and library of graphics, you can easily create visual content of all kinds. Collaborate on your design projects with your team by creating a shareable link or an email invite.
Pros:
Easy to use with readily designed templates
Heavily customisable
Has a free plan
Stores your uploaded images for future use
Allows integration to third-party sites such as instagram and Facebook
Cons:
Currently, only one person can edit at a single time
Designs can be too simplistic for professional uses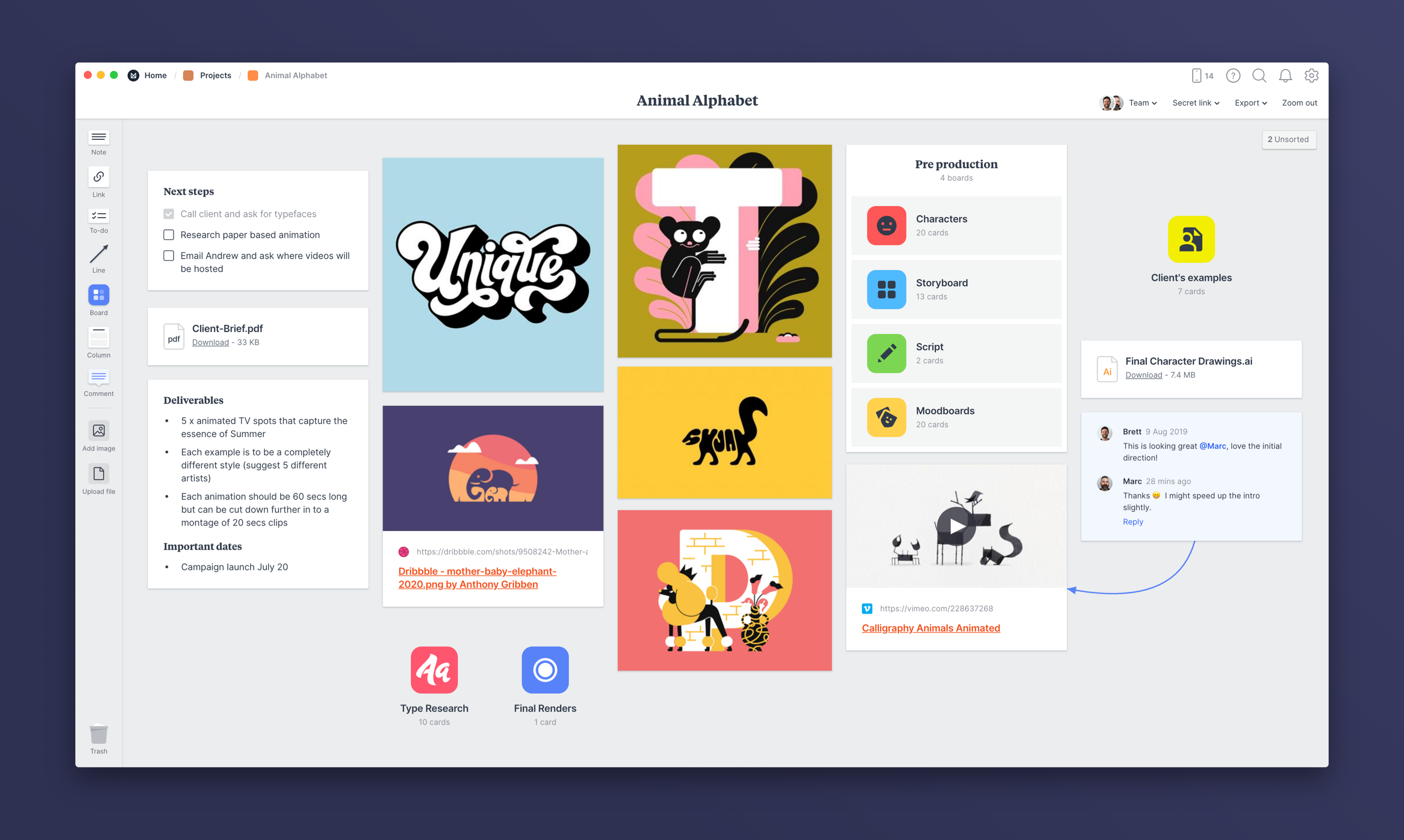 Milanote is a tool for organizing creative projects into beautiful visual boards. It is great for users who want a fully customisable, visual workspace. Fully equipped with various templates you can use for planning, Milanote also allows you to append images, links as well as notes to your documents. With its real-time collaborative feature, Milanote allows designers who work in teams to continue working together remotely.
Pros:
Hundreds of built-in templates to help you get started
Real-time collaboration in one document
Intuitive drag-and-drop interface
Has a free plan
Cons: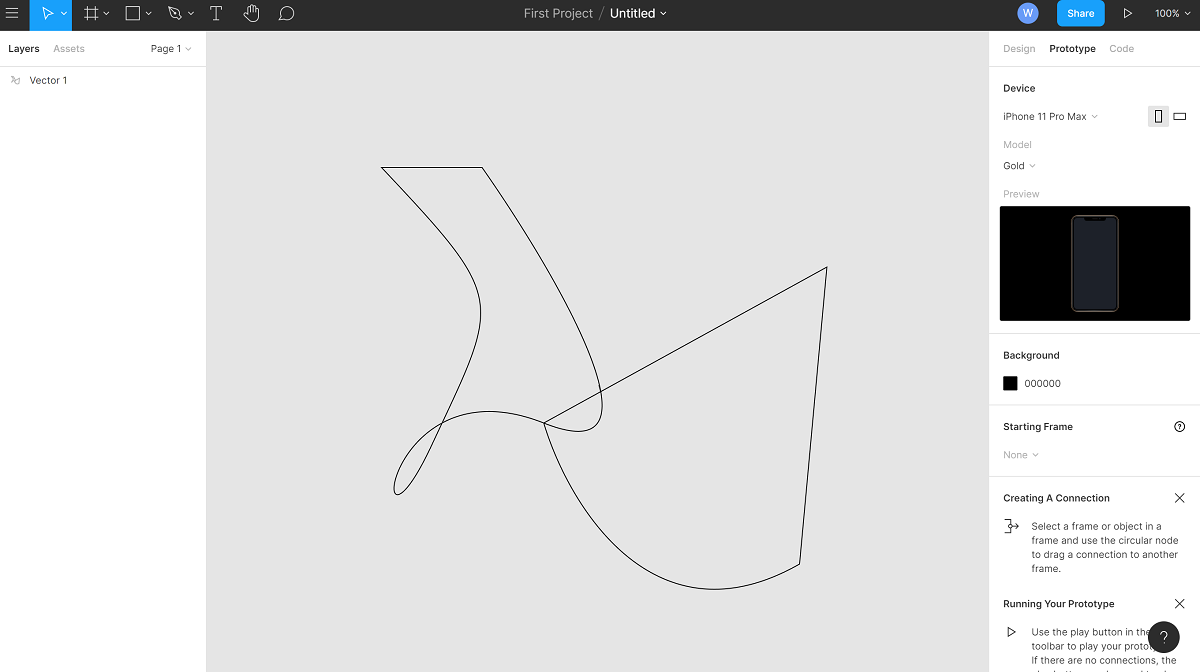 Figma is a browser-based UI design application that allows for real-time collaboration between you and your team members. Figma has features such as vector tools, code generation, and prototyping capabilities that enable you to work on any phase in the design process. It operates solely on the cloud, which means you can work on your designs on any device.
Pros:
Real-time collaboration in one document
Quick and easy file sharing
All-in-one high performance tool
Has a free plan
No downloads required as it is cloud-based
Cons: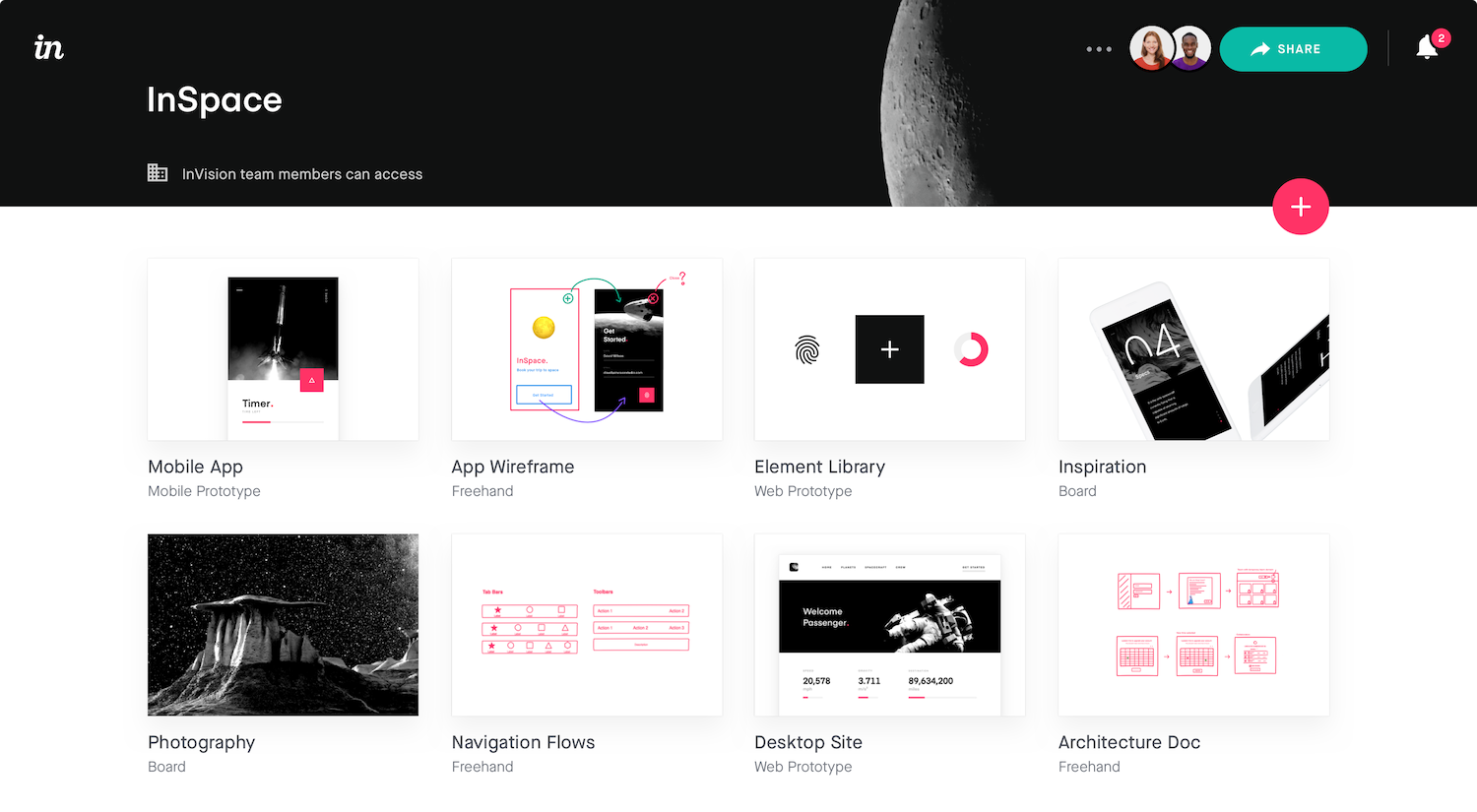 Like Figma, InVision is also a UI design application that is used for prototyping, collaboration, and workflow. Its LiveShare feature allows for real-time collaboration, and you can even make notes on the designs themselves. This ensures maximum clarity between designers. InVision presents your work in a way that is similar to an actual web browsing experience, making it a handy tool for prototyping.
Pros:
Has a free plan
Allows you to create interactive prototypes
Can view how your design looks on various screen sizes
Real-time collaboration in one document
Allows for seamless integration with design tools such as Sketch and Photoshop
Cons:

Lacks advanced design capabilities such as animation
Free plan only allows for one prototype