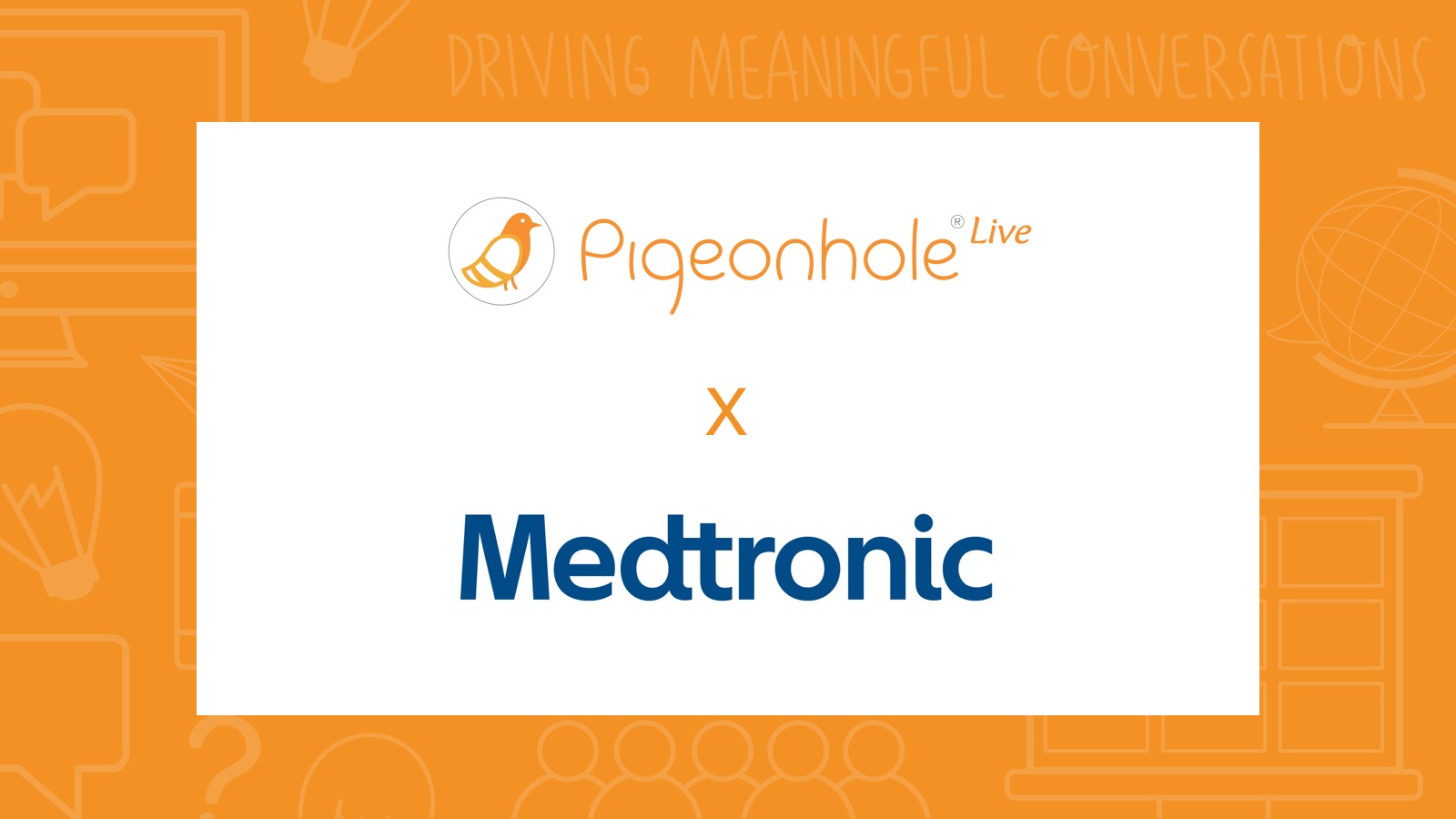 Medtronic used to run their Town Hall's Q&A segment by passing around a mic. When asked about how effective this method was, Geraldine Lin, Program Manager at Medtronic, had one thing to say about the results: "It's actually very minimal."
Lack of employee questions is not a unique issue.
Getting employees to speak up is a common challenge for Communications and Human Resources teams in organisations all around the world.
Some employees fear the perceived repercussions of voicing their opinions, while others are shy. During Town Halls, there may also not be enough time for employees to formulate their thoughts, phrase their questions, and find the courage to speak at the open mic.
Medtronic has now been using Pigeonhole Live for more than two years, since November 2015. We've asked Geraldine to share with us what difference this has made:
15x Increase in number of employee questions asked during Town Hall's Q&A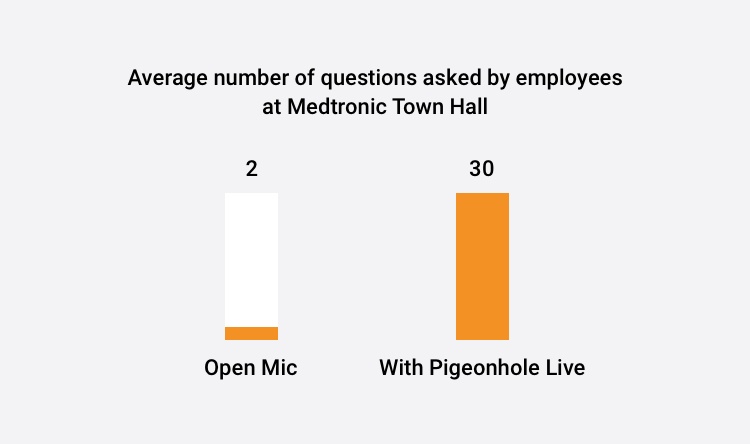 At their recent Town Hall in September 2017, they received 59 questions across two Pigeonhole Live Q&A sessions.
"That's a significant increase from what we were getting two years ago," comments Geraldine.
"I think it's really good because now we even need more time for the Q&A. Previously it was just fifteen minutes, but for all our Town Halls now we definitely need to buffer at least 30 minutes for Q&A."
Employee questions are much more personal
Beyond a quantitative impact, there has also been an improvement in the quality of the questions that are asked my employees at Medtronic.
Besides being about Medtronic's state of business, the questions are much more personal to the employees. Geraldine attributes this to using Pigeonhole Live to "keep it anonymous for all Q&A sessions".
More than ever, Medtronic's management is hearing from their employees — the pulse of the organization.
Employee engagement and synchronisation within the organisation
The first time Geraldine used Pigeonhole Live at Medtronic was just after their acquisition of Covidien — a critical period in which Internal Communications played a vital role in ensuring there would be synchronisation within the organization moving forward.
After evaluating a number of interactive tools, they converged on using Pigeonhole Live.
"We were not getting any questions through emails. But when we opened up Pigeonhole Live, all these questions were being captured," Geraldine shares.

"We definitely see an increase in employee engagement, because people are actually voting on questions they want the leaders to answer."
Solid grasp of ground sentiments for following up with employees
With the Engagement Insights — PDF and excel reports of questions of employees' responses — collated using Pigeonhole Live, Geraldine and her team then had a solid grasp of ground sentiments.
"What we did back then was to create a FAQ that we sent out to employees together with our relocation briefing pack."
This helped to assuage Medtronic employees' concerns and questions through the Covidien acquisition in 2016, moving the organization forward.
---
Today, Medtronic uses Pigeonhole Live across the Asia Pacific region for internal communications
"We use it for quarterly Town Halls, web conferences, face-to-face meetings, and we gather post-event surveys through Pigeonhole Live," quips Geraldine, whose team is using the Enterprise Plan across the Asia Pacific region.
The Enterprise Plan affords her the flexibility to conduct an unlimited number of Pigeonhole events to meet Medtronic's Internal Communication needs across various formats.



Share this post