Use Cases
20 Fun Workshop Activities to Boost Audience Engagement and Learning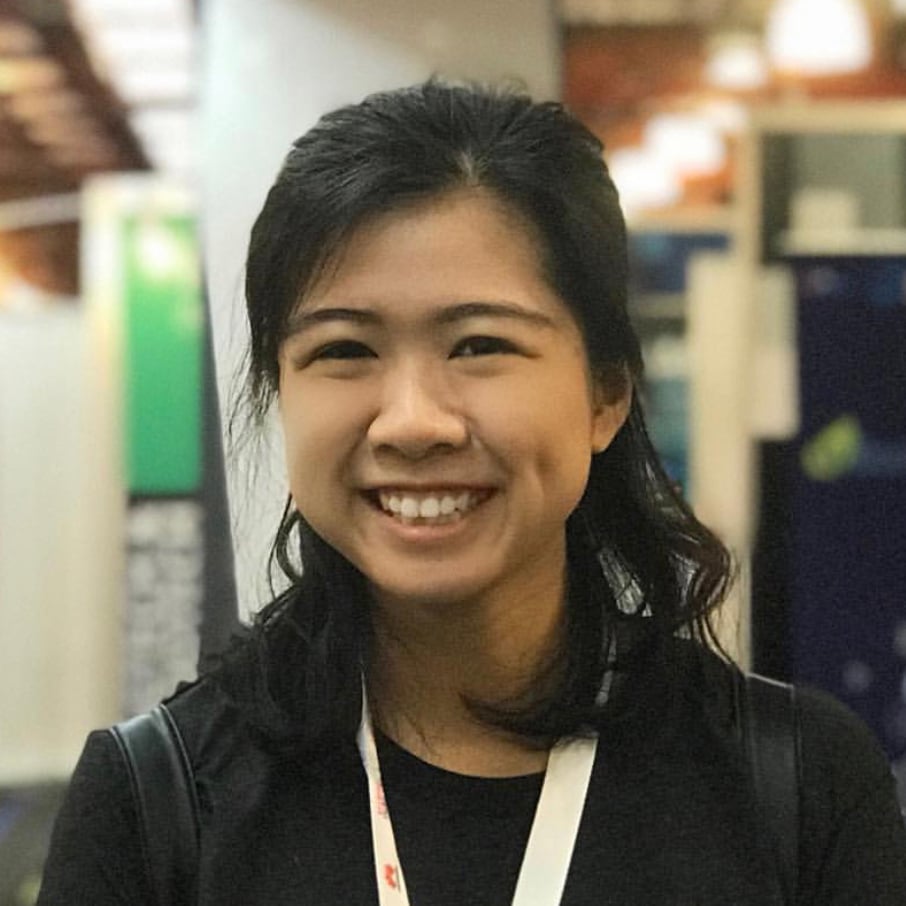 Annie Teh
April 6, 2023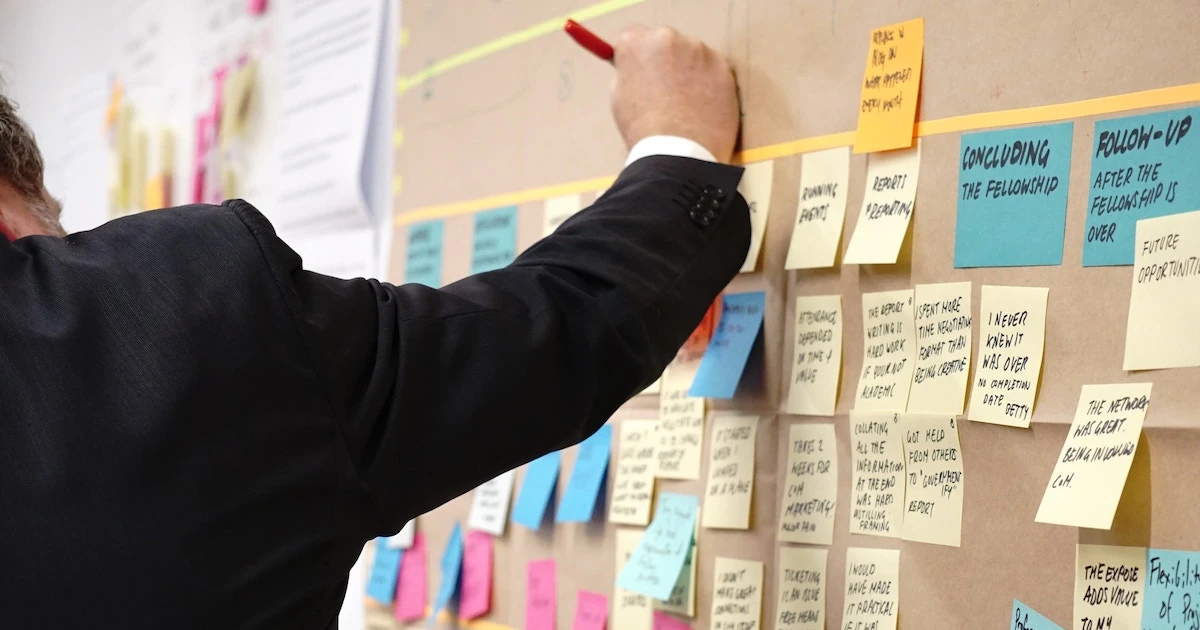 Are you struggling to keep your workshop attendees engaged and excited about learning? Don't worry, you're not alone. Capturing and maintaining the interest of a diverse audience can be quite a challenge.
But fear not! We've got you covered with 20 dynamic workshop ideas designed to transform your sessions into memorable, interactive experiences. Say goodbye to bored participants and hello to a room full of energetic learners eager to absorb and contribute to your workshop's content.
Let's dive in and explore these powerful activities that will change the way you conduct workshops.


Introductions

Presentations

Evaluation

Teaching

Collaboration





Introductions
1. The Anonymous Introduction
Instead of typical introductions at the start of each workshop (name, background, fun fact), prompt each participant to submit a fun fact anonymously through an open-ended poll. Next, display all the submissions on the screen and invite everyone to guess who each fun fact belongs to!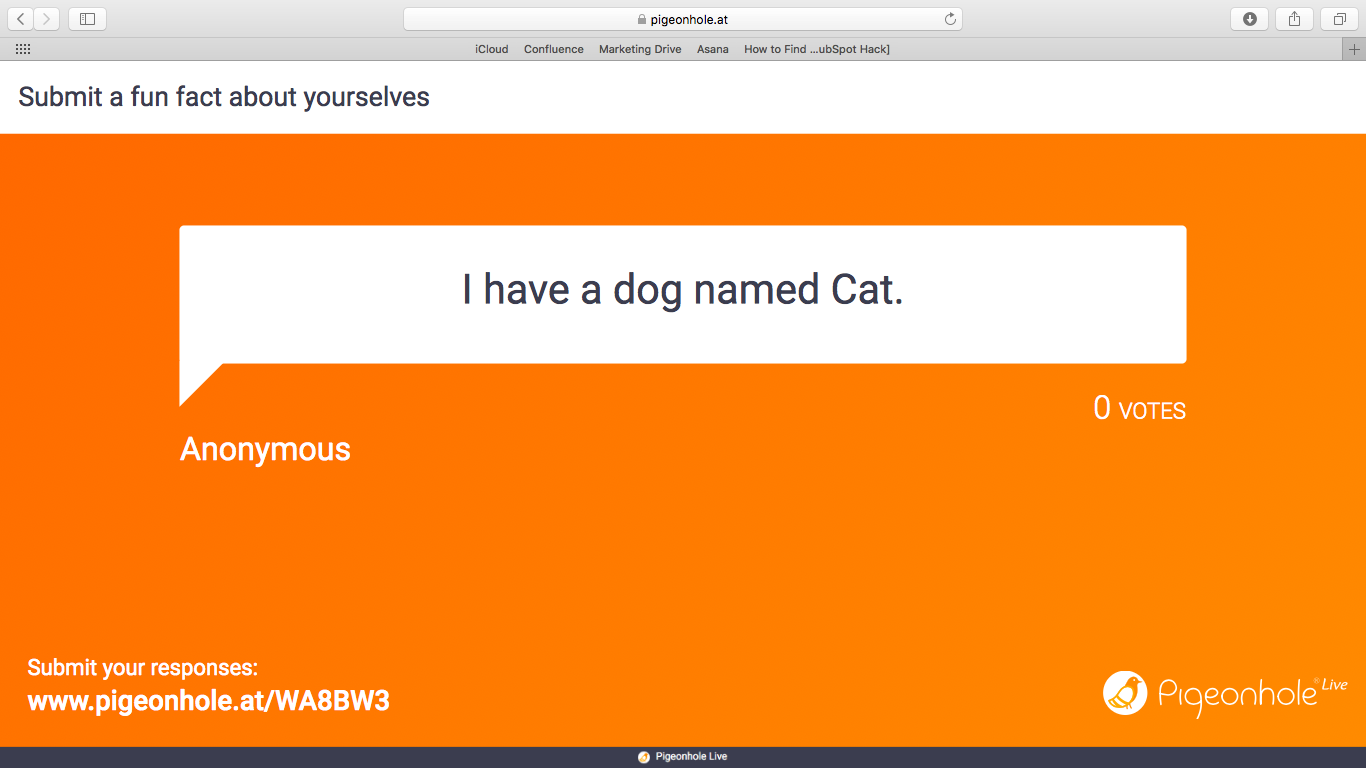 2. Workshop Objectives
Workshops differ from classrooms as adult attendees come with varied prior knowledge and goals. To promote engagement early on, create an open-ended poll and ask each participant to submit a workshop goal. Expressing their goals in words clarifies their objectives and unifies the group.

At the workshop's end, everyone can review their written goals and determine their achievements.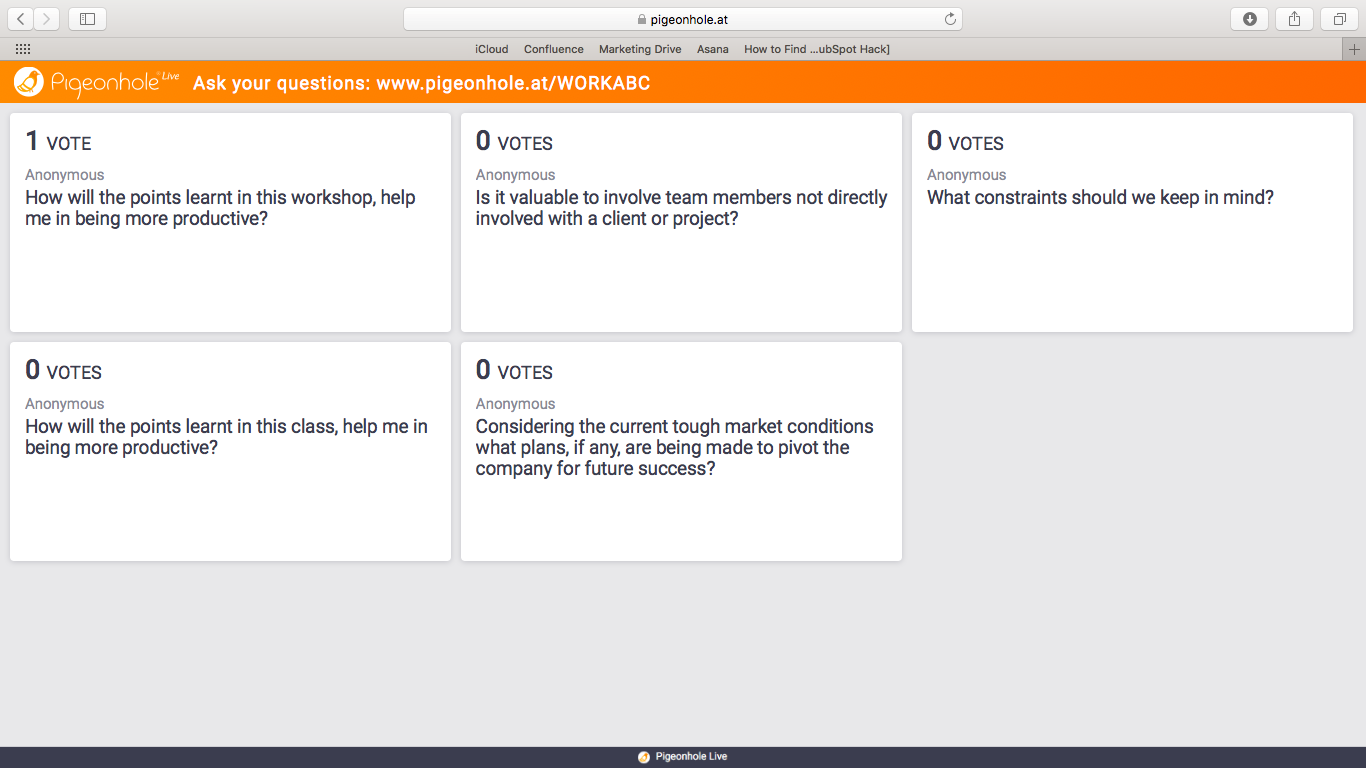 3. Mad Libs
Mad Libs is a fun classroom game that can be adopted into the workshop as a group activity. As a fun ice breaker, get everyone to contribute words, display the words as a word cloud, and vote for their favorite word.

In the end, fit all the top-voted words into a story that only you know and enjoy the hilarity of the whole thing.
Examples of Mad Libs can be easily found online, or you can make a short and fun one up yourself!
4. Word Cloud
To gauge participants' knowledge of the workshop topic, why not start with a quick word cloud? A simple prompt like "Personal Finance is ____ to me" can provide a snapshot of everyone's sentiments and give the facilitator insight on how best to engage the group.

With this approach, everyone's opinions and feelings are valued from the start, creating a more inclusive and collaborative environment for all.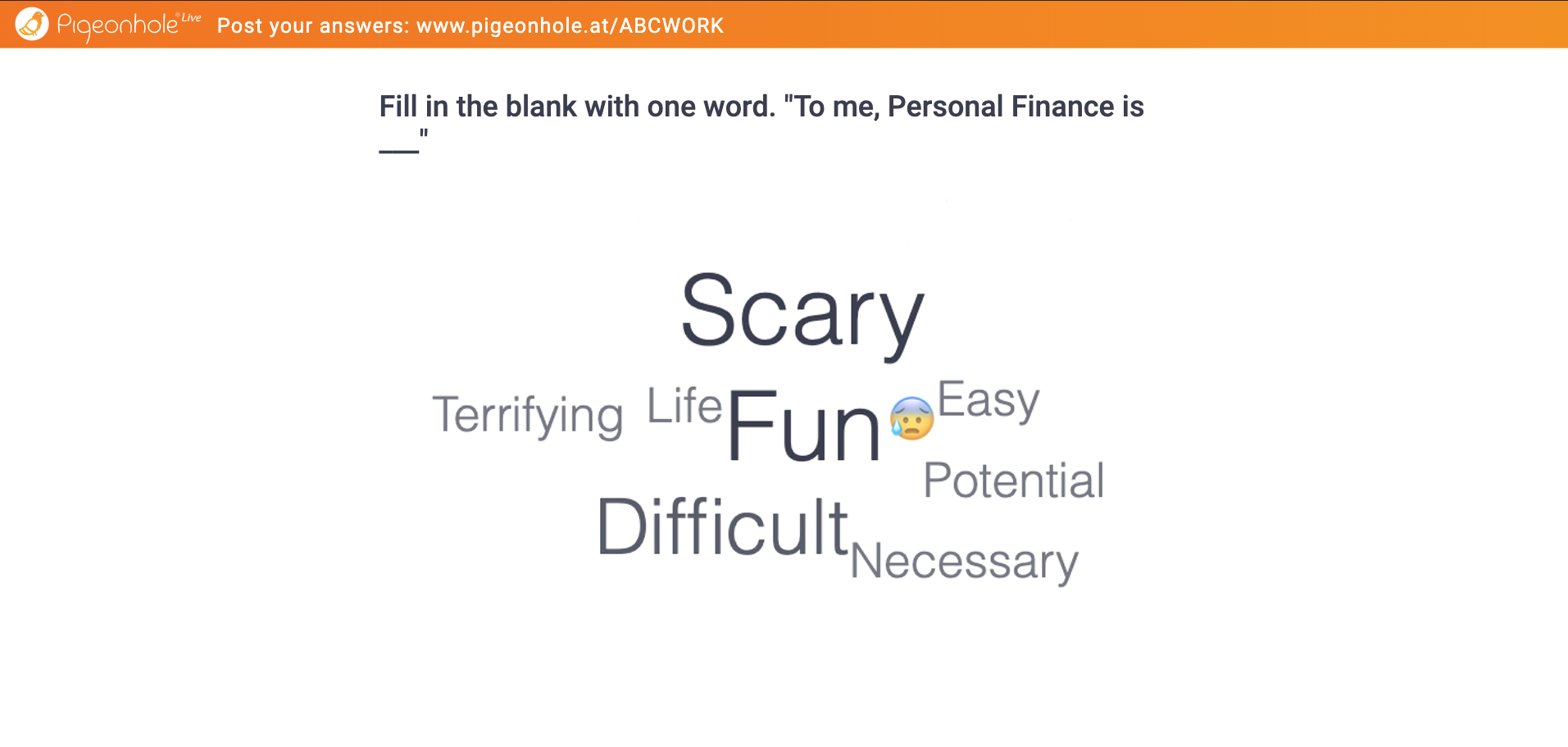 5. Comprehension Check
Want to quickly assess the audience's comprehension of a topic? Try a simple multiple-choice poll!

Here are some sample questions to consider:
How well do you understand generative AI models?

Very well
Somewhat well
OK
Not very well
Not at all

How comfortable are you discussing telehealth platforms?

Very comfortable
Comfortable
Neutral
Uncomfortable
Very uncomfortable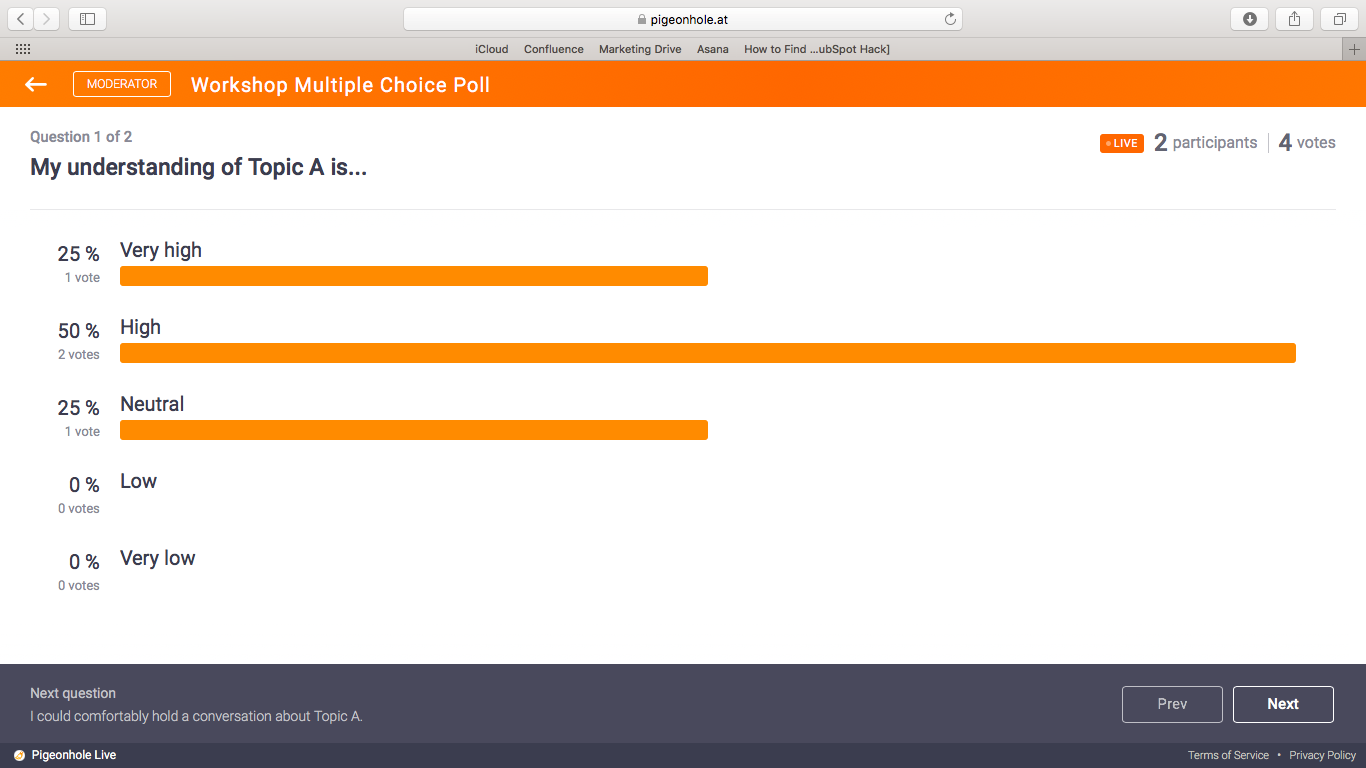 6. Group Naming
Organizing group activities as part of your workshop? Make it more exciting by asking each group to come up with a unique name for themselves. This helps boost energy and creates a sense of identity and camaraderie among team members.

Collect group names and member names to stay organized, and share some of the funniest group names with all participants. It's a great way to keep everyone engaged and energized throughout the session.


---
Presentations
7. SWOT analysis
While SWOT analysis is a common exercise in strategy-building, asking participants to shout out potential strengths and weaknesses in a group can be boring and time-consuming.

Here's a better approach: use Pigeonhole Live to crowdsource the strengths, weaknesses, opportunities, and threats of your strategy. Set up open-ended polls for each category and invite everyone to submit and upvote suggestions. This not only gathers ideas quickly but also accelerates discussion and increases engagement.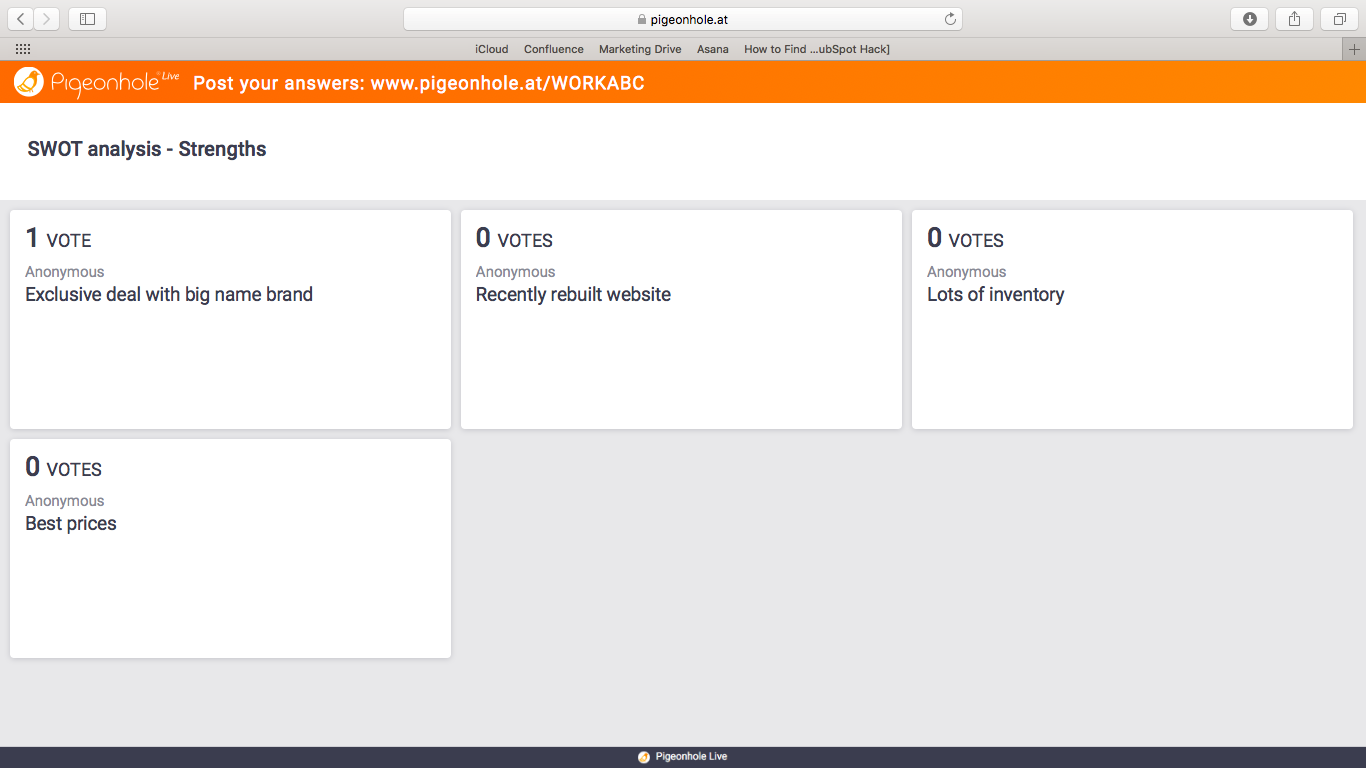 8. Pros and Cons
When brainstorming ideas during a workshop, a simple pros and cons list can be a useful tool for evaluating options. But instead of the traditional approach, why not try crowdsourcing pros and cons using Pigeonhole Live's open-ended poll?

With the option to submit anonymously, even shy participants have an equal opportunity to contribute. Plus, it's a fast and efficient way to gather ideas and opinions from everyone in the group.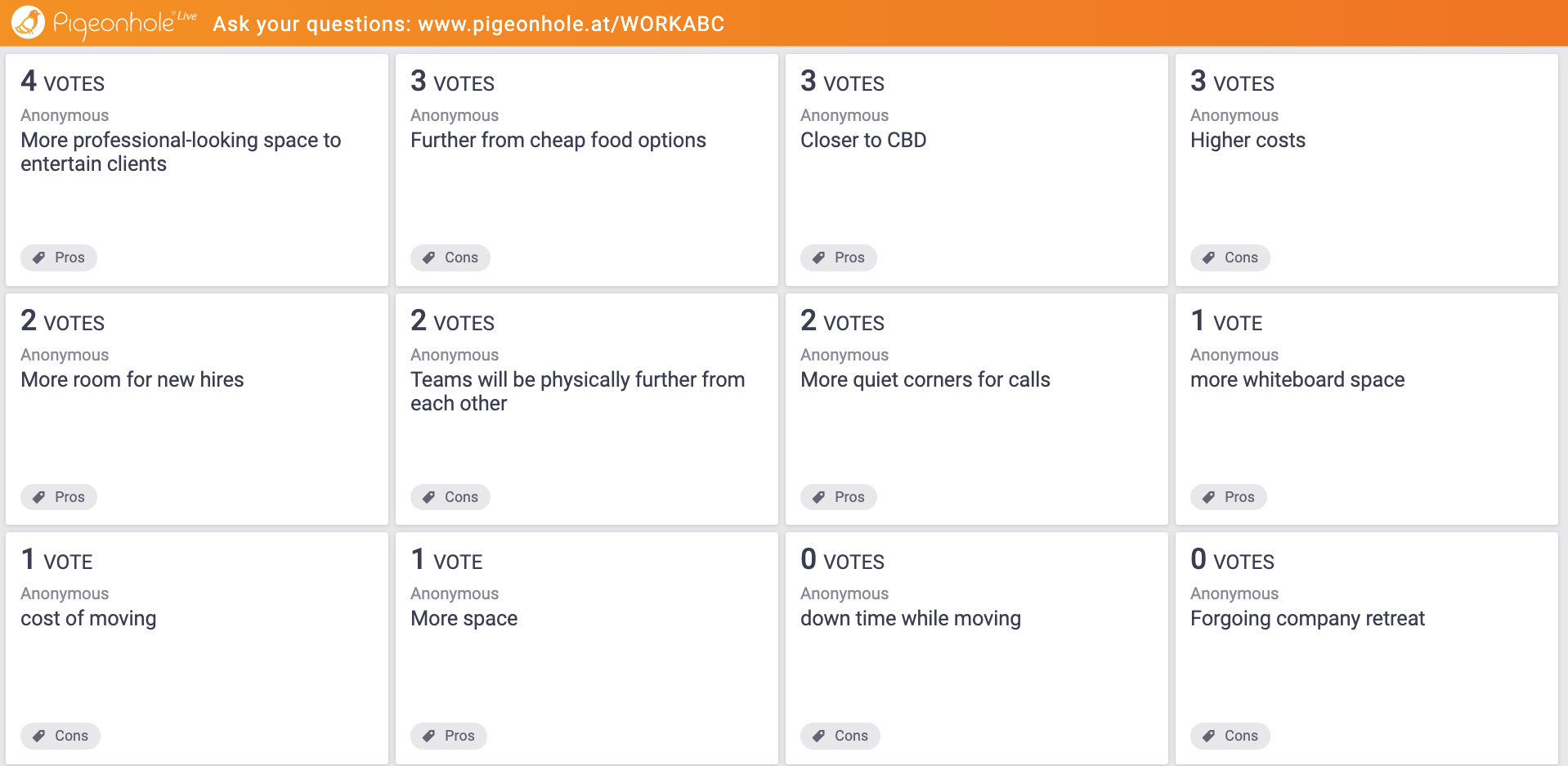 9. Idea Bank
To encourage creative thinking and inspire innovative ideas during your workshop, consider introducing an Idea Bank at the beginning of the session.

Create an open-ended poll, provide a prompt such as "How can we address extreme climate change?", and encourage participants to continuously drop their ideas into the Idea Bank throughout the workshop. This keeps the question at the forefront of their minds and motivates them to use what they learn to develop creative solutions.

At the end of the session, you'll have a collection of interesting ideas that you can share with the group or in a printout. Who knows, it might even inspire one of the participants to turn their idea into reality!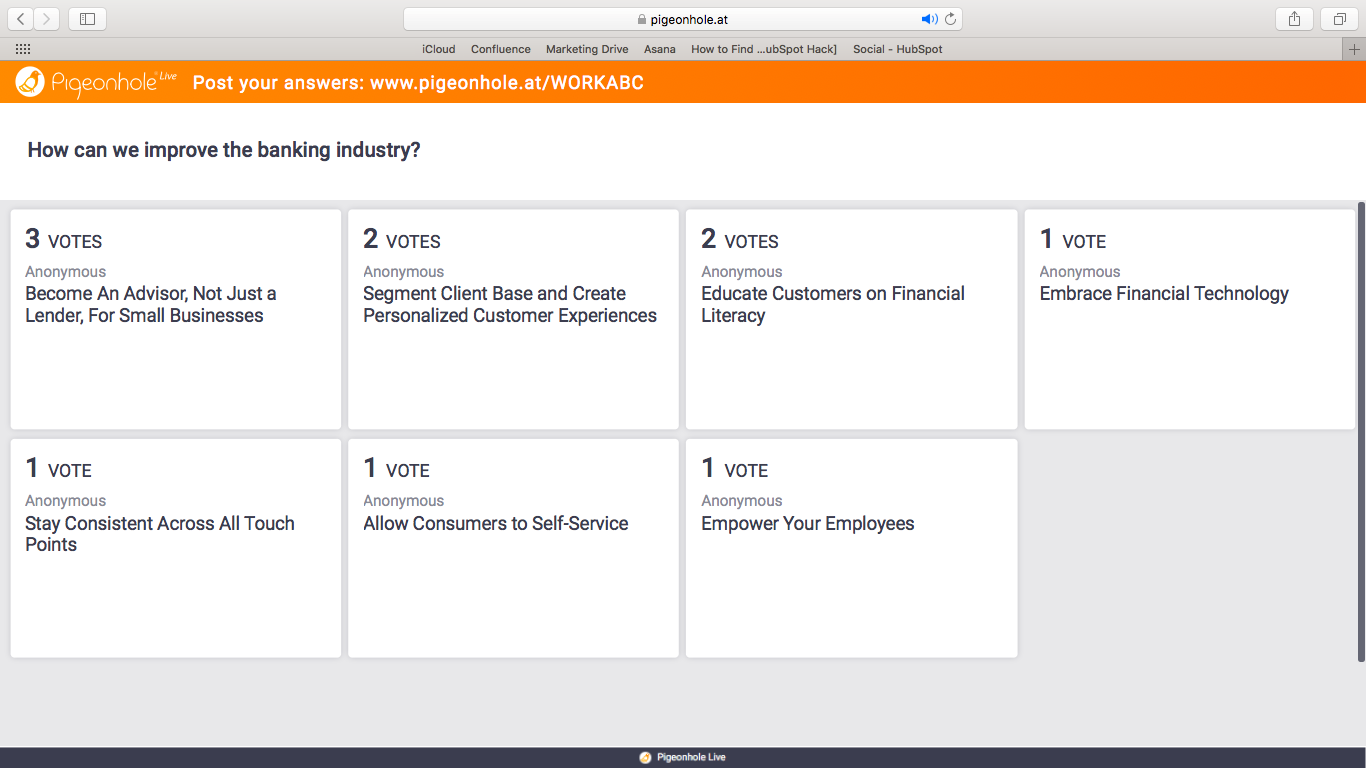 ---

Teaching
10. Live Q&A
When tackling technical topics in a workshop, participants may get lost and may be hesitant to raise their queries in a group setting. To prevent confusion and keep everyone on track, consider scheduling real-time Q&A sessions to check in with your participants.

By allowing for anonymous submissions, everyone can get their questions answered without feeling embarrassed or overwhelmed. Plus, as a facilitator, you'll gain valuable real-time insights into how your participants are progressing and can adjust the workshop accordingly.
11. Assessment
To make sure that everyone understands what you're teaching in your workshop, try giving short quizzes after each lesson. You can use Pigeonhole Live's assessment feature to create the quizzes and participants can take them at their own pace.

The results are private between you and the participants, so no one else will see them. You can then review the answers together to reinforce what you've been taught.

Just let participants know about the quizzes ahead of time. No one likes a surprise test!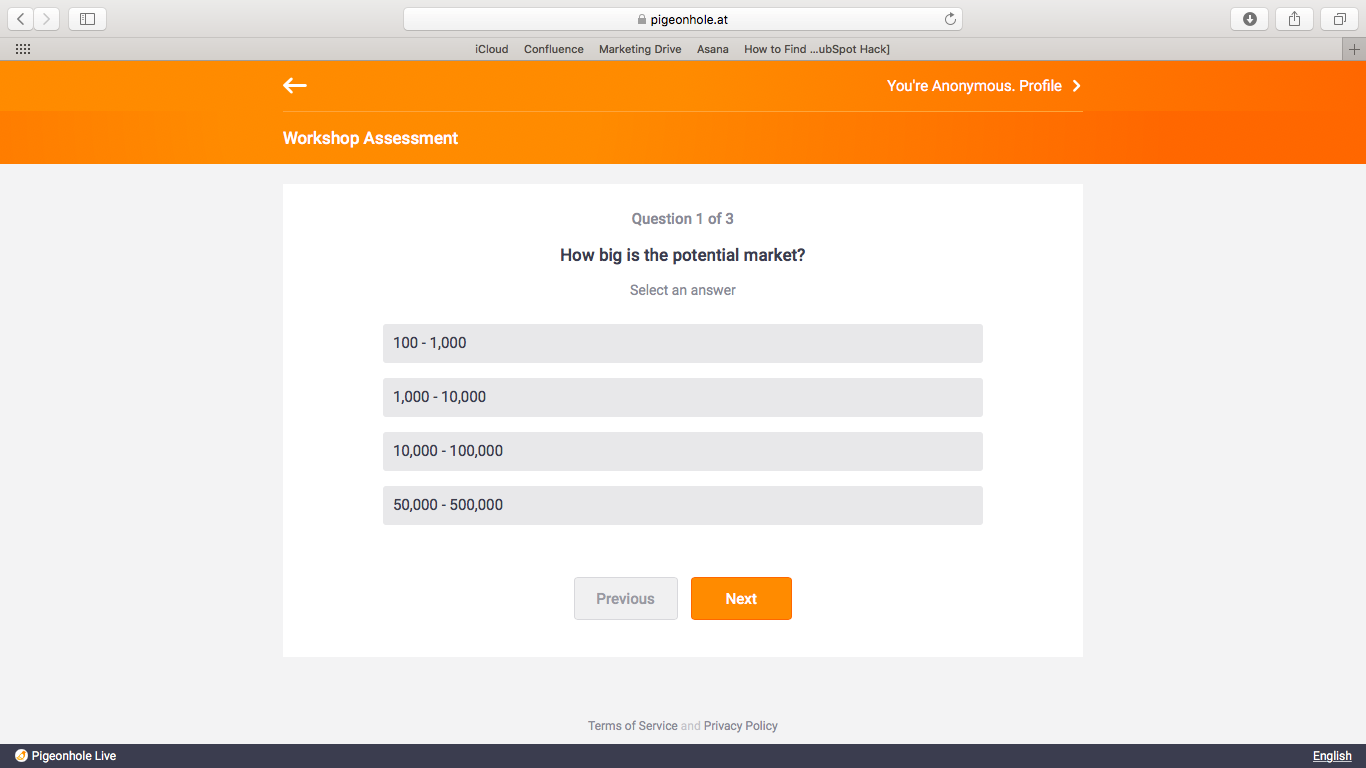 12. Quiz
Want to inject some energy and excitement into your workshop? Try hosting a quiz instead of a traditional lecture or presentation.

Using Pigeonhole Live's leaderboard feature, you can add a competitive edge to your quiz and motivate participants to aim for the top spot. To make things even more interesting, consider offering a small prize to the winner!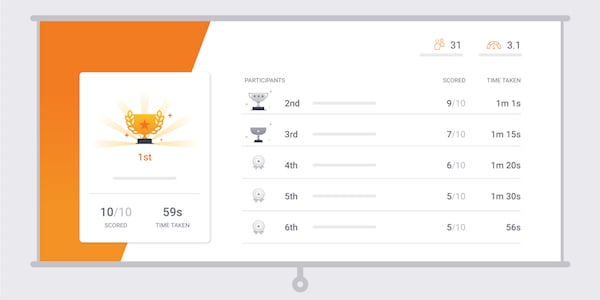 ---

Collaboration
13. Riddle me this
Games like puzzles and trivia questions can be an effective way to keep participants engaged during a workshop. For example, you can give each group a challenging trivia question or riddle to solve together.

This activity encourages collaboration, keeps minds active, and helps to combat post-lunch lethargy. Once the group has their answer, they can submit it to an open-ended poll to be shared with everyone else.

As a bonus, use this exercise to explore how group dynamics played a role in solving the difficult question. It's a great way to turn the activity into a problem-solving exercise and help participants learn from each other.

14. Hypothetically speaking...
After teaching the topics in your workshop, it's important to allow participants to apply what they've learned. One way to do this is by presenting a hypothetical situation and inviting participants to submit their answers to an open-ended poll.

Once everyone has submitted their answers, allow them to debate and discuss their responses. This works best with a question that has no clear answer, as it allows for a variety of perspectives to be shared.

By engaging participants in a meaningful discussion, you can help reinforce the concepts taught in the workshop and encourage deeper learning.
15. Write a story together
Encouraging group work during a workshop can be fun and engaging. Consider using Pigeonhole Live to try collaborative storytelling with your participants.

To start, provide a prompt like "It was a dark and stormy night" and ask participants to submit a sentence via an open-ended poll to add to the story. Once everyone has submitted their sentence, have them vote on their favorite.

This activity promotes creativity, and teamwork, and adds an element of surprise as the story takes unexpected turns!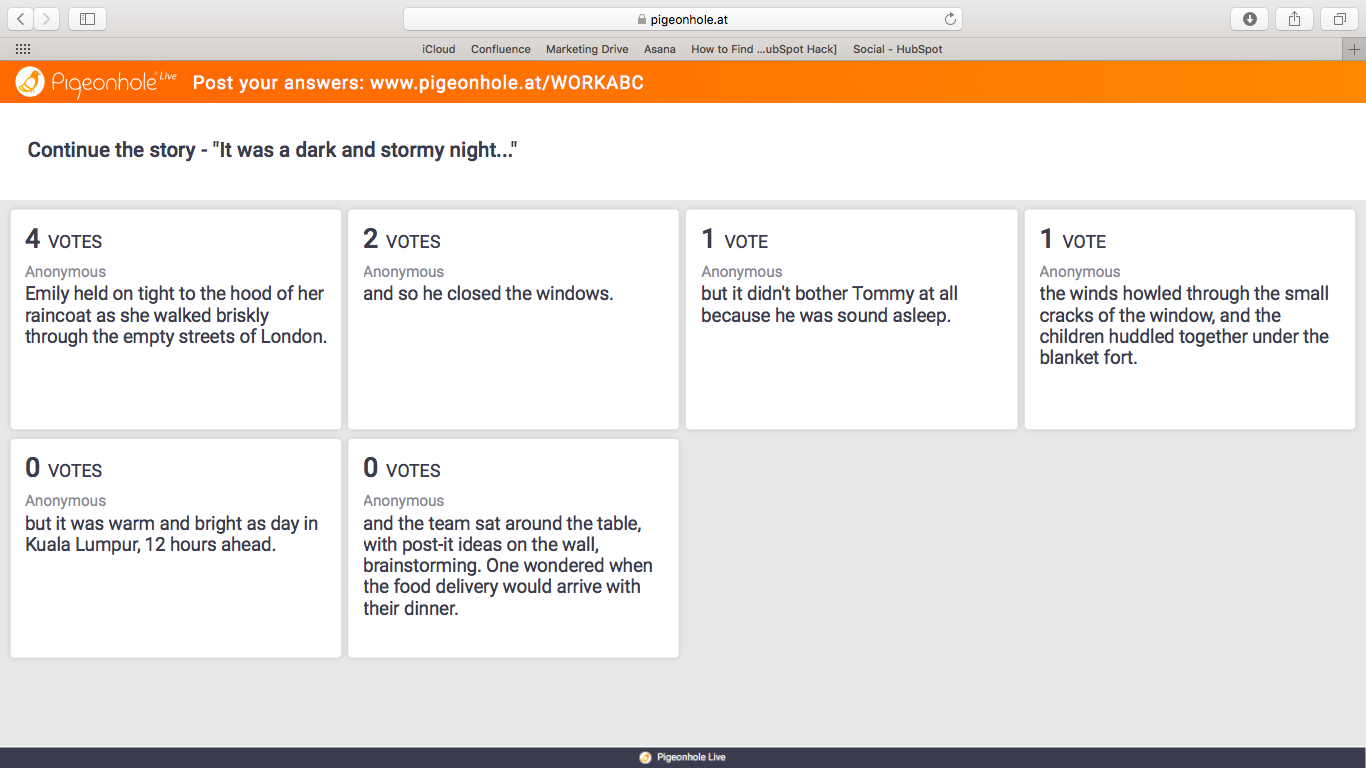 16. Alignment Word Cloud
When holding workshops focused on team alignment within a company, it's important to encourage teamwork and ensure everyone is on the same page. Using Pigeonhole Live's word cloud tool can help you kickstart the alignment process.

Start by asking a question that relates to your company's goals for the year, such as "What should be our revenue target?" Then, invite everyone to submit their answers to Pigeonhole Live. The word cloud will group similar answers, providing a visual representation of everyone's thoughts.

This exercise can spark discussion and help clarify differing expectations or reasoning behind certain goals. By using Pigeonhole Live's word cloud tool, you can easily visualize the team's alignment and work towards achieving common goals.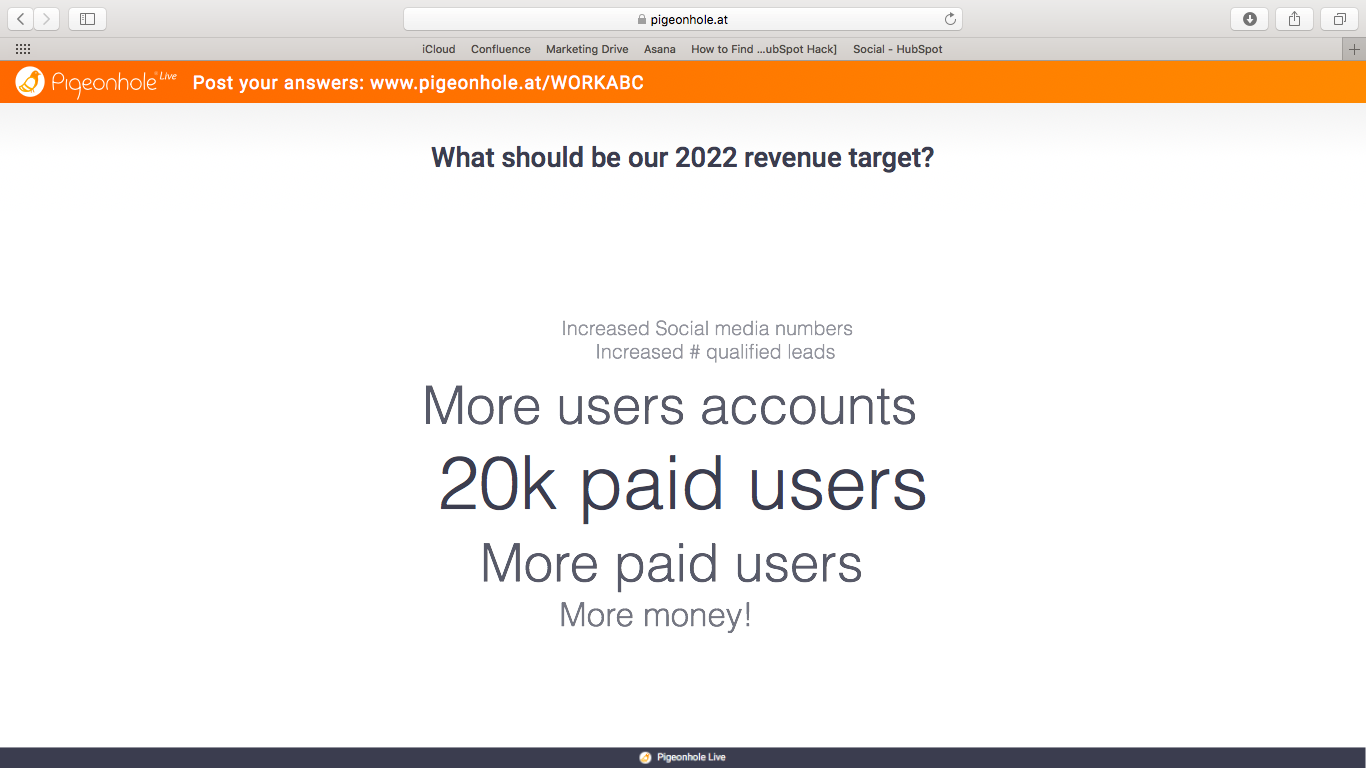 17. Conflict Style Test
Encouraging teamwork involves exploring the different roles and behaviors team members have when it comes to collaboration and conflict management. The Thomas-Kilmann Conflict Mode Instrument (TKI) is a useful tool to help you and your team identify your conflict-response behaviors.
TKI has two dimensions of behavior—assertiveness and cooperativeness—that define five modes of responding to conflict situations: Competing, Collaboration, Compromising, Avoiding, and Accommodating.
By answering 30 questions provided by TKI, which can be hosted on Pigeonhole Live's multiple-choice poll platform, you and your team can explore your conflict-response behaviors and have a fruitful discussion on how to manage conflict within the team in the future.
This exercise promotes self-awareness and team collaboration, allowing you to develop strategies for effective conflict management. So why not try incorporating the TKI exercise into your next workshop and see how it can help improve teamwork and conflict resolution?
18. Group Decision Analysis
Aligning team members with decision-making processes can improve collaboration and promote acceptance of decisions made within the company. Pigeonhole Live can help you conduct a decision-making style exercise to encourage alignment in this area.

To start, set up 6 word cloud polls, one for each decision-making style: Lack of Response, Authority Rule, Minority, Majority, Consensus, and Unanimity (or Unanimous Consent). Give participants access to the polls and ask them to submit and vote. The total percentage assigned to each style by each person should add up to 100%.

This exercise provides a snapshot of everyone's alignment on the current decision-making style and facilitates a discussion on whether the team is happy with the current style. It promotes collaboration, promotes self-awareness, and can help improve decision-making processes within the team.
---

Evaluation
19. Feedback Survey
Gathering feedback after a workshop is crucial to improve future workshops and understand your participant's experience better. With Pigeonhole Live's survey function, you can collect feedback through multiple-choice or open-ended options.

This function enables you to gather insights about what worked well and what needs improvement in the workshop, giving you valuable information to tailor future workshops to the participants' needs and preferences.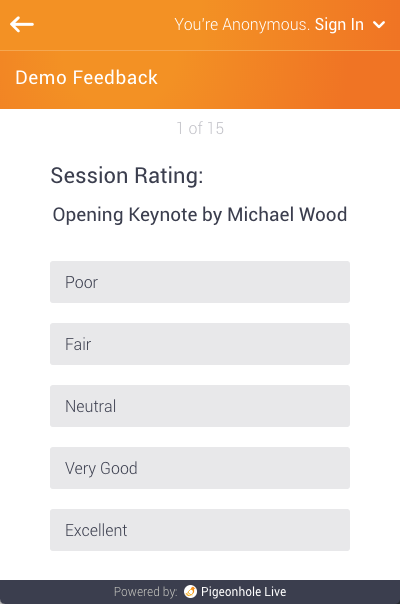 20. Feedback Word Cloud
End your workshop on a positive note with a creative and engaging feedback collection technique. Use Pigeonhole Live's word cloud feature to gather feedback by asking everyone to submit one word to describe the workshop, and then vote for the words they agree with.

This technique creates a visual representation of the participants' feedback, which can be shared with the attendees at the end of the day. It also encourages participants to reflect on the workshop and share their thoughts in a fun and interactive way.


---
Boost your workshop participation and learning now
Pigeonhole Live offers many fun and interactive workshop ideas. These activities are easy to implement and can make your workshops more engaging and productive. By using these 20 fun activities, you can make sure that your workshops are not only informative but also fun and interactive for everyone. So start now and make your next workshop more exciting!
Note: This article was first published in 2020 and has been subsequently updated with new insights and statistics.