Company Culture
How to Champion Diversity and Inclusion: Insights From 4 Companies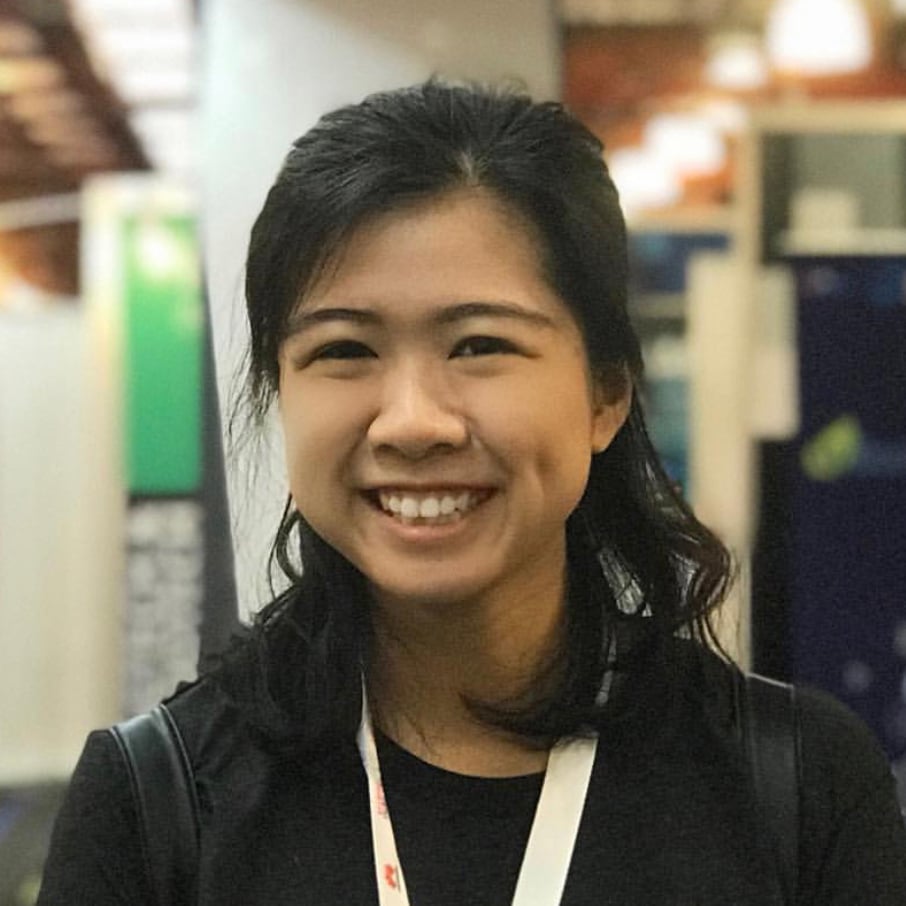 Annie Teh
April 11, 2023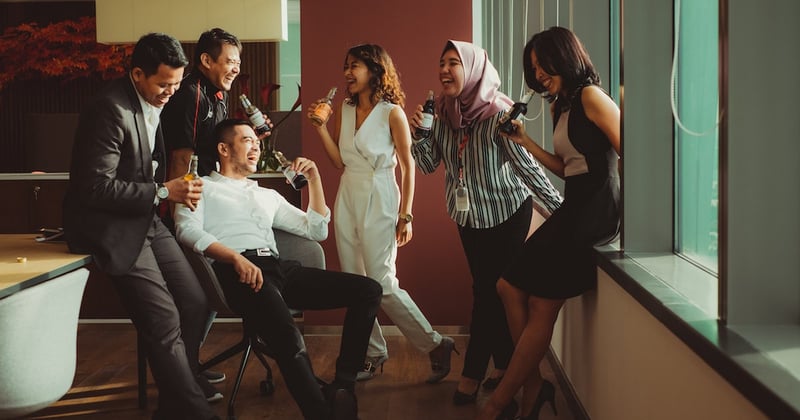 In our increasingly globalized world, diverse workplaces offer benefits and challenges. How can companies effectively promote workplace diversity and inclusion?
With the growing awareness of diversity and inclusion (D&I) advantages, championing these values is essential. This article highlights strategies that leading businesses have taken to effectively foster D&I and enjoy the benefits of a more inclusive environment.
---
Fostering cohesive diversity in the workplace
As talent moves across borders due to globalization, countries now have diverse demographic profiles with multiple nationalities, cultures, religions, and physical abilities, which can be beneficial for companies that can leverage this diversity.
Studies have shown that diversity and inclusion in the workplace lead to higher productivity, retention, engagement, morale, and innovation among staff. But before companies can start reaping these long-term rewards, they first need to be able to integrate their rich and varied talent pool into one cohesive workforce.
To ensure that diverse teams can work together effectively, it is essential to implement policies and procedures that encourage respect, create a shared sense of understanding, and enable open communication. This is because the success of diversity depends on the processes put in place to support it.
Here are four global organizations that prioritize workplace integration, along with the key takeaways we can learn from their approaches.


---
Company 1: Salesforce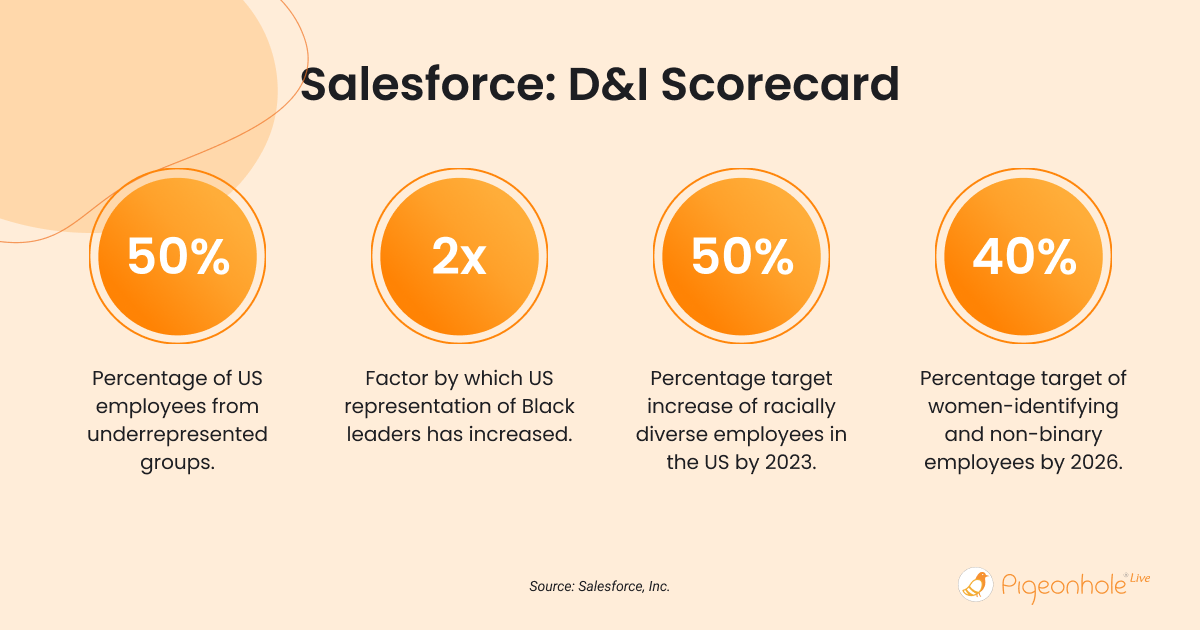 Salesforce, a leading cloud-based software company, is renowned for its strong dedication to D&I initiatives. The company is committed to fostering a diverse and inclusive workplace that inspires innovation, creativity, and collaboration among its employees, and has made diversity a part of its global brand, not just an HR initiative.
By implementing its Equality program as a key strategy to promote diversity and inclusion, Salesforce focuses on increasing diversity in its workforce and ensuring fair and equal treatment for all employees, resulting in a successful increase in the number of women and people of color in leadership positions.

The company has also implemented a range of other initiatives aimed at promoting diversity and inclusion in the workplace. This includes its mentorship program, which is designed to help employees from underrepresented groups gain access to professional development opportunities and advance in their careers.
To ensure fair and equal pay for all employees regardless of gender or ethnicity, Salesforce conducts regular pay structure reviews and made 8.5% of compensation adjustments based on gender and race or ethnicity for nearly 70,000 global employees in their latest compensation review.

In addition to its internal initiatives, Salesforce is also actively engaged in promoting diversity and inclusion in the wider community. The company has donated millions of dollars to organizations that promote equality and social justice, and it regularly partners with nonprofits to support underrepresented groups.

Overall, Salesforce has been a trailblazer in promoting diversity and inclusion in the workplace. Its initiatives have been successful in creating a more diverse and inclusive workforce as reflected by its D&I ratings at Glassdoor, while also promoting fairness and equality for all employees.


---
Company 2: Shell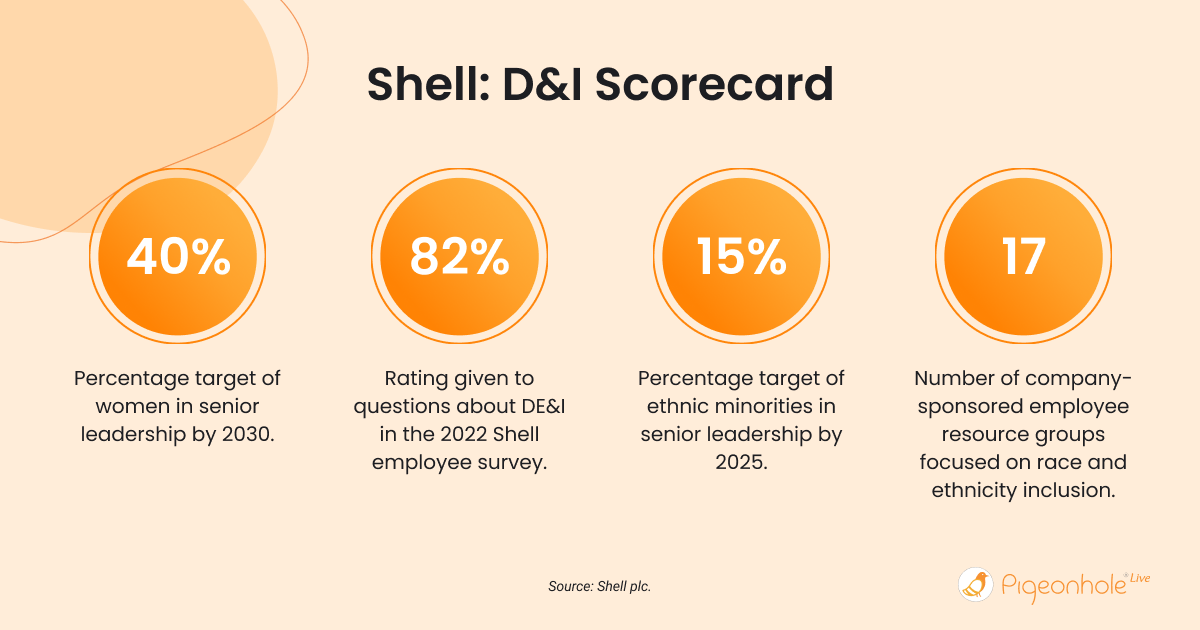 Shell, an oil and gas company, has acknowledged the significance of diversity and inclusion in the workplace, implementing policies and initiatives to promote gender and ethnic diversity, as well as supporting employees with disabilities, resulting in a more inclusive culture.
One of Shell's initiatives is its global diversity and inclusion strategy, which is designed to create a diverse and inclusive workplace culture. The strategy has 3 pillars to establish a diverse and inclusive workplace aligned with core values, improve business performance through diversity, and gain trust through their commitment to D&I.
Shell is committed to creating a gender-balanced workforce and has set a goal of achieving 40% representation of women in senior leadership positions by 2030. The company offers various programs, initiatives, and flexible working arrangements to support women's career progression and development.
In its efforts to promote an inclusive culture, Shell has implemented initiatives to increase the representation of underrepresented groups, including partnering with external organizations to attract diverse candidates and increasing the proportion of ethnic and racial minorities in leadership positions.
Creating an inclusive work environment that supports employees with disabilities is a priority for the company, and Shell has taken various steps such as implementing accessibility guidelines and assistive technology to ensure that their workplace is welcoming and inclusive for all employees.
To sum up, Shell has shown a strong dedication to diversity and inclusion, understanding its ability to promote a more equitable workplace and drive innovation and business success, as reflected by numerous DE&I awards and recognitions they have received.


---
Company 3: KPMG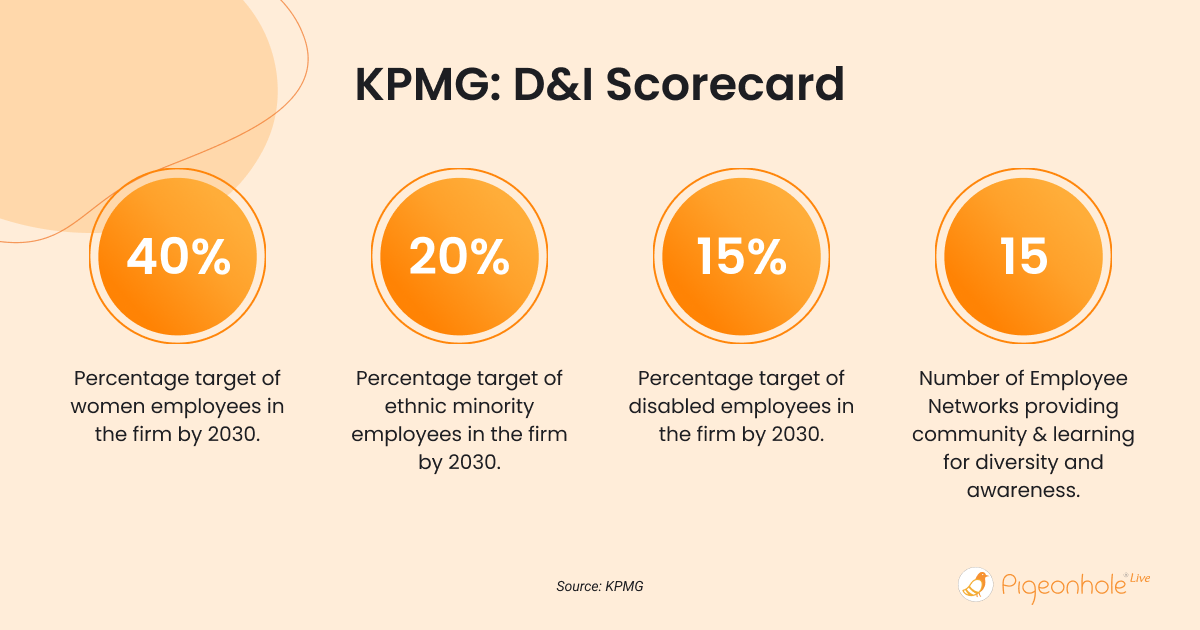 KPMG is a global professional services firm that provides audit, tax, and advisory services to clients around the world. The company recognizes the importance of diversity and inclusion in the workplace and has implemented a range of initiatives to promote and support a more inclusive culture.

One of the key initiatives of KPMG is its Inclusion, Diversity and Equity plan which aims to promote a more inclusive work environment that values and supports diversity. The program focuses on the recruitment, retention, and promotion of diverse talent, as well as providing training and development opportunities to employees.

KPMG also has a strong focus on gender diversity and has set ambitious targets to increase the number of women in leadership positions. The company has a gender equality action plan to support women in the workplace, including flexible working arrangements, parental leave policies, and networking for professional development.

In addition, KPMG values promoting ethnic and racial diversity, recognizing the importance of creating a workplace that is reflective of the communities in which it operates. The company has set targets to increase ethnic minority representation to 25% and black heritage representation to 10% by 2030.

All in all, KPMG's commitment to diversity and inclusion is evident in its initiatives and programs, and the company continues to strive toward creating a more inclusive and equitable workplace for all employees.


---
Company 4: STMicroelectronics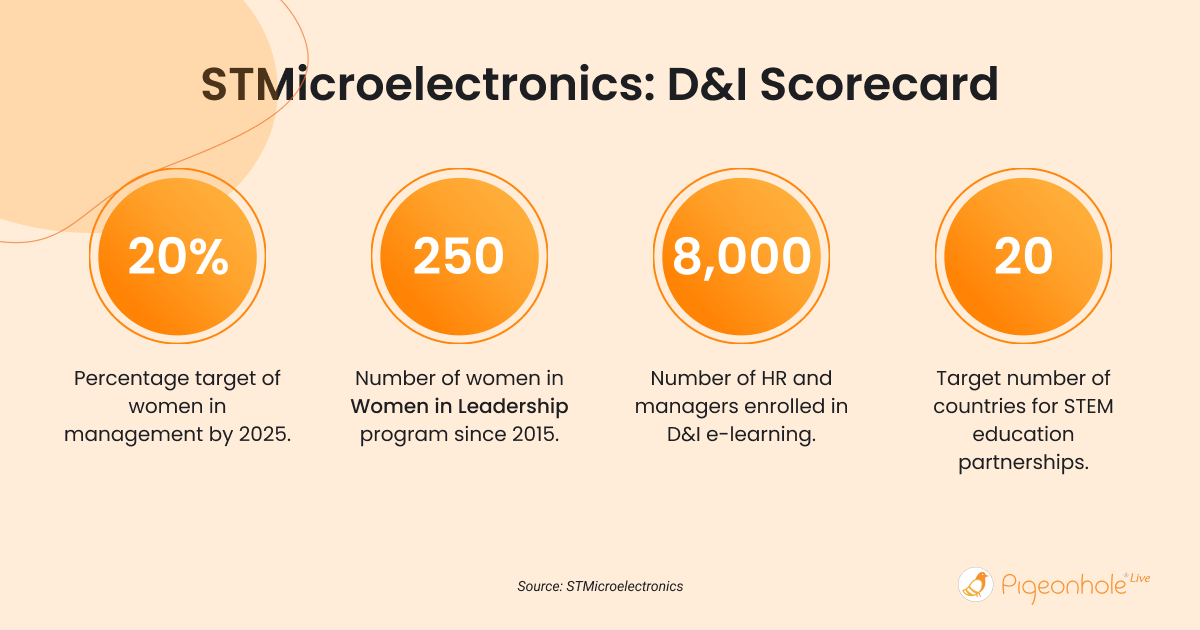 Committed to fostering D&I in the workplace, STMicroelectronics, a global semiconductor company, has set goals to improve the representation of underrepresented groups, including women and ethnic minorities, and has implemented programs and initiatives to support employees and create an inclusive culture throughout the firm.
STMicroelectronics has a Women in Leadership program that provides mentorship, networking opportunities, and career development resources to increase the representation of women in leadership positions, with a goal of having more than 20% of women in management positions by 2025.
To address the under-representation of women in technical fields, STMicroelectronics recognizes the need to address the shortage of women studying technical subjects in colleges and universities. The company has expanded its STEM program to encourage girls to choose technical studies early on in their education.
STMicroelectronics has also implemented various programs and initiatives to support diversity and inclusion in the workplace, such as unconscious bias workshops, D&I e-learning, and flexible work arrangements, which have earned the company recognition and awards.
Overall, STMicroelectronics is dedicated to fostering an equitable and inclusive workplace where everyone can be authentic and reach their full potential.


---
The challenge of defining diversity
While it is important to recognize and appreciate the differences among people, diversity is more than just what can be seen on the surface. The current definition of "diversity in the workplace" often focuses too much on physical characteristics like race, nationality, gender, age, or physical ability and may not fully capture the breadth and depth of diversity among individuals.
Diversity is a lot more than what meets the eye. Just like an iceberg, what we see on the surface is only a small part of what's really there. In fact, diversity encompasses many different things that we cannot see, and this can sometimes make it difficult to understand and be inclusive of everyone.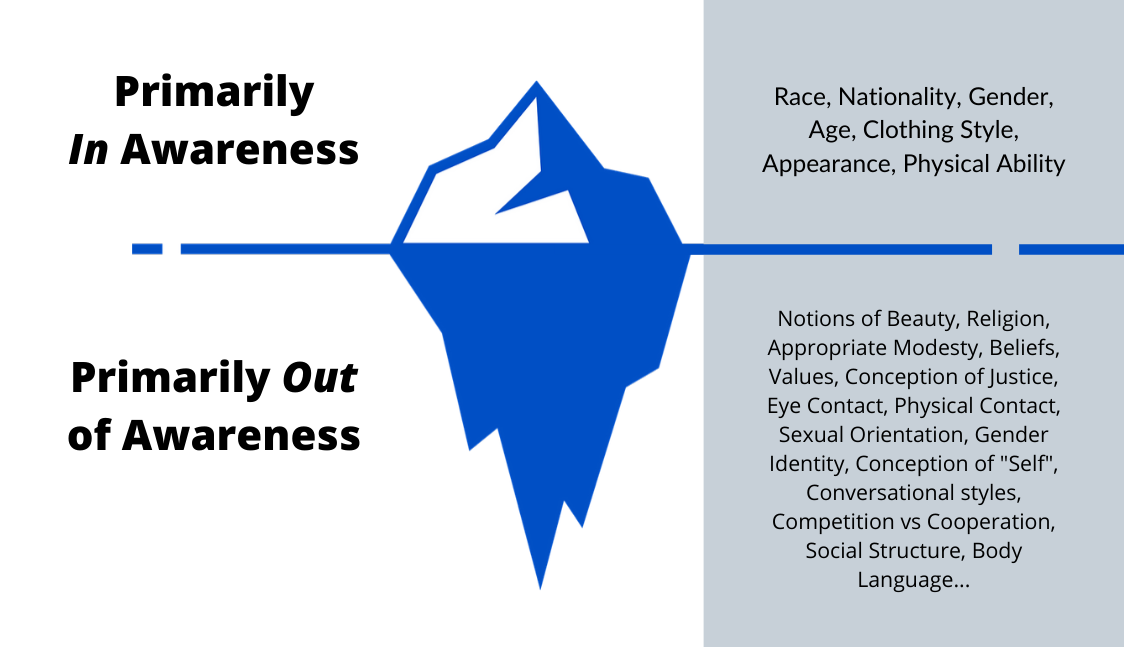 Source: Based on the Diversity Iceberg Exercise by the
Arvana Group

As there are more differences among individuals, there are also more opportunities for people to connect and relate to one another, even if they come from different backgrounds. For instance, individuals from different races, nationalities, and ages can still find common ground and respect by sharing personal beliefs or hobbies.


---
Integrating diversity & inclusion into company culture
As society becomes more diverse, the conversation surrounding diversity and inclusion will evolve. However, for it to truly succeed, D&I must be a core part of a company's values and culture. It cannot be just a separate initiative but must be ingrained into the organization's DNA. Prioritizing D&I in this way creates a more equitable and supportive work environment for employees.
Want to learn more about how to create an inclusive workplace? Read our whitepaper, Diversity Fails Without Inclusion.
Note: This article was first published in 2020 and has been subsequently updated with new insights and statistics.