Pigeonhole Live's Guide to Hybrid Events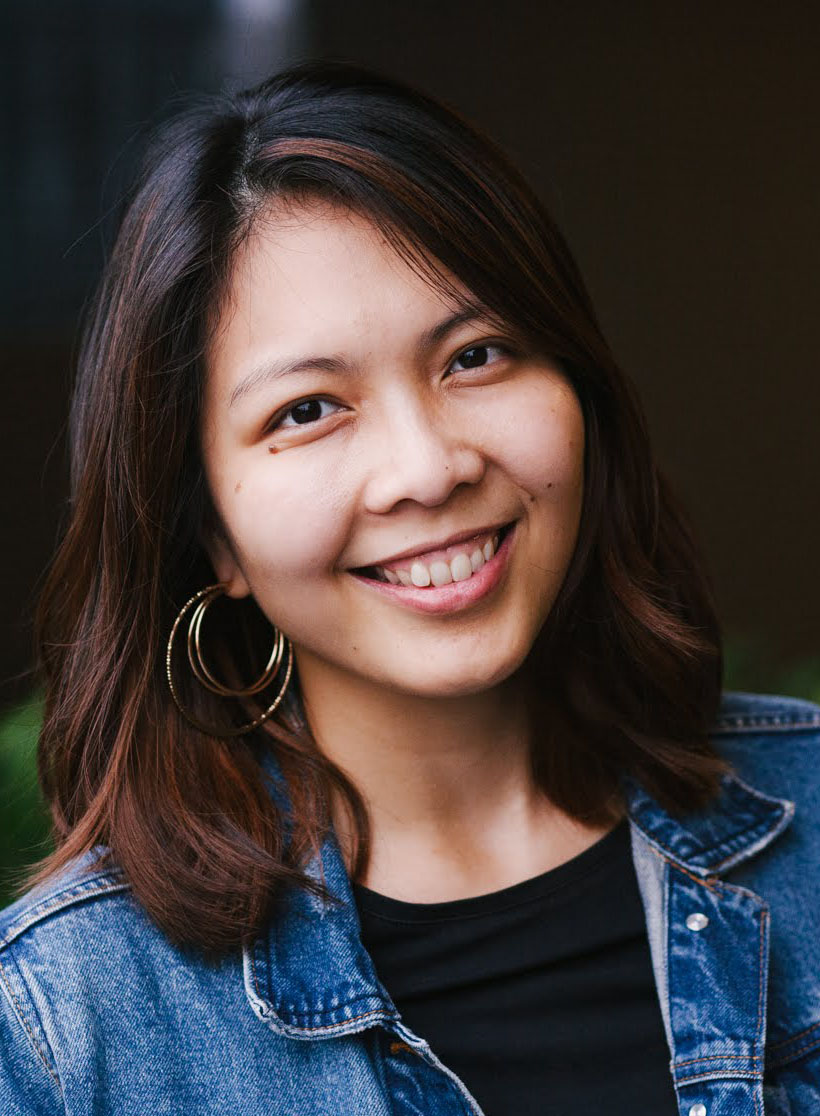 Sarah Lim
March 15, 2023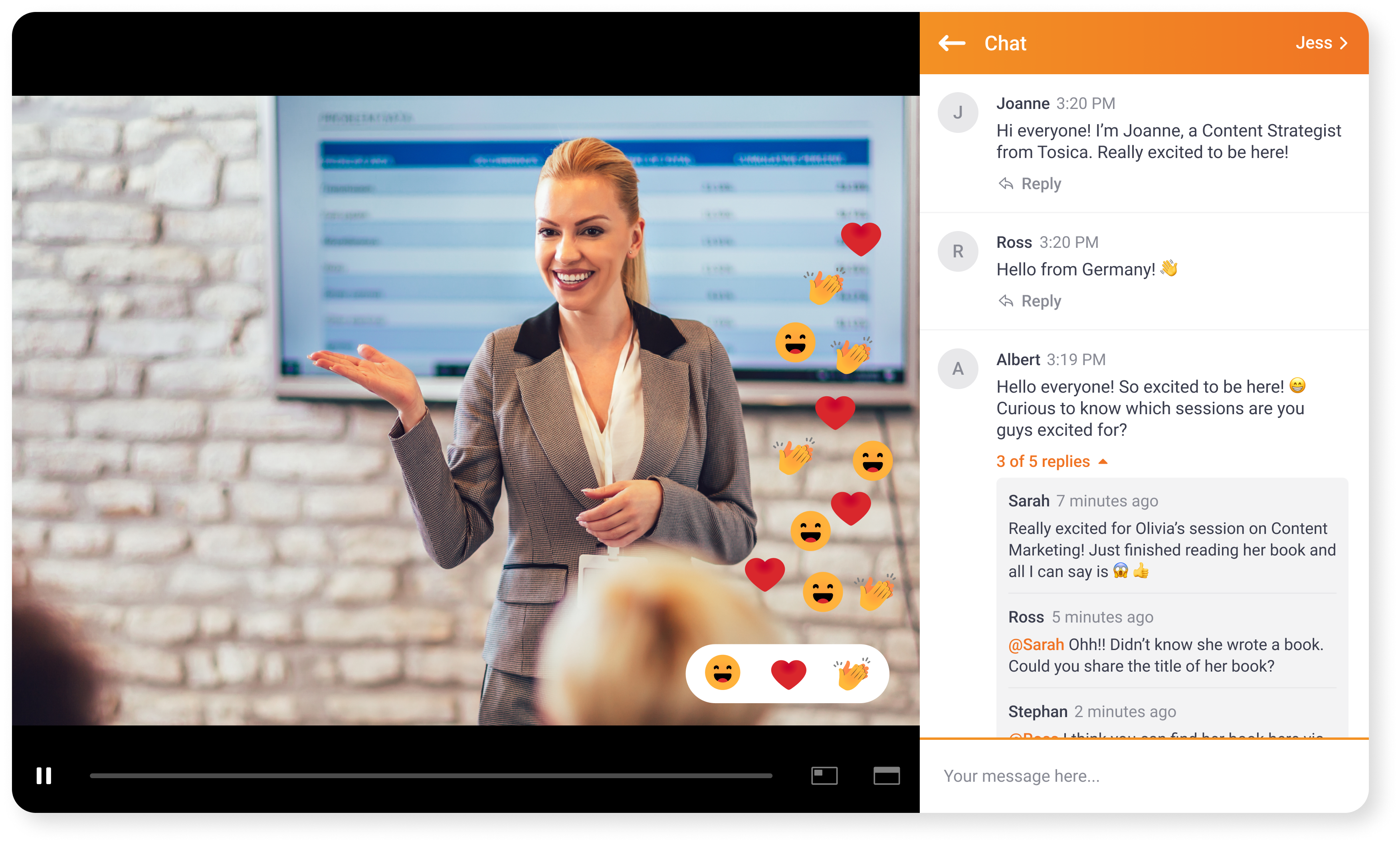 The events industry has gone through massive challenges in the past few years. If there's a key principle that every event planner can agree with today, it is to 'design for flexibility'. One of the ways this is done is by running a hybrid event.
Combining creativity and technology, hybrid events have allowed us new ways to keep creating authentic experiences. It enables flexible participation options for both planners and guests, it engages current and new audiences in a personal way, and it prioritises the health, safety, and accessibility of all involved.
What is a hybrid event and why run it?
Similar to hybrid meetings that most companies now practice, hybrid events have both physical and virtual elements. It comprises two audience types: guests who attend in-person at the physical venue and those who attend virtually - from the comfort of their homes or on-the-go using their mobile devices, or anywhere they are in the world.
Hybrid events, both internal and external, have their benefits. Here are some:
Pandemic-conscious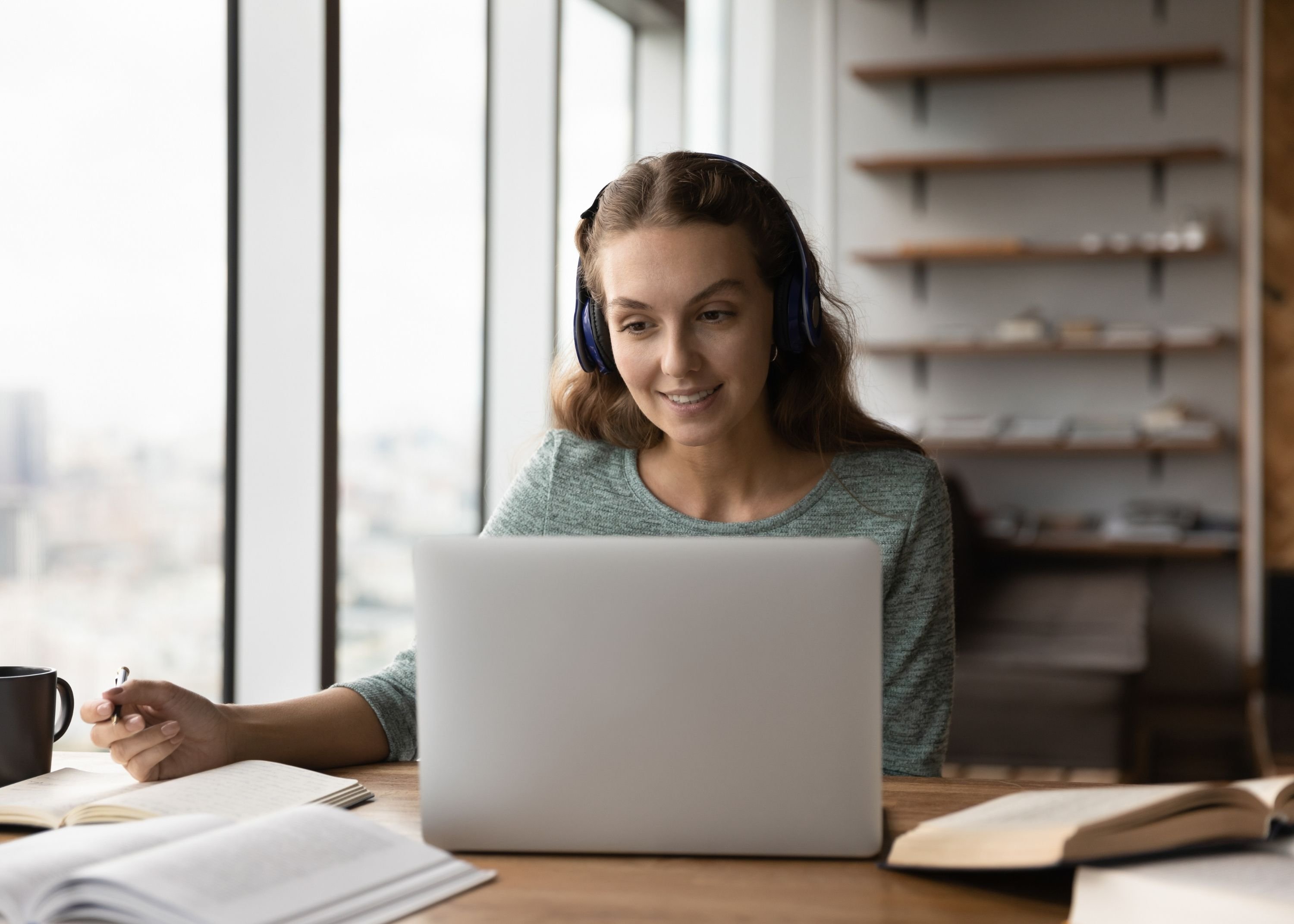 Hybrid events help to reduce the number of in-person guests without compromising on audience reach, simply by enabling a portion of guests to attend virtually. This makes good social distancing practices possible in any given space, while still offering the physical experience for those interested.
Expanded reach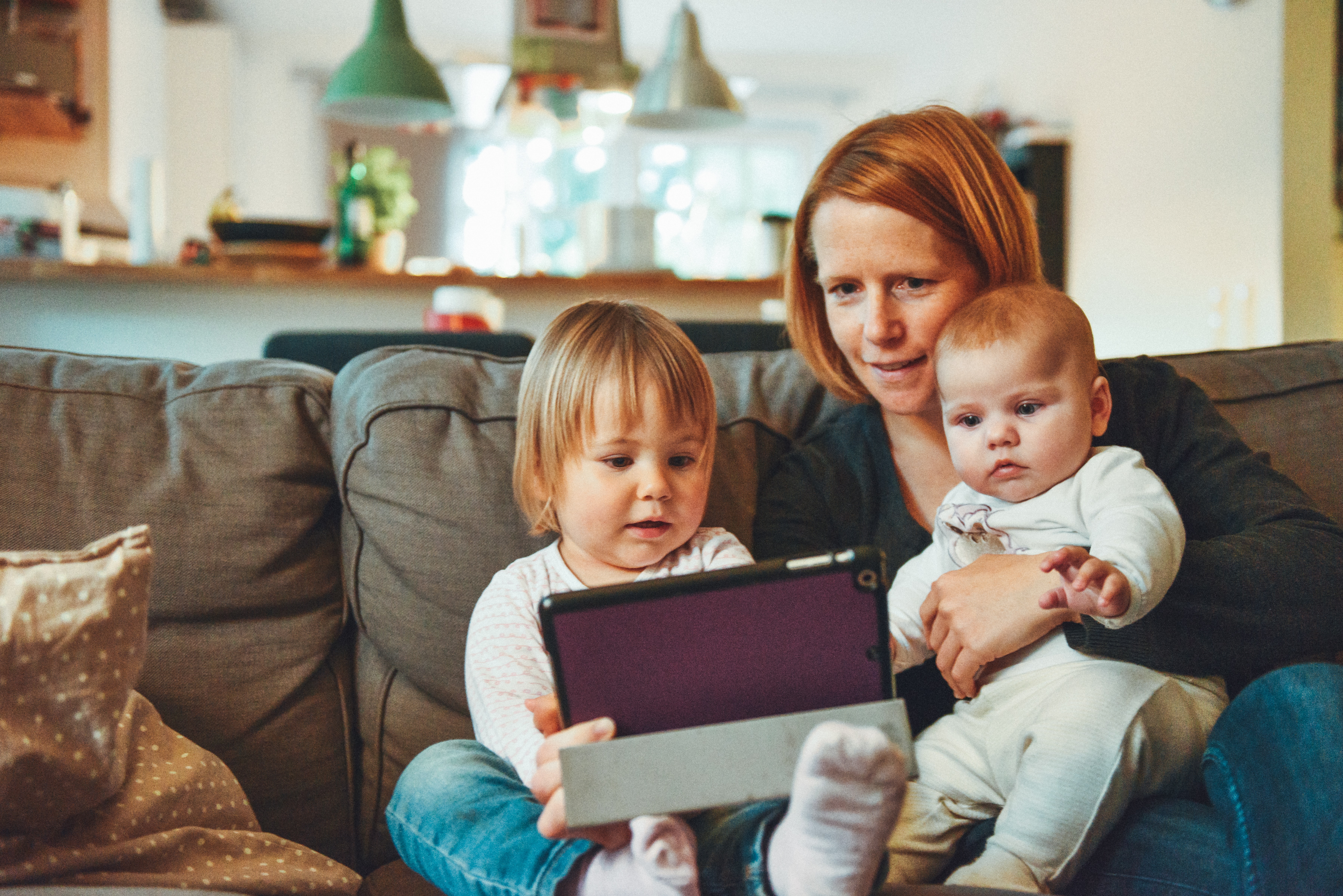 By allowing the option for virtual participants, people who may be limited physically or by distance can also participate. Full-time mothers without babysitters, people living in a different state or country, or those who have disadvantages in physical movement.
Event flexibility
With so many unforeseen circumstances cropping up at the eleventh hour these days, people feel the need to keep their options open. Whether a sudden increase in Covid-19 cases calls for staying home or someone in your company becomes a close contact, it's a huge advantage if your event is designed to carry on. For external events, your intended audience may be more inclined to commit to attending an event if they know that both participation methods are available for them: in-person and online.
Level up engagement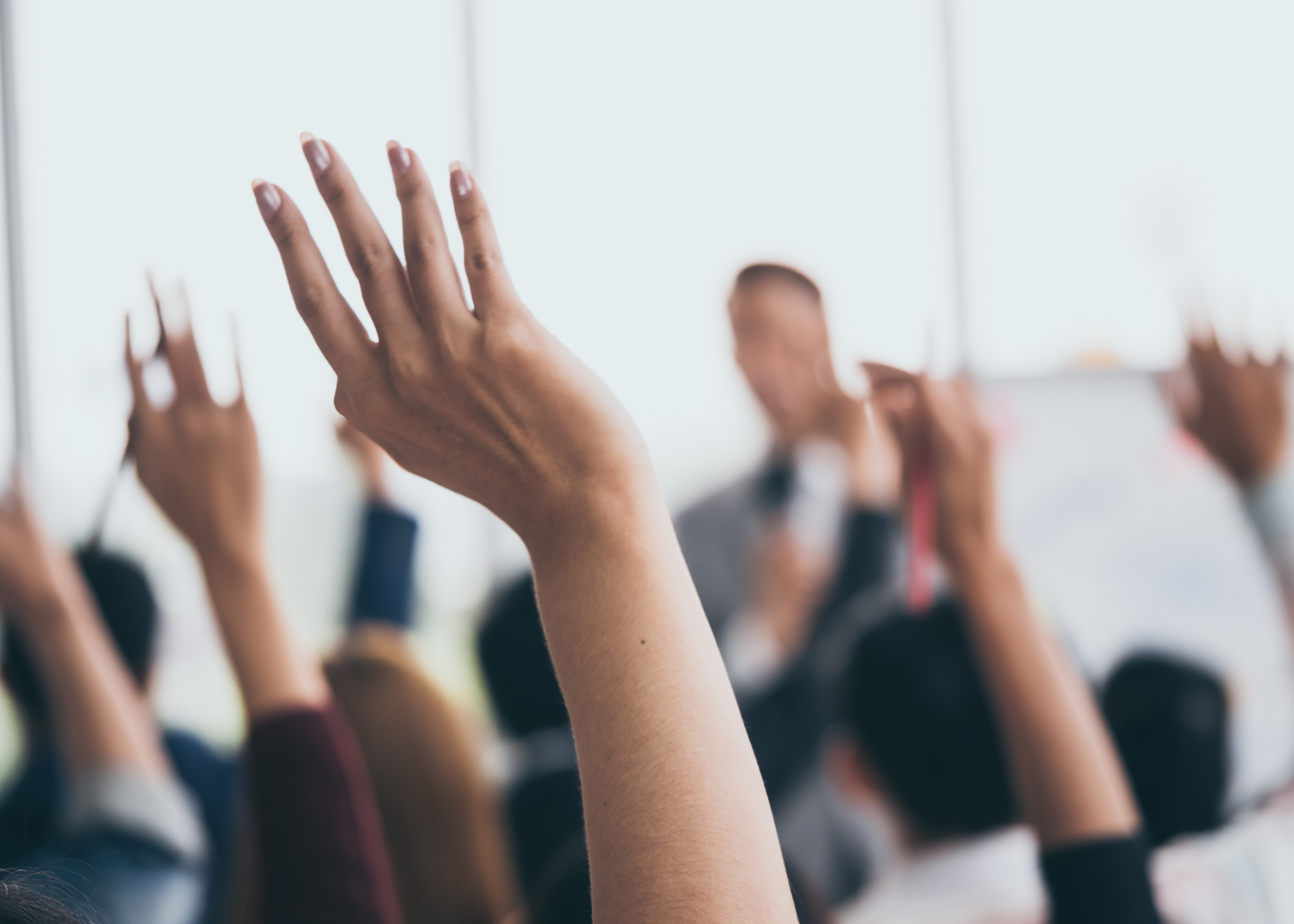 For any forward-thinking company, running a hybrid event will soon move beyond necessity to being a norm if audience engagement is a priority. New experiences are a highlight in the future of events and by using hybrid events as a platform, there are so many creative things you can do to make your event truly engaging and memorable for your participants.
Challenges of running a hybrid event
The challenges of running a hybrid event are quite different from running a virtual-only event or a physical-only event. Here's why:
The greatest challenge for physical-only events is logistics. Some of your main concerns would be finding a suitable venue that can host the expected number of guests, having the weather and traffic conditions just right, and ensuring that your attendees show up so the cost is justified and the photos look good.
Virtual-only events have their fair share of challenges too. You would need to ensure a stable and fast-speed Internet connectivity from where the event is live streamed or telecasted and hope that your participants' have the same bandwidth to avoid disruptions on their end. It is also generally more challenging to keep participants engaged in a virtual event compared to a physical one.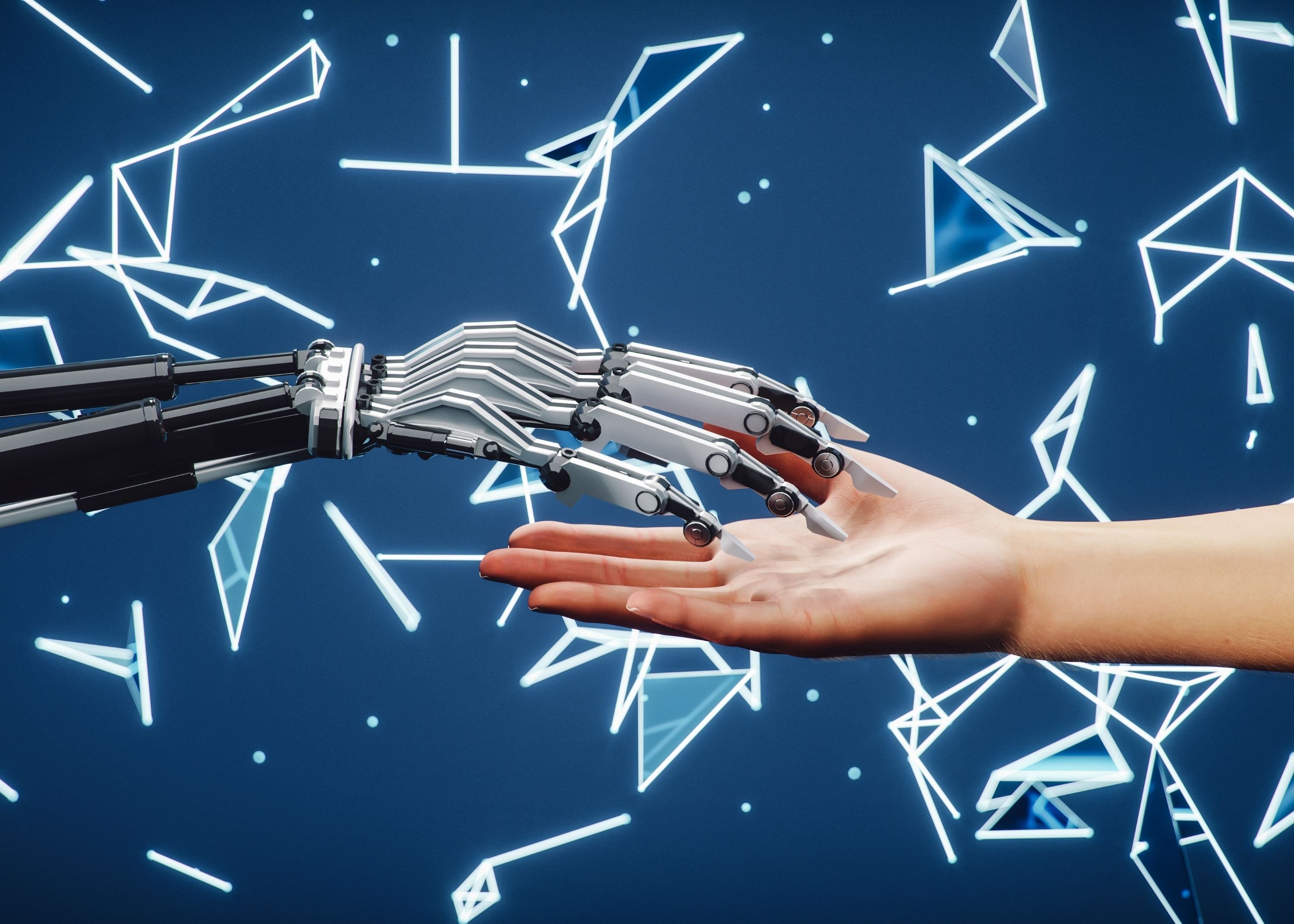 As you've guessed by now, preparation for a hybrid event would need to factor in challenges that are experienced by both in-person and virtual events. Most importantly, you need to remember that the unspoken promise of a hybrid event is inclusivity. Anytime you're planning for one audience type, you need to be thinking of how the other audience type will also experience that moment in real time.
When people attend a hybrid event, they expect to have access to the same content and activities whether they're attending in-person or virtually. If your hybrid event can deliver content in a seamless manner while enabling both types of attendees to feel connected to the event and to each other, then you've nailed it. This, of course, will require extra effort and care at all stages and touchpoints: registration, content delivery, audience engagement, event management, sponsor involvement, and more. Thankfully, we have technology to help make that happen.
Using Pigeonhole Live to enrich your hybrid events
As a tech platform that's been in the business of enabling vibrant two-way interactions since 2010, Pigeonhole Live is now even more equipped to support live and virtual audiences on the same platform. Our customisable features are able to fit your event branding and integrate seamlessly into your preferred event platform or your very own event website.
Here's how you can easily use Pigeonhole Live for both in-person and virtual participants.
1. Easily access Chats, Q&As, or Polls through a unified, seamless registration
Virtual participants who join an event session that is using our Chat, Q&A, or Poll feature via a virtual event site will be automatically signed in to Pigeonhole Live using their event registration details.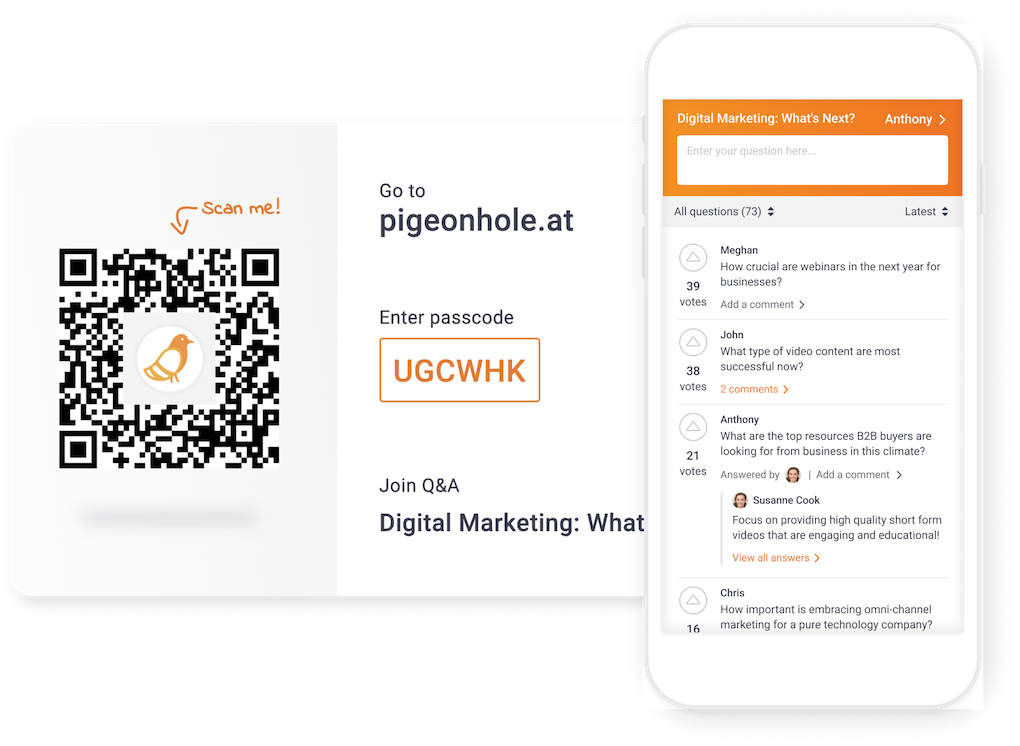 To set up a seamless point of entry for in-person participants to join as well, you can provide a QR code on-site for them to scan with their mobile phones.
Participants need to simply enter their email to be automatically signed in to Pigeonhole Live, allowing access to the same Chat, Q&A, or Poll feature as their virtual counterparts. If an integrated event registration app is used, in-person participants can also access the Chat, Q&A, or Poll sessions directly without any additional steps. These nifty features help to remove entry barriers by making the interactivity easily accessible for both audiences.
View the full list of partner event marketing platforms here.
2. Enjoy equal access to real-time interaction and networking opportunities
Whether attendees are joining Q&As, Chats, and Polls from their laptops on the virtual event platform from home, or through their mobile phones at the event venue, they will be interacting within the exact same sessions.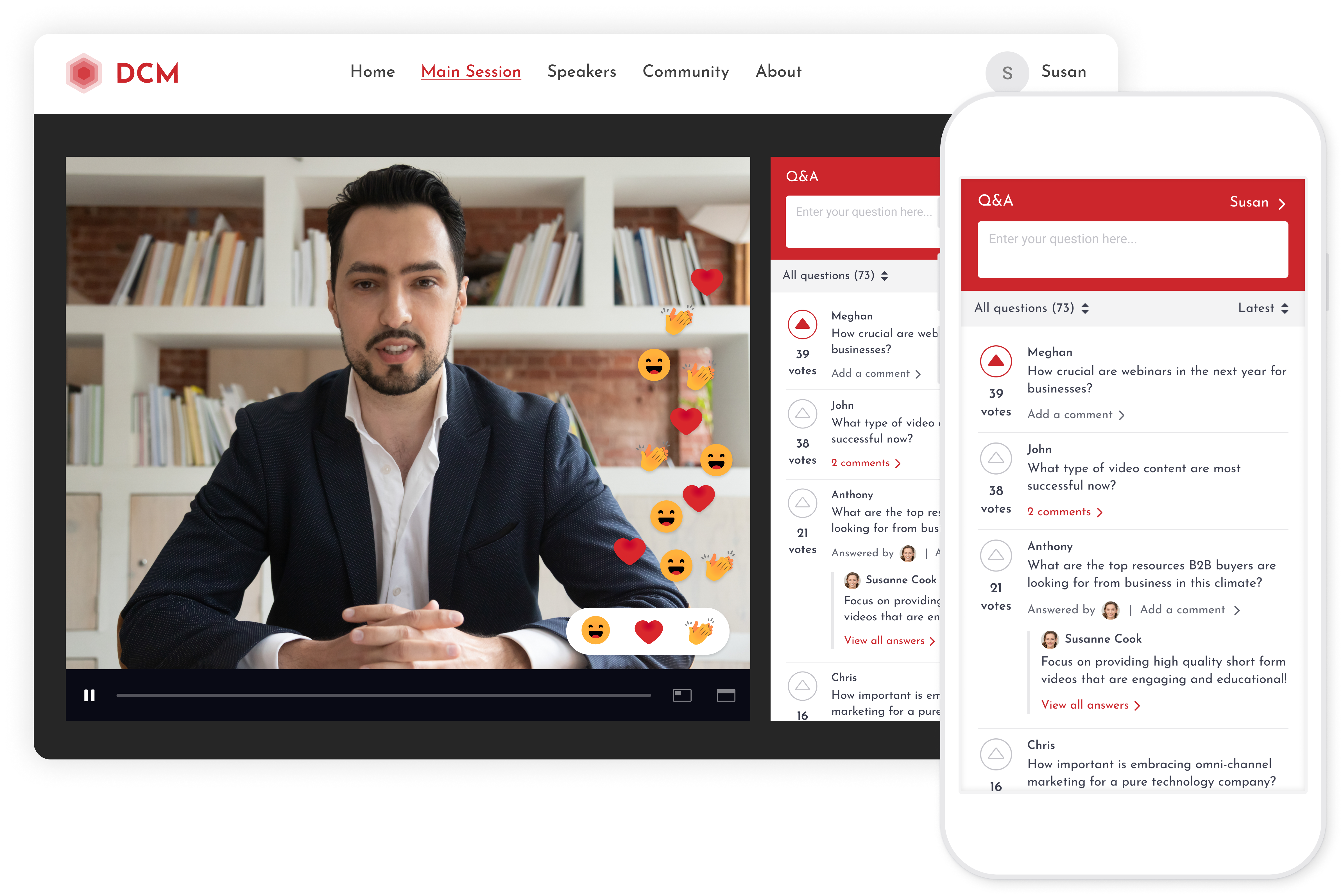 This means both virtual and in-person attendees can interact with each other seamlessly and simultaneously creating a more enriching event experience and giving everyone an equal opportunity to contribute to the discussions and conversations.
3. Moderate all user-generated content from one place
When moderation is enabled, all content that is submitted by in-person attendees or virtual attendees will appear on the Admin Panel. Event admins can easily moderate all the content from the same backend interface without the hassle of switching tabs and monitoring separate content streams. This is valuable for a number of reasons.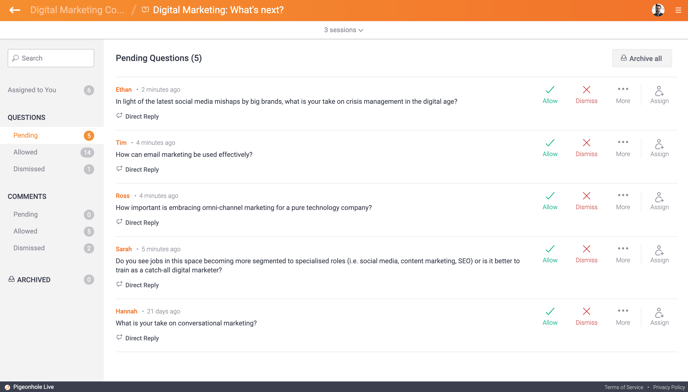 Faster admin response time when moderating questions and responses in the sessions.
It can be used to get valuable real-time feedback and data collection from all your participants.
You can level up your shared audience engagement by getting creative. Perhaps run a quick Poll to allow audiences to "choose their own adventure" (within manageable options) at certain points in the event.
4. Choose from multiple interfaces to suit your event's workflow and needs
Event organisers can use the Projector Panel to display user-submitted content like questions and polls on the Projector on-stage. The Projector Panel can also be shared on screen in the virtual event production.
In the livestream video, organisers can also do a picture-in-picture (PIP) setup whereby Pigeonhole Live's Projector Panel is overlaying the onstage livestream. This enables virtual attendees to see poll results up close instead of viewing it from afar where the livestream camera is placed.
Panel moderators and speakers also have a dedicated panel called the Moderator Panel where they can view approved questions and shortlist and highlight them as they are addressing the questions.
Feature tip: Stage managers can even send discreet one-way messages to speakers and panel moderators for housekeeping (ie. "Two minutes left" or "One last question please").
5. Flexibility in building your own event flow and structure with the Agenda feature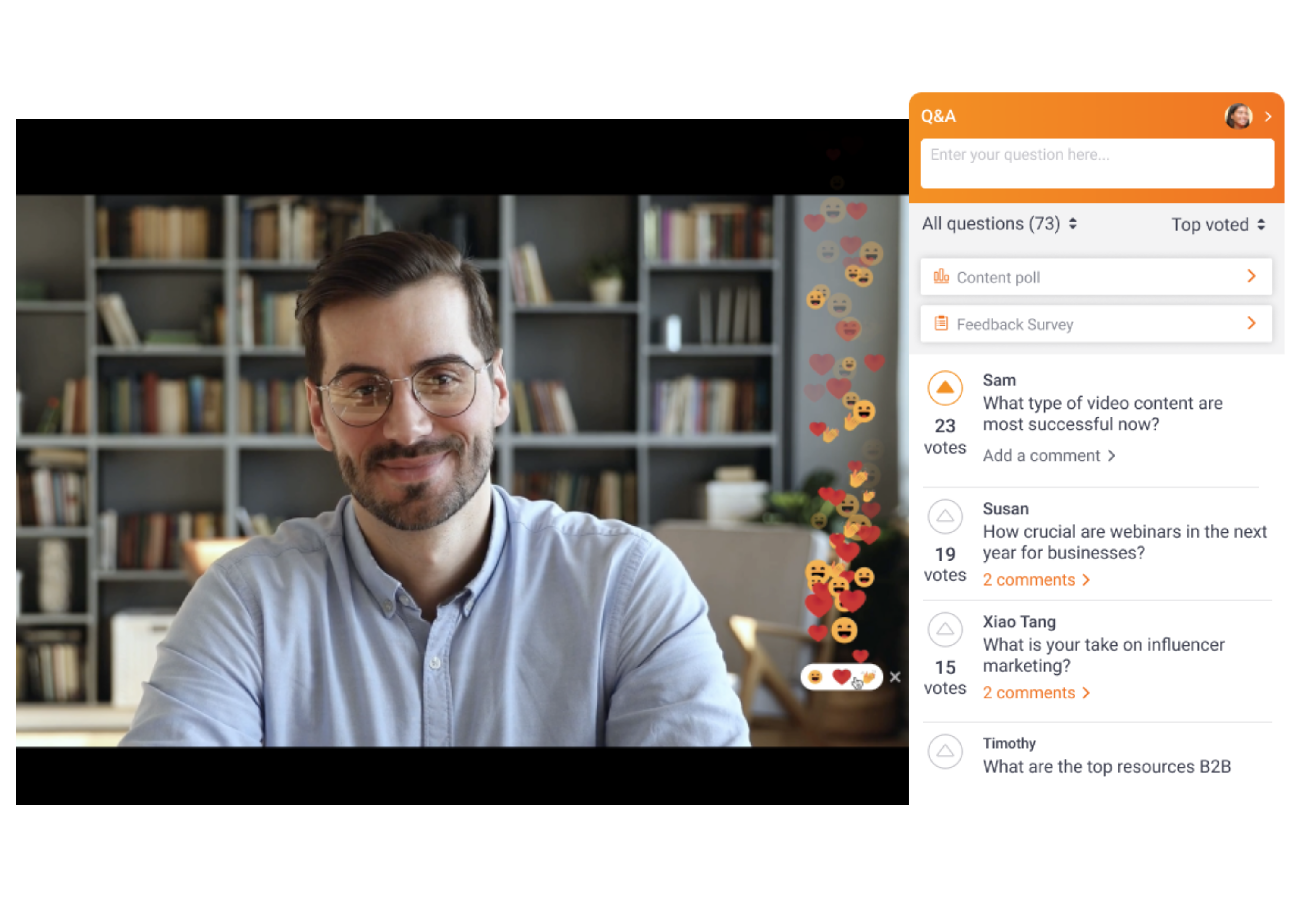 Pigeonhole Live's Agenda feature gives you full flexibility in selecting interactive event types that fit different speaker sessions. You can even choose to group multiple interactive sessions such as Q&A, Polls, and Chats together for each speaker or during a breakout session.
The Agenda feature also allows you to generate session-specific QR codes that direct in-person attendees straight to their individual sessions instead to the general Agenda page.
6. Increased sponsor engagement with differentiated access for sponsored content
We've got your sponsors covered too! If you're running multiple sessions which involve different sponsors for each, you can give your sponsors an admin and moderator access to the content and analytics of their specific sessions.
This invites them to have more involvement and a voice in the event, which can build the foundation for a relationship that can last across more events together.
We hope this guide has been helpful for you, whether you're organising a small or large hybrid event. If this is your first time running one, remember that engagement and consistency across both audience types are key factors. Both of which Pigeonhole Live is well-equipped to support you with.