20 Engaging Workshop Activities to Conduct on Pigeonhole Live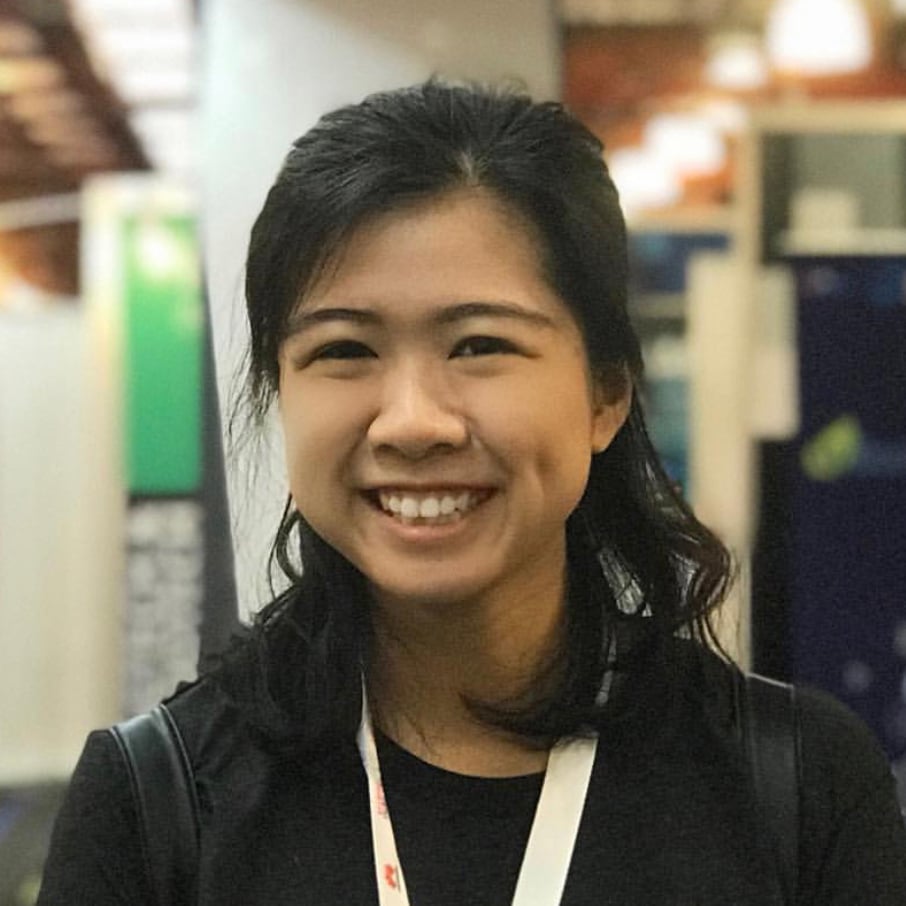 Annie Teh
July 31, 2019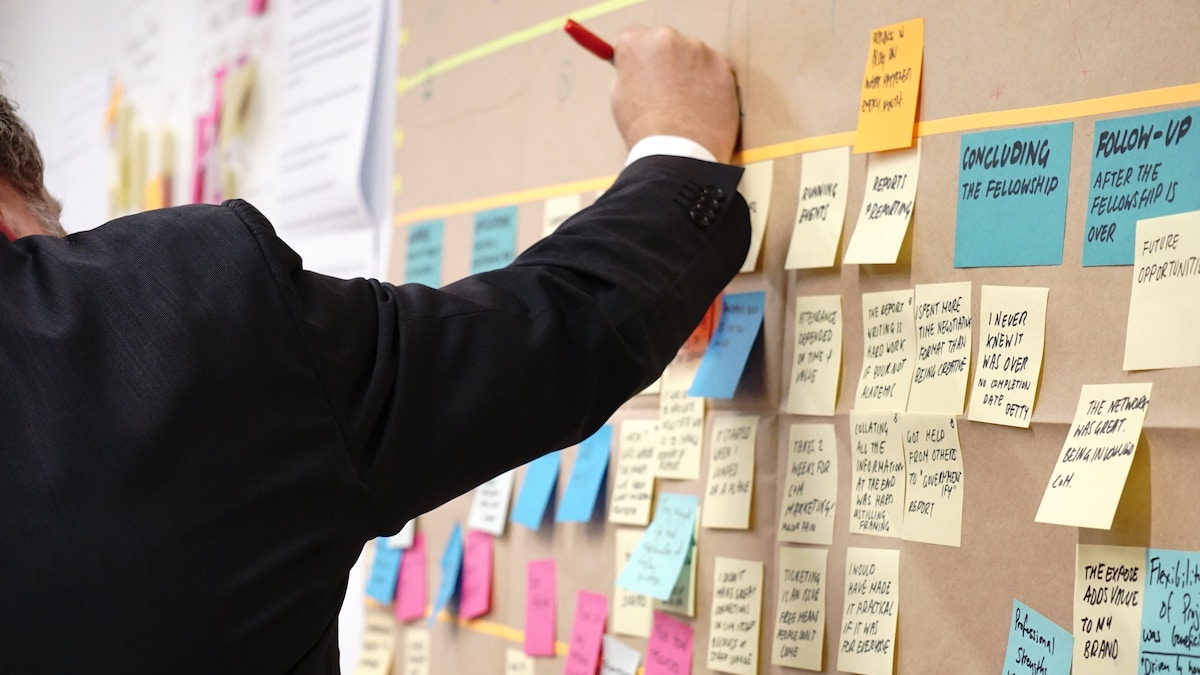 A workshop instructor's job can be a struggle. As students, we've all fallen asleep in a classroom or lecture hall. Keeping a room full of people, adults and students alike, engaged while teaching new concepts is a monumental task, especially at workshops that could span hours or days.
We've come up with 20 workshop activities, from introductions and icebreakers to group work, to help facilitators keep their attendees listening and learning.
Introductions
1. The anonymous introduction

Each workshop starts with the typical introductions (name, background, fun fact) of all workshop participants. Instead, get each participant to anonymously submit a fun fact about themselves in an open-ended poll.
Then, project all the submissions on the screen and let everyone have a guess at who each fun fact belongs to.
2. Goals for the workshop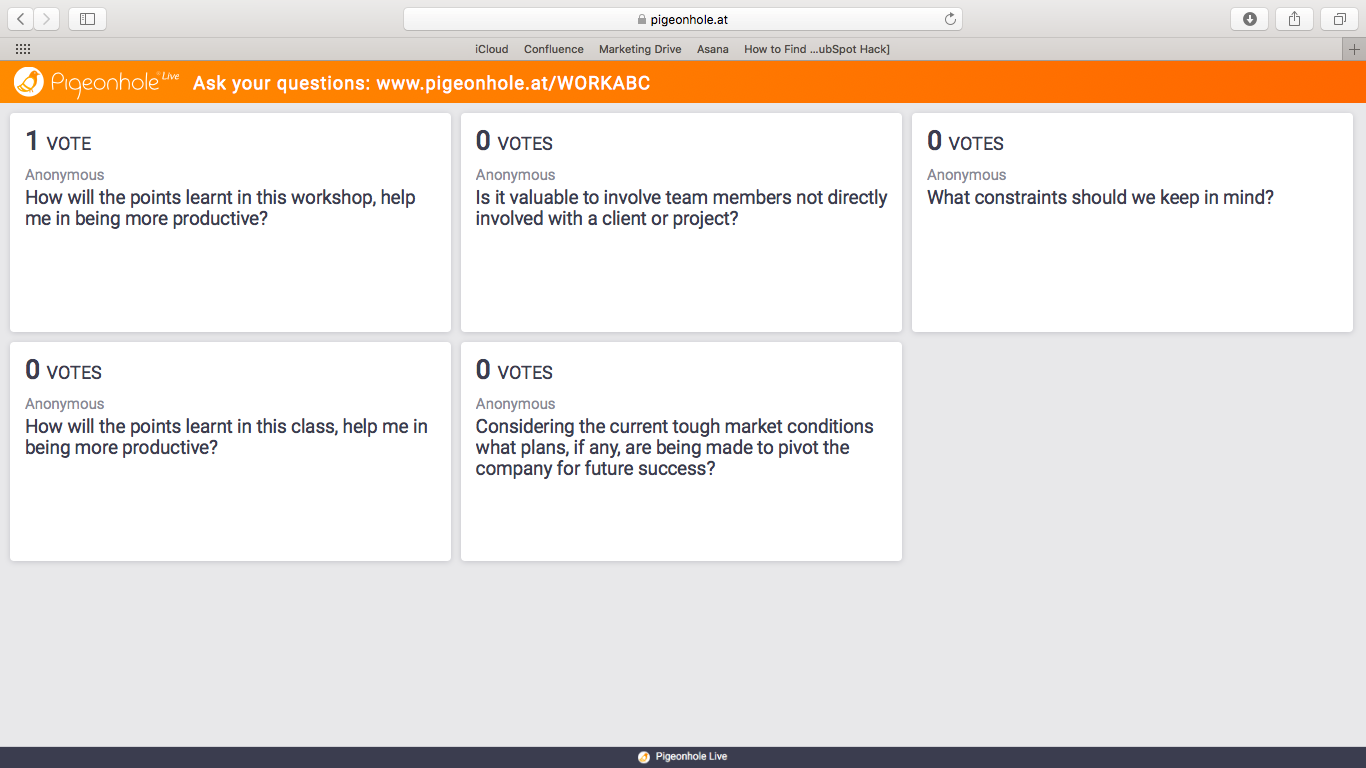 Workshops are different from classrooms because the adults joining the workshop come with some prior knowledge, and probably come with very different goals. To help engage all workshop participants early on, get each of them to submit something they want to achieve within this workshop. Putting their goals down in words will make it not only clear in their own mind, but also give them a unifying force that allows participants to connect with each other.

At the end of the workshop, everyone can revisit what they wrote and see if they were able to achieve it.
3. Mad-Libs
Mad-Libs are a fun classroom game that can be adopted into the workshop as a group activity! As a fun ice breaker, get everyone to contribute words, display the words as a word cloud, and vote for their favourite word.

At the end, fit all the top-voted words into a story that only you know and enjoy the hilarity of the whole thing.
Examples of mad-libs can be easily found online, or you can make a short and fun one up yourself!
4.Word cloud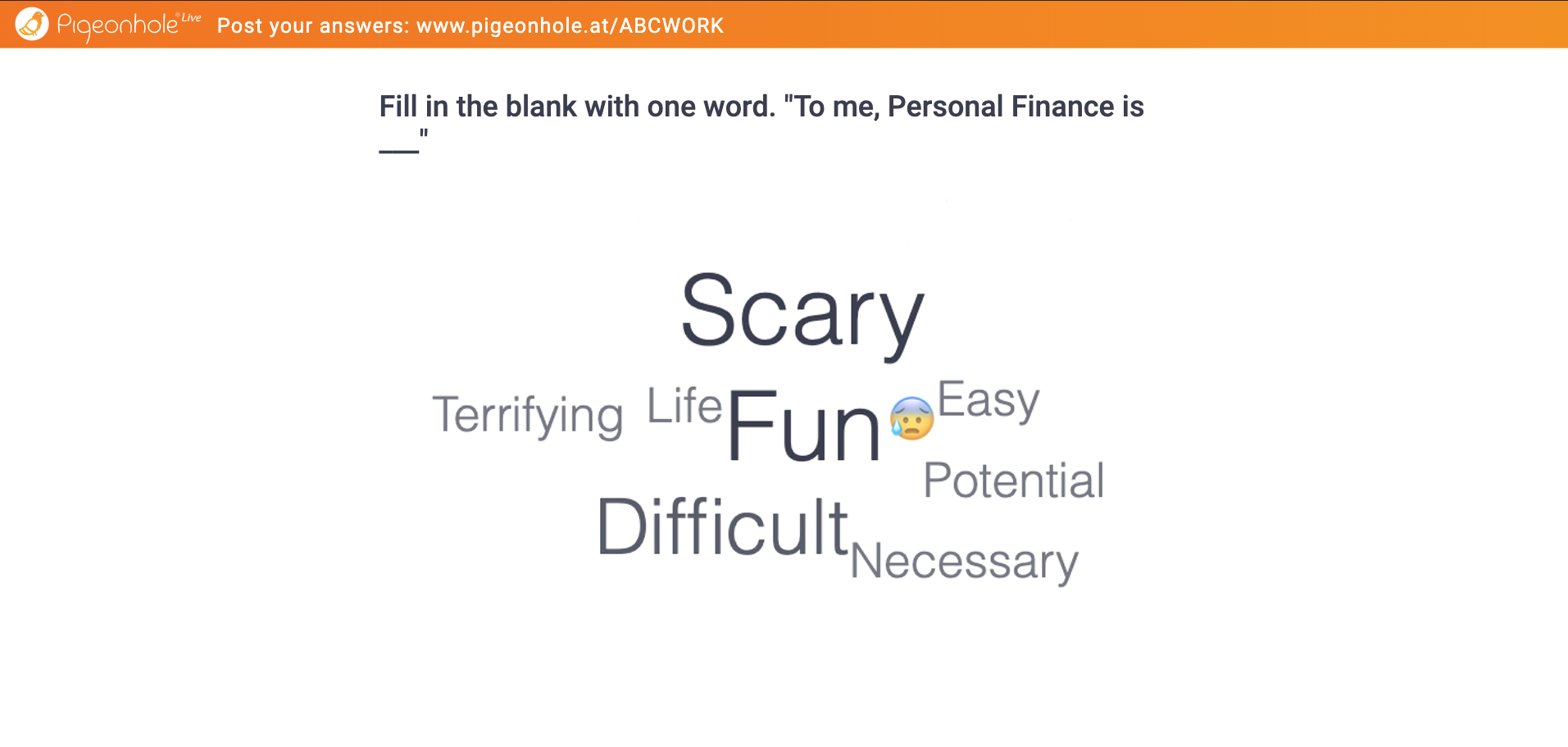 To get a sense of where everyone else is at on the topic being covered in the workshop, try starting the workshop with a quick word cloud. Something simple like "Personal Finance is ____ to me" could help give a snapshot of everyone's sentiments and give the facilitator a better idea of how to work best with the participants.
5. Check current understanding on topic with a poll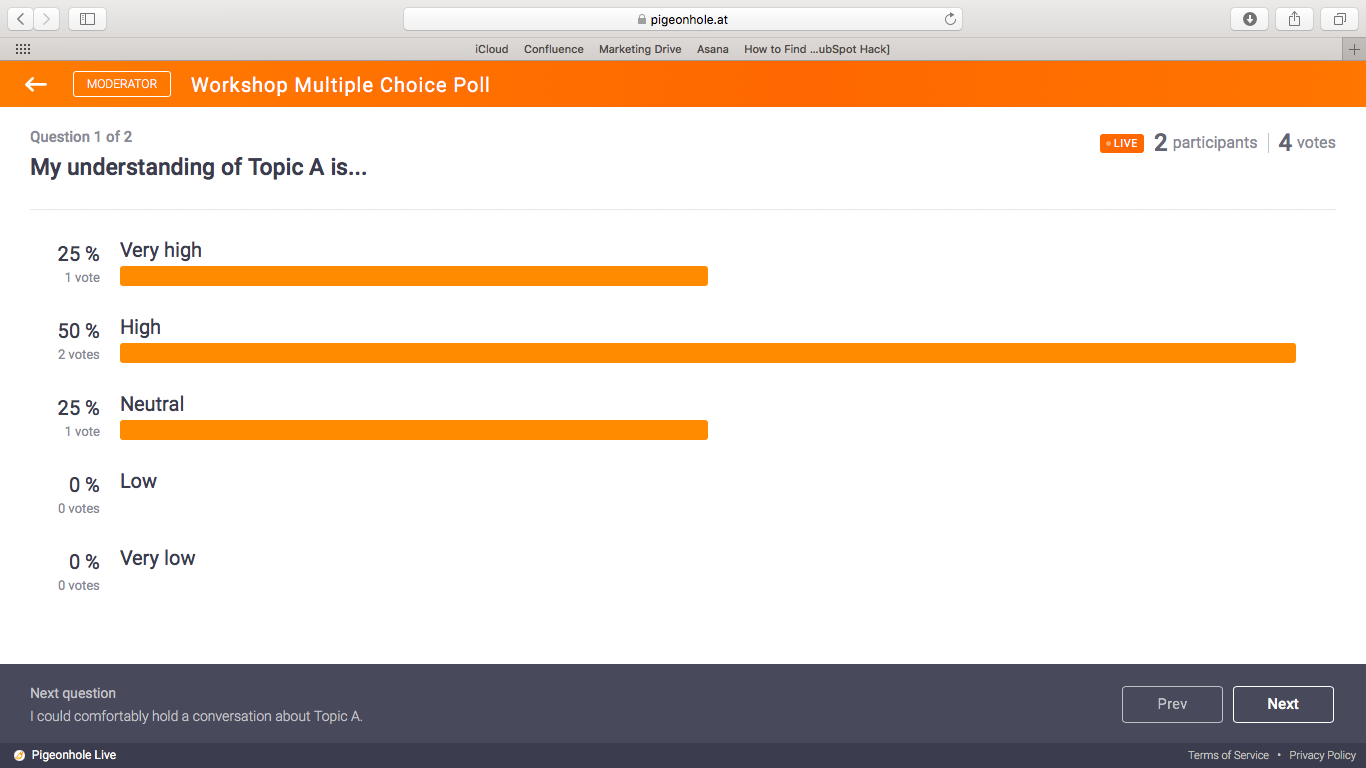 A much simpler way of getting an idea of the participants understanding of a topic is through a quick multiple choice poll.
Examples of questions to ask:
My understanding of Topic A is...

Very high
High
Neutral
Low
Very Low

I could comfortably hold a conversation about Topic A.

Very true
True
Neutral
False
Very False
6. Forming groups
If you are organising group activities as part of the workshop, getting each group to choose a name for themselves could help boost energy and inject some fun into the session. Use Pigeonhole Live to collect the group names and the names of the people in the group to help stay organised and even share funny group names with all participants.
Presentations
7. SWOT analysis
SWOT analysis are not an unknown exercise in strategy-building, but asking participants to yell out potential strengths and weaknesses in a group can be tedious and frankly boring.
Instead, take a moment to crowdsource strengths, weaknesses, opportunities, and threats of a strategy on Pigeonhole Live. Set up an open-ended poll for each category, and let everyone submit and upvote each others suggestions. This will not only help gather ideas quickly, but also accelerate the discussion.
8. Pros and Cons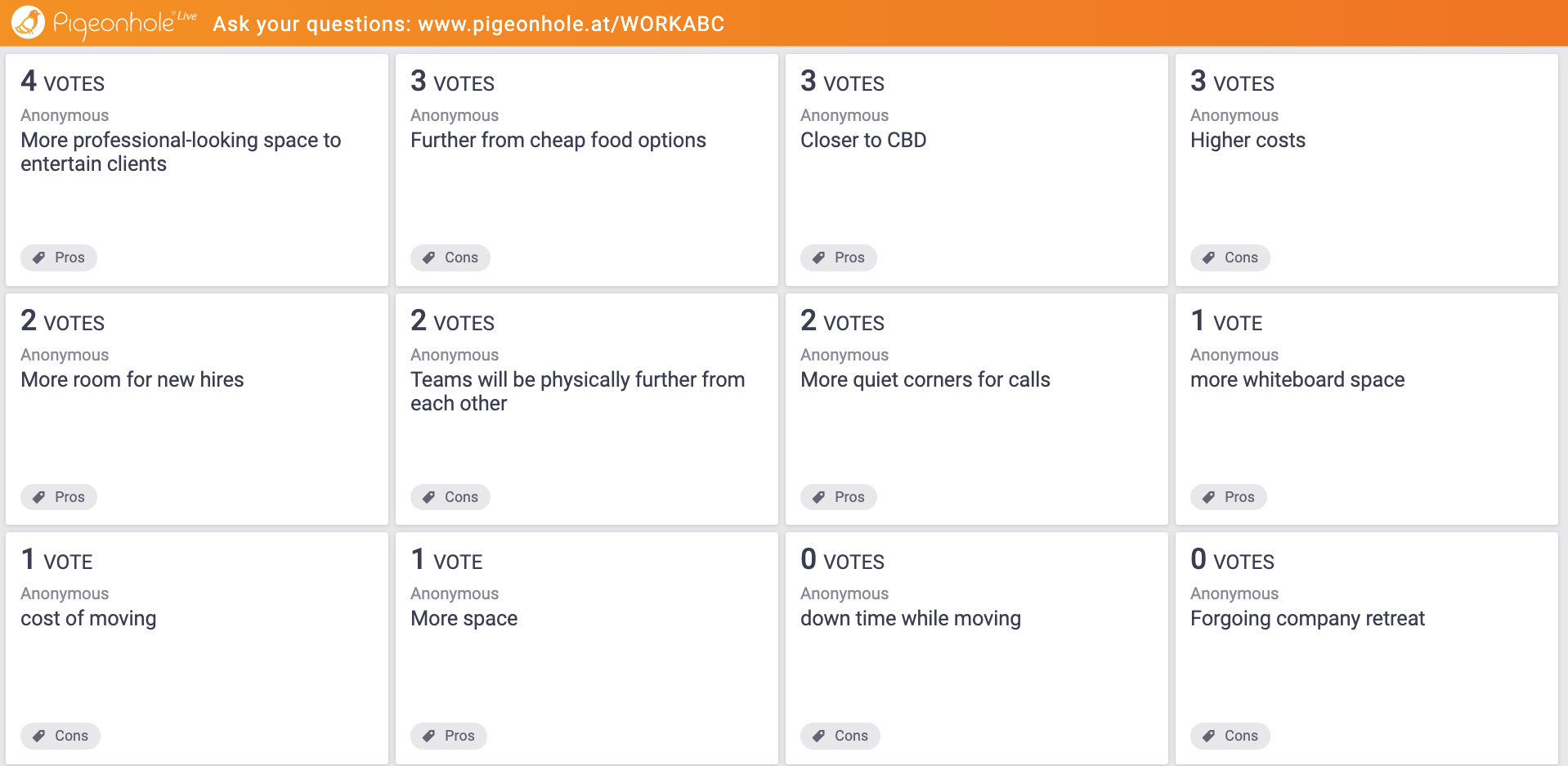 You can't go wrong with a simple pros and cons. While brainstorming ideas during a workshop, try crowdsourcing pros and cons using Pigeonhole Live's open-ended poll. By giving participants the option to submit anonymously, you are allowing shy participants an equal opportunity to contribute.
9. Idea Bank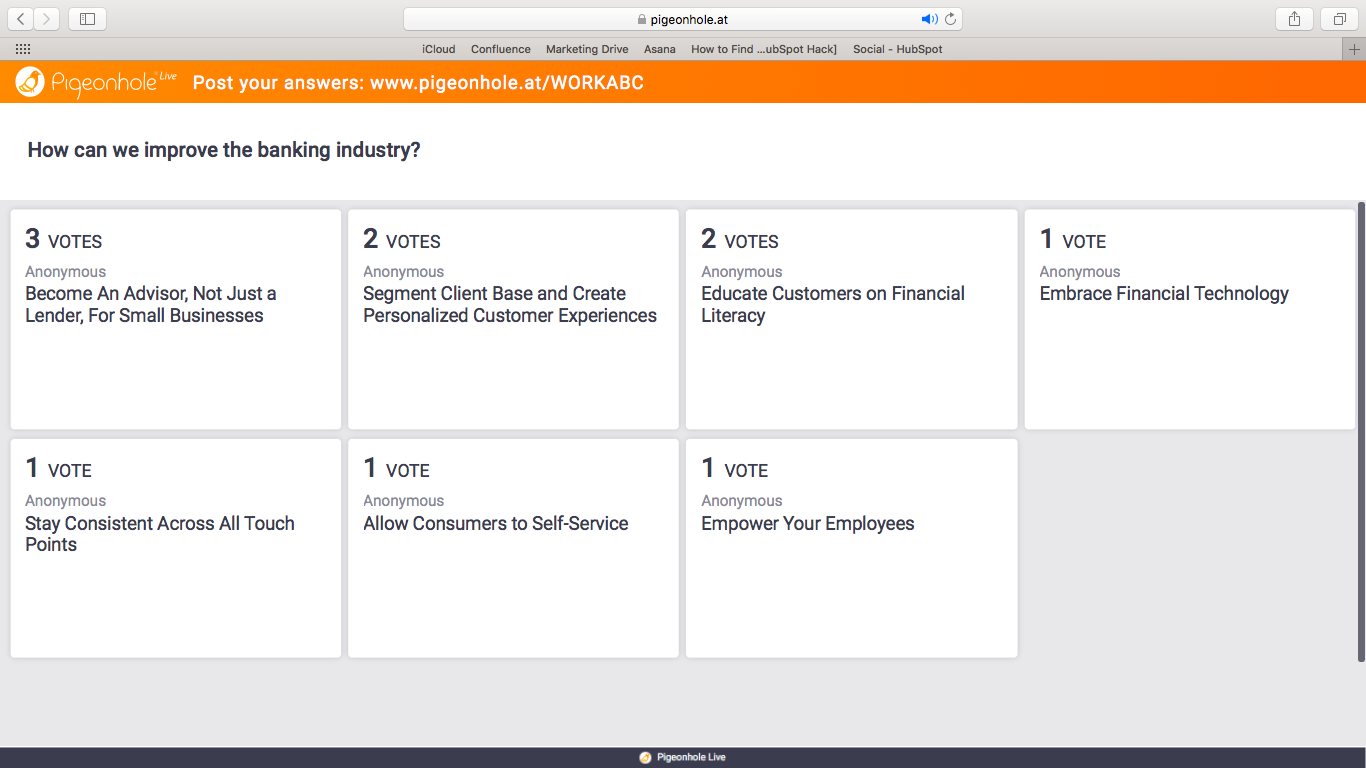 If your workshop is aimed at getting people to think creatively and differently, start the workshop by introducing an Idea Bank to them. The Idea Bank could come with a prompt, something straightforward but thought-provoking like "How can we improve the banking industry?". Then, encourage participants to keep dropping ideas into the Idea Bank over the course of the workshop. This will encourage participants to keep this question in mind as they go through the workshop, and inspire them to use what they learn to come up with creative ideas.
At the end of the session, you'll have a collection of interesting ideas that you can go through as a group or share in a nice printout. It might inspire one of the participants to turn their ideas into reality.

Teaching
10. Live Q&A
If your workshop tackles very technical topics, your participants may easily get lost but may be shy to raise their queries in a group setting. To mitigate this, try scheduling Q&A sessions to check in with your participants. Allowing for anonymous submissions will regularly clear up confusions for everyone and even give the facilitator a better sense of how students are doing along the way.
11. Assessment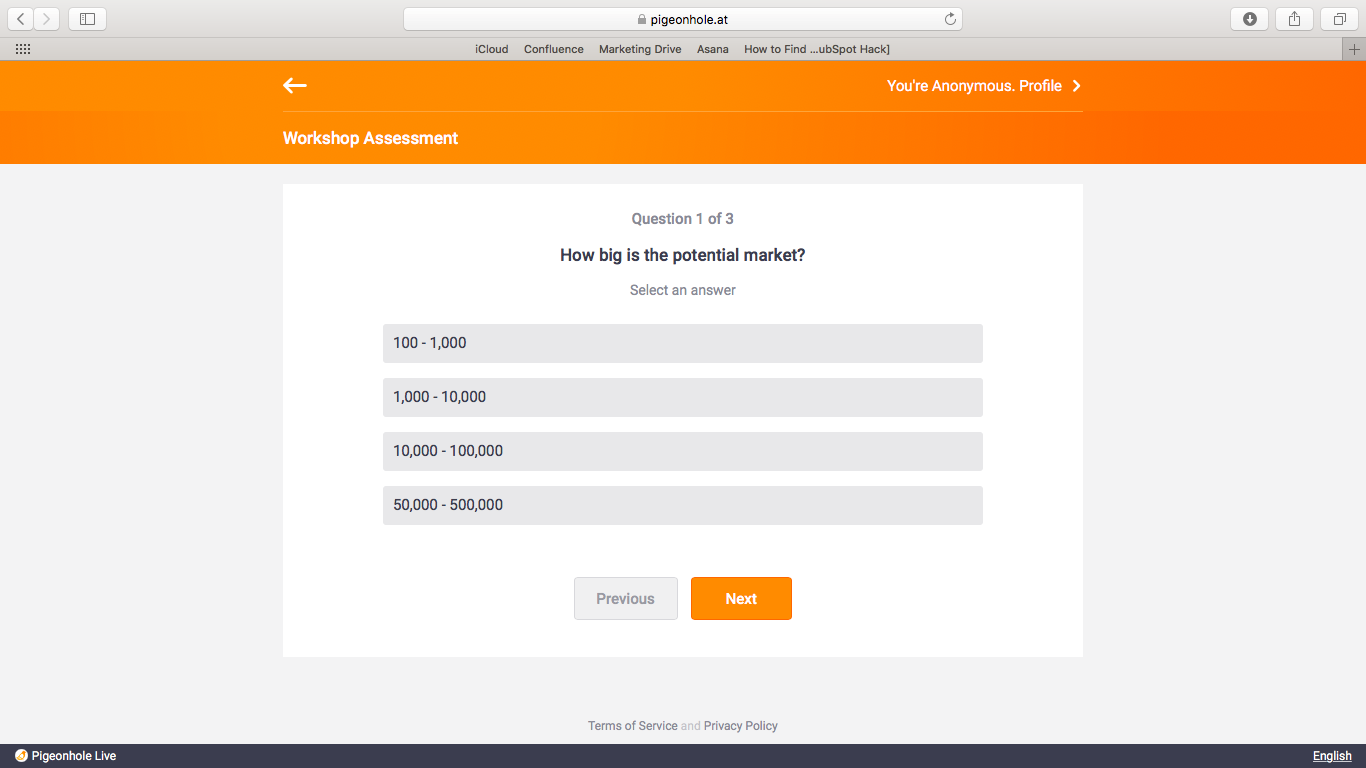 To check each participant understanding of the concepts taught in the workshop, hold a short assessment after each segment. Include our Assessment feature into your event agenda, and get everyone to test themselves in their own pace. The results are solely for the participants and for the organiser, so there's no pressure to divulge how well (or badly) they did, and the tool also allows you to go through the answers together easily.
Just warn them about the assessment beforehand. No one likes a pop quiz.
12. Quiz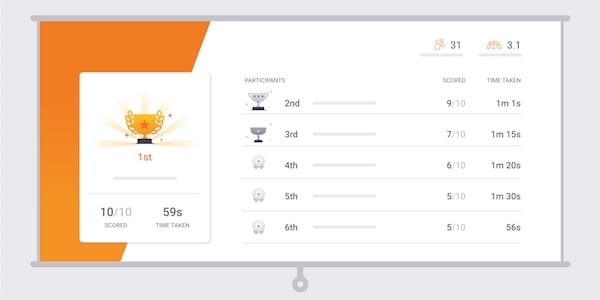 If you need something to wake sleepy workshop participants, try a quiz instead. The leaderboard allows you to add a competitive edge to your assessment, and encourages everyone to compete for the top position.
To make things more interesting, prepare a small prize for the winner.
Group activities


13. Riddle me this

Games like puzzles and trivia questions are a great way to keep workshop participants engaged throughout the workshop. Giving everyone a tough trivia question or riddle and getting everyone to solve it in groups is a great way to encourage everyone to work together, keep their brains working, and wake people up from their post-lunch haze.
Once they have their answer, get them to submit their answers to Pigeonhole Live to be shared with everyone else. As a bonus step, use the exercise to explore how group dynamics helped to solve this difficult question as a problem solving exercise.
14. Hypothetically speaking...
Once you've taught the topics, give your participants a chance to put what they've learned to the test. Give them a hypothetical situation and let them key in their own answer to an open-ended poll. After that, allow them to debate and discuss their answers.
This works best with a question that has no clear answer. That way, the variety of the questions can shine through and showcase different perspectives.'
15. Write a story together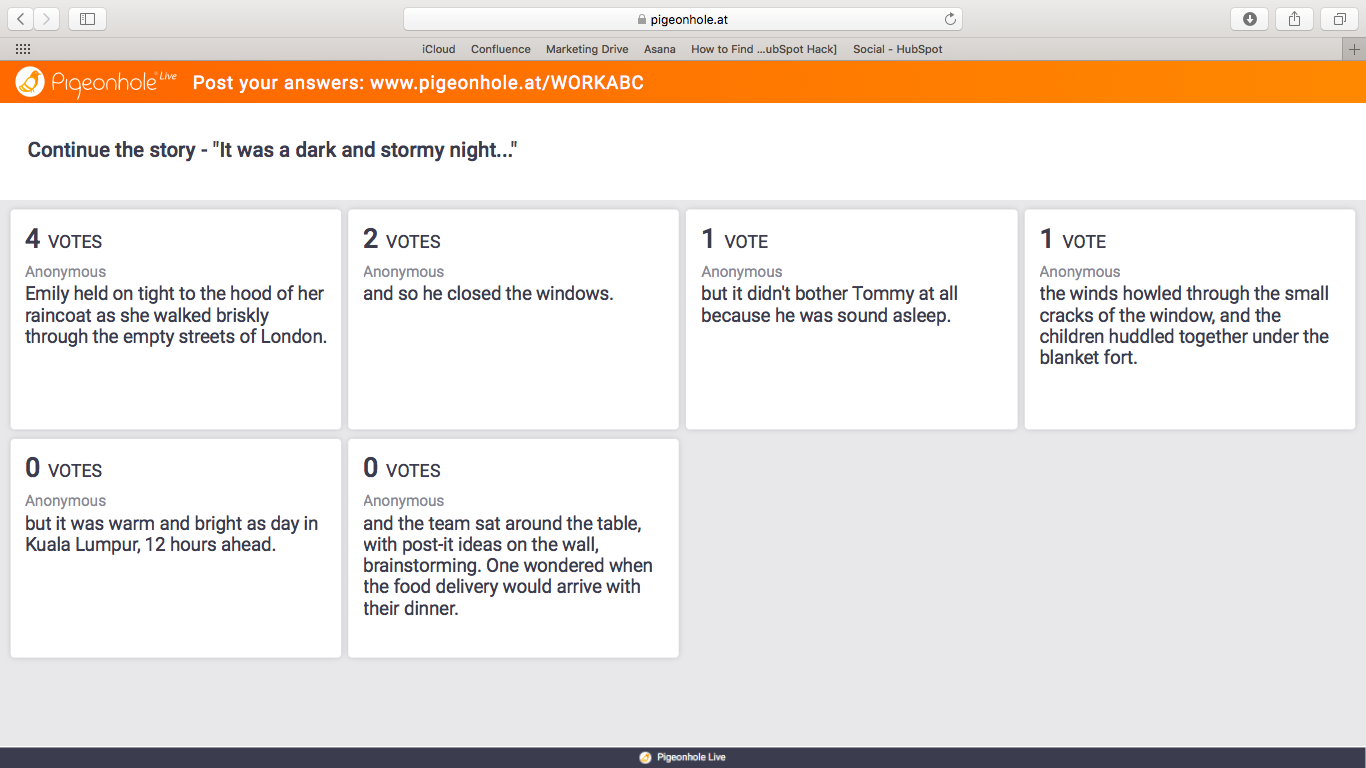 Another interesting way to encourage group work is to get people to craft a story together and build a story with the most voted story. Starting with a prompt like "It was a dark and stormy night", get people to submit another sentence to add to the story, and vote on the sentence they like best.
This gives everyone the element of surprise to see where the story might go to and helps get the creative juices flowing.
16. Alignment Word Cloud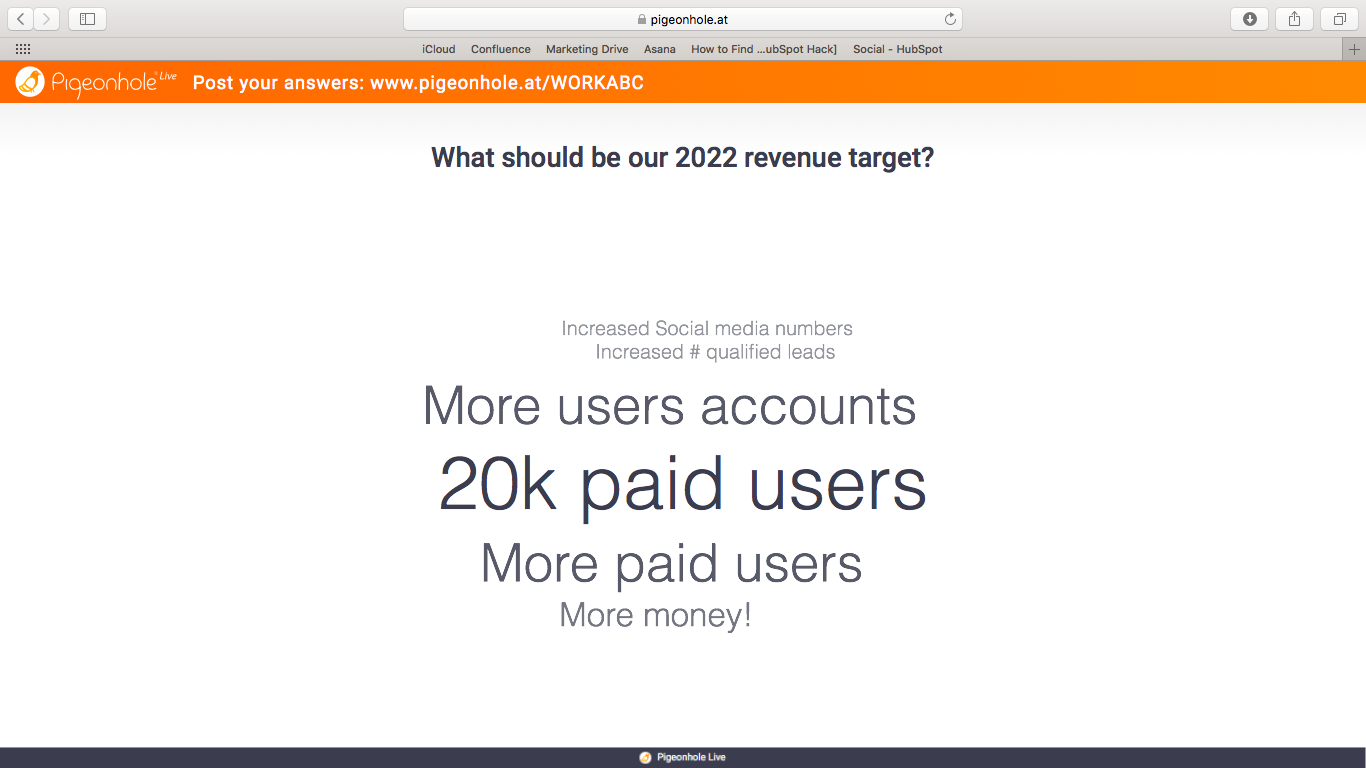 For workshops held specifically for team alignment in companies, the focus is more on encouraging teamwork and alignment. One way to kickstart alignment is to hold an exercise with your team using our word cloud tool.
Start by asking a question that forms a key part of your company's goals or north star. For instance, "What should be our 2022 revenue target?"
Then, encourage everyone to submit their answers to Pigeonhole Live. The word cloud will then show the results. Since our word cloud tool automatically groups similar answers, you get an instant visual representation of how aligned everyone is on the answer. This could then spark a discussion on the differing expectations and clarify the reasoning behind these goals.
17. Conflict Mode Instrument
One useful way to encourage teamwork is also to explore different roles or behaviours team members have, especially when it comes to collaboration and conflict management. According to the Thomas-Kilmann Conflict Mode Instrument (TKI), there are two main dimensions of behaviour - assertiveness and cooperativeness - which define five modes of responding to conflict situations:
Competing
Collaboration
Compromising
Avoiding
Accommodating
By answering 30 questions provided by TKI, which can be hosted on our multiple choice poll platform, you and your team can explore your conflict-response behaviours and have a fruitful discussion on how to manage conflict within the team in the future.
18. Group decision making analysis
Sometimes, the alignment required is not about the numbers and goals set, but about the processes within the team. For instance, aligning on how decisions are made in the company could help team members collaborate better and accept decisions made within the company in an efficient manner.
To try this exercise, set up a series of six word cloud polls, one of each decision-making style:
Lack of response
Authority rule
Minority
Majority
Consensus
Unanimity (or Unanimous Consent)
Give your participants access to a poll and get them to submit and vote. The total of the percentages assigned to each style by each person should add up to be 100%.
This would give you a snapshot on how aligned everyone is on what the current decision-making style is, and facilitates a discussion on whether they're happy with the current decision-making style.
Gathering feedback
19. Feedback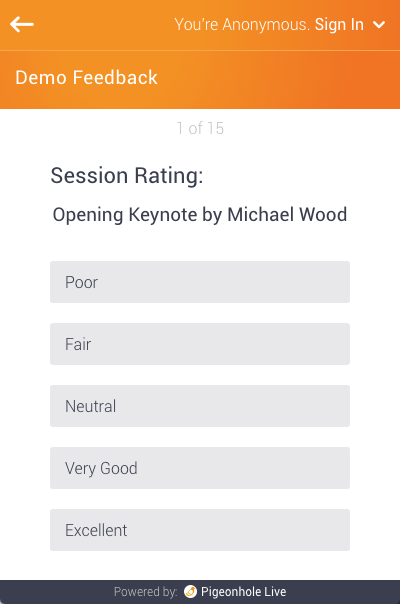 After the workshop is over, it's a good idea to get feedback on the session. You can do so through our survey function, which can be set to either multiple choice or open-ended options.
This would help you understand your participant's experience better and use their feedback to improve on future workshops.
20. Word Cloud
Another way to get feedback is to use a word cloud. Get everyone to end the day by submitting one word to describe the workshop and voting up the words they agree with.
This will give the end of the workshop a positive note and a great visual that can also be sent to attendees at the end of the day.