Events
How to Reinvent In-Person Events: A Post-Pandemic Guide
Sean Cho
March 30, 2023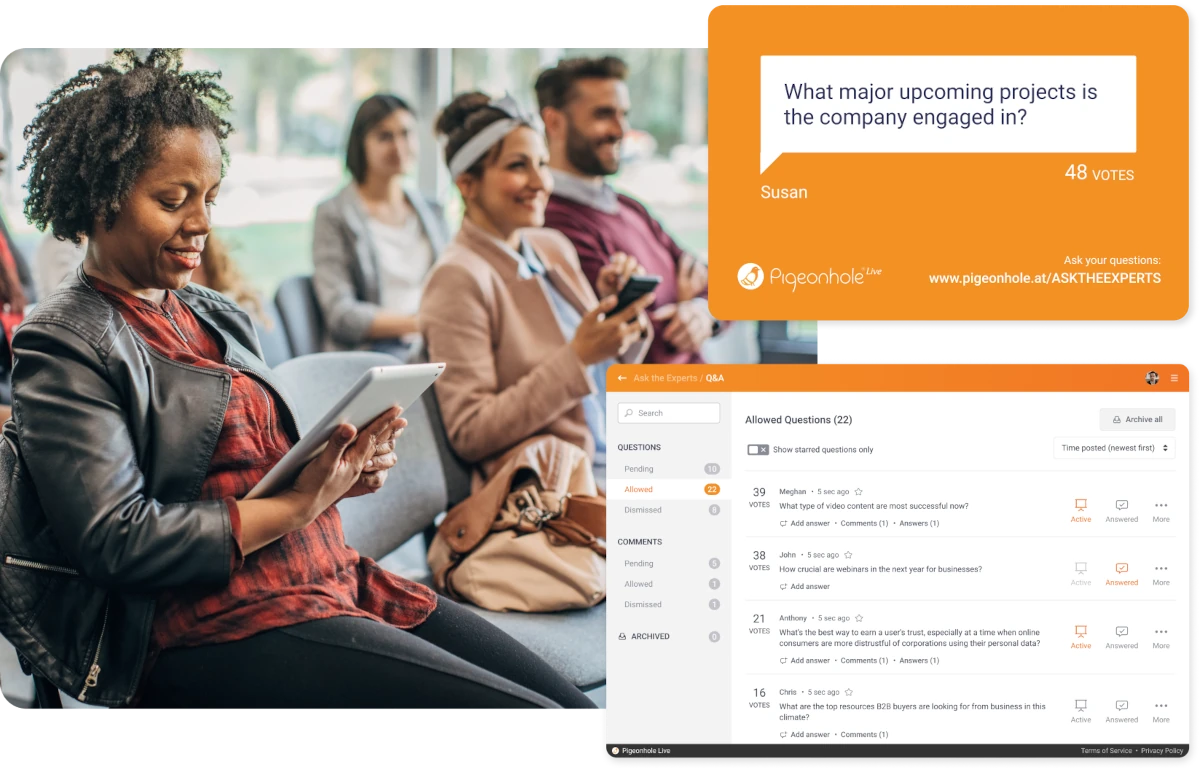 As the world moves past the pandemic, event organizers are embracing the return to in-person events. However, with the constantly evolving landscape, simply going back to pre-pandemic ways may not be the most effective approach in the long run.
The pandemic pushed event organizers to adopt new virtual and hybrid event formats to satisfy people's communication and collaboration needs. Now, we can leverage the same innovative technology to augment experiences and foster connections at in-person events.
To make the most out of in-person events in the new normal, it's crucial to keep up with the changing needs and expectations of attendees. Our 3-part strategy can help you adapt and create successful in-person events that leave a lasting impression on your attendees:
---
State of affairs for meetings and events
In 2023, business travel spending in the United States is predicted to increase by 27%, leading to a whopping $100 billion spent on travel. This surge is mainly due to the growing desire for face-to-face interactions, resulting in an increased demand for meetings and events.
However, some challenges persist according to the 2023 Conference Industry Report:
In 2022, the number of in-person conferences rose by 32%, while hybrid meetings saw a staggering increase of 260%
Shifting priorities, economic recovery, and staffing challenges have made it difficult for attendees and organizations to justify the costs of in-person events
Younger, international, and first-time attendees are increasingly becoming the profile of event attendees
So, how can event planners and organizers navigate the evolving event landscape for 2023 and beyond? Keep reading to discover a 3-part strategy that you can use to adapt to these changes.


---
1. Introduce hybrid meeting options
Event organizers can easily blend in-person and virtual attendance options with Pigeonhole Live's hybrid meeting and event features. This helps to reach a larger audience and accommodates attendees who cannot attend in person due to various circumstances such as health concerns, travel restrictions, or unforeseen events.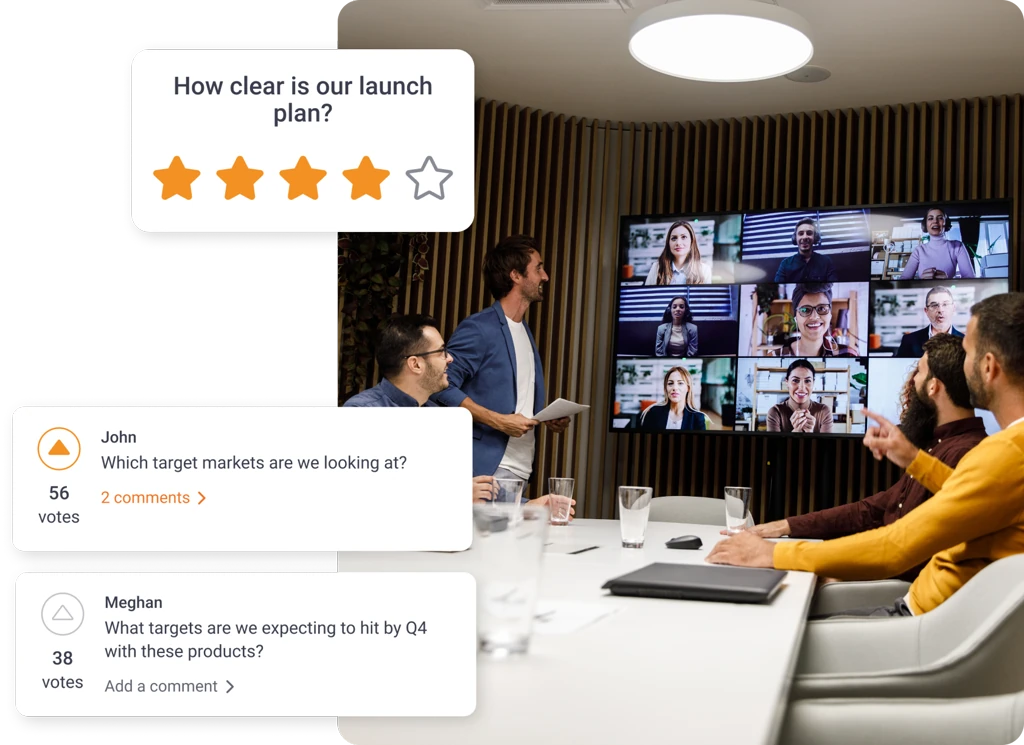 ---
2. Engage attendees with valuable experiences
In-person meetings provide a sense of intimacy, connection, and empathy that is difficult to replicate via video.
Paul Axtell, corporate trainer and author of Meetings Matter
Studies show that traditional in-person interactions provide psychological and emotional benefits that virtual settings cannot replicate. Direct communication can foster a sense of community, improve interpersonal relations, and establish trust among attendees.
a. Encourage idea generation and collaboration
Pigeonhole Live's technology can be used by organizers to enrich the immersive experience of in-person meetings and events. Real-time communication tools can facilitate a deeper engagement with the content and other attendees, creating a safe space that empowers attendees to speak up.

b. Personalize and customize event experiences
To create unforgettable event experiences, organizers must understand and cater to their attendees' unique needs and preferences.
By analyzing data and analytics, organizers can get valuable insights into their attendees' interests and preferences, allowing them to tailor the event's agenda, content, and experiences to meet those needs.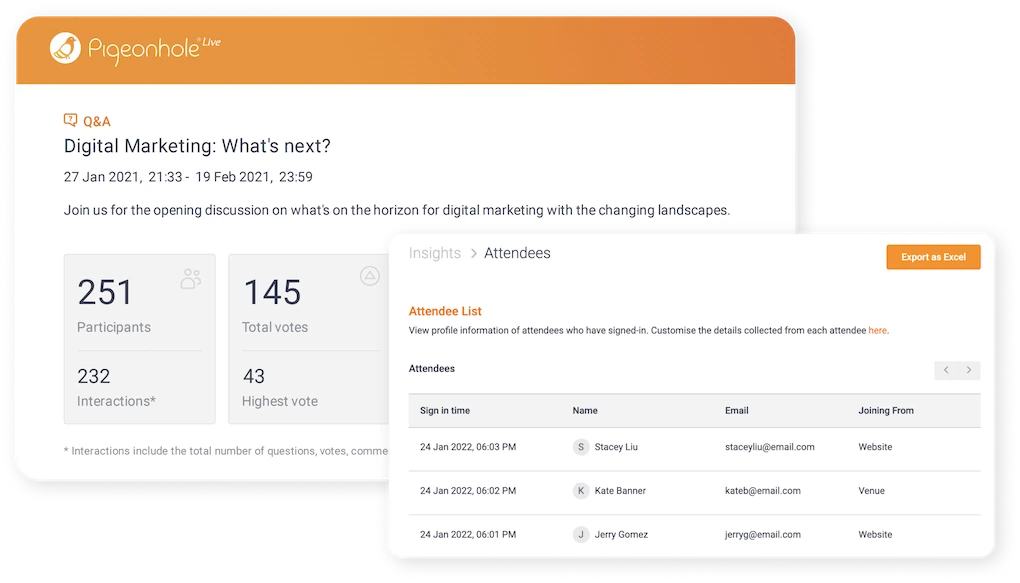 This personalized approach ensures that attendees feel valued and engaged, leading to a more enjoyable and productive event.

c. Create relationship-building opportunities
To promote meaningful relationships and connections at events, organizers should create networking opportunities that cater to attendees' comfort levels. While the event's content is essential, building relationships with other attendees is equally important to create a lasting impact.

d. Promote skills development and learning
Organizers should provide attendees with events and meetings that offer valuable learning opportunities and skills development. This could be achieved by creating hands-on learning experiences that attendees can apply to their work or personal lives.

e. Cultivate shared purpose and community
Creating a sense of community and shared purpose among event attendees is crucial to fostering engagement and collaboration.
Organizers should design events that promote a shared purpose, such as social impact or sustainability goals, and provide opportunities for people to connect and collaborate around these goals. This will not only enhance attendee engagement but also create a more meaningful and impactful event experience.
---
3. Provide a variety of meeting styles and formats
a. Run hands-on workshops
To boost attendee engagement and collaboration, event organizers can develop interactive and engaging formats that provide a memorable experience. One example is immersive experiences, which encourage participation and collaboration. Such strategies can enhance the attendee experience and foster meaningful connections.

b. Create resilient event strategies
Contingency plans are crucial for event organizers to handle unforeseen circumstances, especially after the pandemic. For instance, organizers can pivot to a virtual online event when faced with unexpected cancellations or travel restrictions. This ensures that attendees can still participate in the event, regardless of their physical location or circumstances.
---
Maximize in-person events and meetings now
Organizers need to reimagine in-person events to meet changing attendees' needs. By embracing technology, offering personalized experiences, creating engagement opportunities, and developing contingency plans, events can be more impactful than ever before! With the right strategies and tools, in-person events can continue to bring people together and create more meaningful connections.