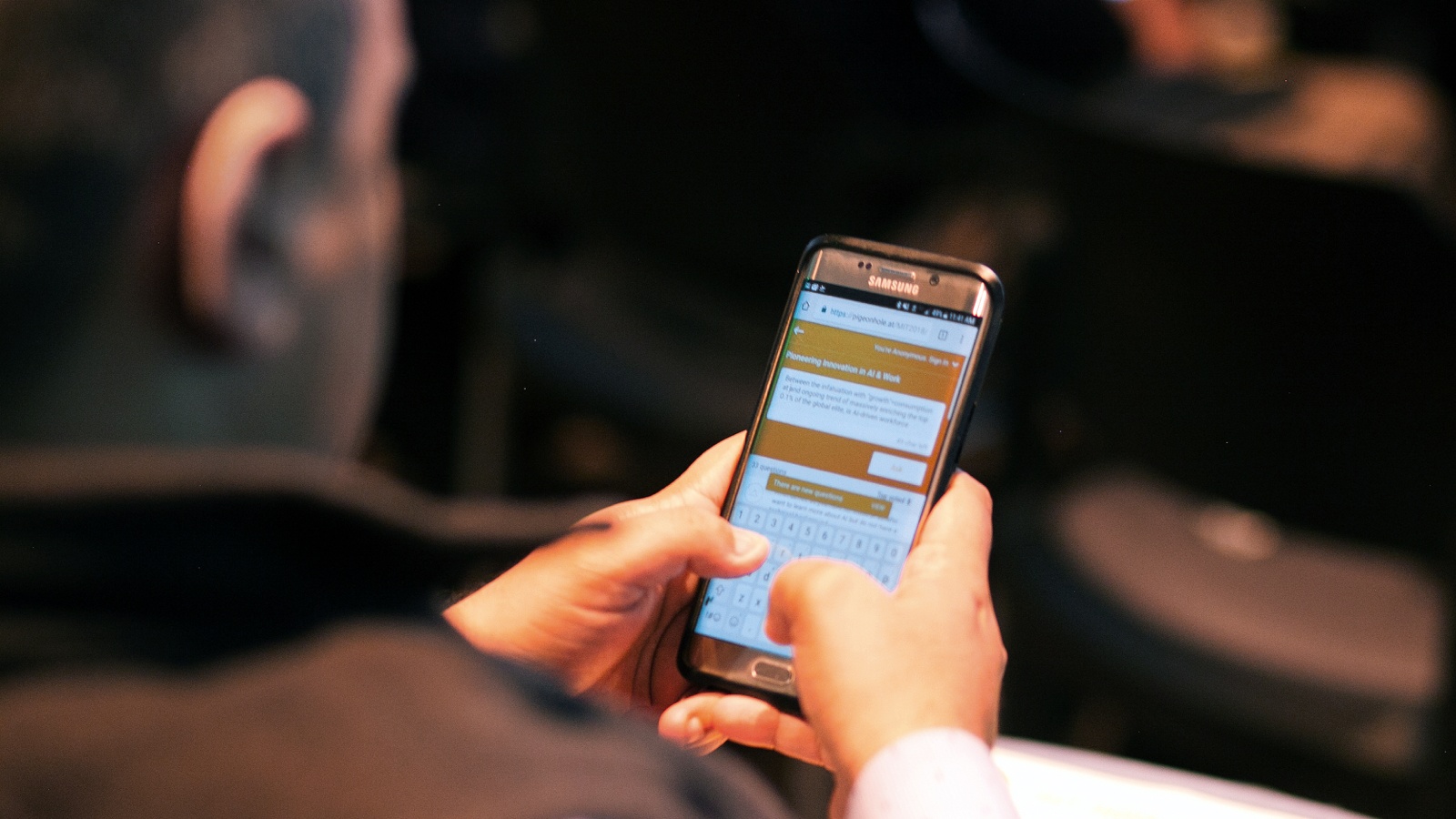 Live polling is a simple and straightforward audience engagement method, but so incredibly powerful. Live Polls effectively engage your audience, increase crowd interaction, and give you valuable insights you would otherwise have some difficulty collecting.
They're also very versatile, whether your event's a small team meeting (the sort where 2 pizzas could feed everyone), or a public conference of 2000, Live Polls on Pigeonhole Live are scalable.
Here is a guide on what you can do with Live Polls to drive audience interaction at your next event:
1. Gather audience opinion using Multiple-choice Polls
Do you want to know what your audience thinks? You can simply ask them.
You'll even be surprised how much information and how easily people are willing to share during live polls. Those afflicted with survey fatigue will still happily participate in these polls.
The magic is in how easy and engaging it is to take part in a multiple choice poll. Your audience just taps on an option from their smartphones, and the results show onscreen immediately. Real-time is real fun.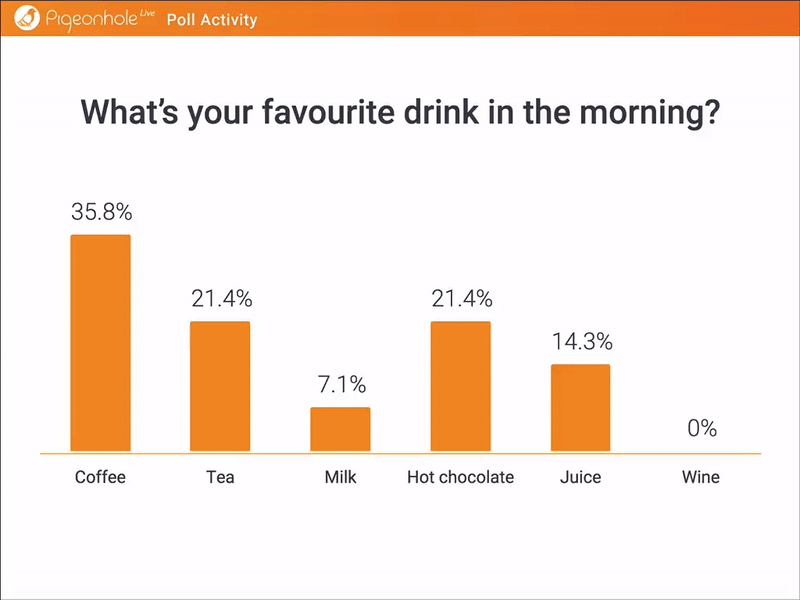 Tips on using Multiple-choice Polls to collect valuable audience opinion:
Show the live results of the poll
It is what's on the big screen that drives the sort of engagement you get with polls at an event. When you put up the live results, your audience sees how their interaction changes the real-time charts.

This is immediately gratifying for your audience, and those who haven't yet casted their vote will be enticed to do so. PSA: Fomo is a real thing!
Make it an integrated part of your presentation
Integrating Live Polls into a presentation or speech is a good way to keep your audience engaged. Presentations aren't always the most exciting, if we're going to be honest.

Getting immediate data about your audience's opinions can also help speakers to quickly reshape the angles through which they approach the presentation. This audience will pick that up, and be more eager to participate knowing that their opinions matter.
2. Visualise word frequency with Word Cloud Polls
The word cloud is a great way to chart data visually. It's why you see so many phone-cameras snapping away at the screen when you display it.
With a live poll that generates a word cloud instantly, you'll be able to pick out key words and immediate trends that stand out from your audience responses.
The beauty is in how intuitive it is: The human eye is drawn to comparatively bigger objects, so your audience automatically focuses on the bigger words in the word cloud.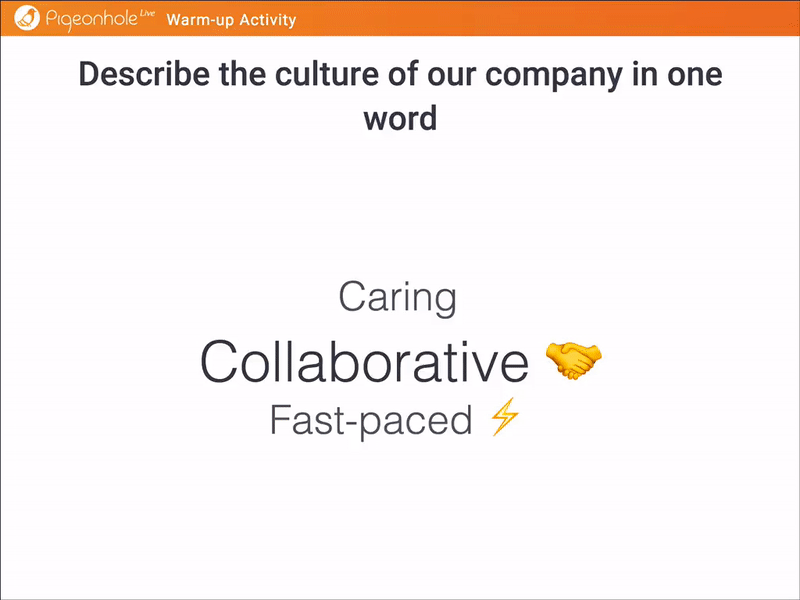 Poll questions that work excellently with word cloud displays:
Which is your favourite city?
Describe the culture of our company in one word
Nominate the best team player of this month
What is your most-used app?
3. Brainstorm new ideas using Open Text Polls
Crowdsourcing ideas is a good way to get the audience involved and invested in what's happening at your event.
At your next event, consider using the Open Text Poll to brainstorm any of these: discussion topic suggestions, goal setting, key takeaways of a presentation, or even your break-time music playlist.
Why we highly recommend crowdsourcing key takeaways from any segment of your event:
For post-event follow ups
As an event organiser, you may be taking notes on the key takeaways for any post-event follow up that you're planning to do. Delegate this to your audience instead — you'll get more time on your hands to run the event, and there are some good reasons (see the next points) you should let the audience share their own takeaways instead.
To get different perspectives
What's most attractive about crowdsourcing is that you'll get from this exercise many different perspectives. This gives everyone in the audience a wider and more varied viewpoint on the key takeaways of the presentation — there'll be more to learn.
To empower your audience's learning
Allowing the audience to participate in crowdsourcing their key takeaways puts the ball in their court, and that's empowering. They get to be reflexive about what they learn — and then share it with the rest of the audience!
4. Quiz your audience using Correct Answer Polls
Who Wants to Be a Millionaire, Jeopardy!, Are You Smarter Than a Fifth Grader, anyone?
The British are wholly obsessed with quizzes and the rest of the world is not far behind. This GQ piece dissects why we love trivia so much.
At your next event, bring in the good ol' fun of the pub quiz by running a live quiz using polls with correct answers.
3 Ideas on how to make your live quiz at the next event a success:
Cater to the crowd's interest
Pick quiz questions your audience is actually interested in and has at least some knowledge about. You may also want to make it easy for your audience to score some points to ramp up the excitement, while throwing in a few tricky questions.
Pick a host who can rev up the crowd
A good host is as important as interesting questions. Get someone to read aloud the questions, reveal the answers, and make quick witted remarks.
Keep a strict time limit
Let your audience know you're counting down. This gets their adrenaline pumping and introduces a level of challenge that's exciting to many.
Share this post