Events
In-person Events Canceled? Here's How to Make It a Hybrid Event

Lyon Lim
January 2, 2023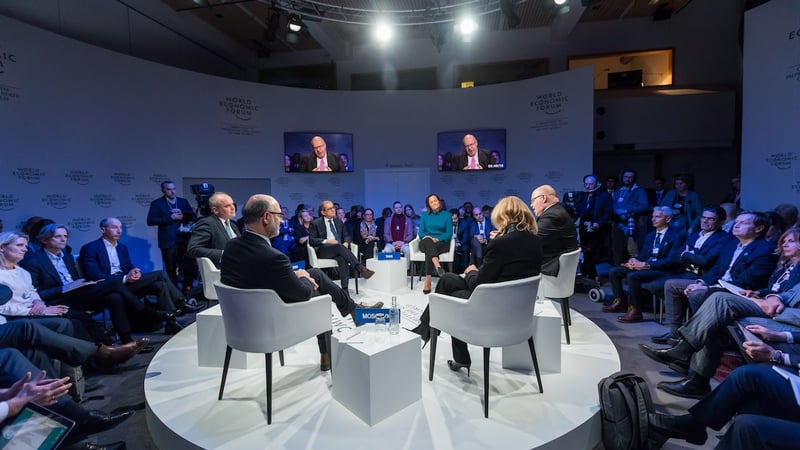 Even though some countries have managed to control the spread of the COVID-19 pandemic, remote work, and virtual meetings are still popular among businesses that appreciate their flexibility and accessibility. Although in-person events are slowly coming back, the pandemic has taught us to adopt a hybrid approach to meetings and events.
How to pivot to a virtual event

What is a hybrid event?
A hybrid event is an event that combines in-person and virtual elements, allowing attendees to participate and interact either physically or remotely. This means that some attendees may be present in person at a physical venue while others join the event online from different locations.
The aim of a hybrid event is to provide the benefits of both in-person and virtual events, such as the ability to network, engage with content, and participate in activities, while also reaching a broader audience and accommodating different preferences and circumstances.
For example, New York Fashion Week responded to the pandemic by including virtual elements. In February 2021, they showcased designer collections through live and pre-recorded runway shows, as well as virtual showrooms and presentations. Physical shows had a limited audience, while virtual events were open to a global audience. This allowed designers to reach more people and connect with buyers, press, and consumers worldwide.
Why should you use a hybrid event?
For many years now, some companies have been running their events and conferences in a hybrid format, with both in-person and virtual audiences. In fact, 62% of B2B marketers are already using virtual events as part of their marketing strategy!
The hybrid format has proved to be beneficial for several reasons:
Without the constraints of a physical location, hybrid events allow you to reach a larger, even global audience.
Not having to deal with a physical venue, logistics, and refreshments means your operating costs are significantly lowered.
The virtual component of a hybrid event is usually recorded, which you can then share with attendees or repurpose as gated content for further lead generation.
But as event planners, how do you move your events online, while still maintaining your brand presence and ensuring engagement for all your important customers? Here's how!


---
1. Find the right video streaming partner
To run a successful hybrid or virtual event, you will need a trusted partner to deliver seamless, high-quality video streaming services. When choosing the right company for you, consider factors such as the size of your audience, the user experience of the platform, or any additional support provided.
For example, if you need a video production crew to help with video equipment and other logistics, choose a video streaming service that can help or bring in trusted vendors.
Some video streaming services currently in the market are:
Enterprise solutions
Brightcove: A full-suite video content management service that goes beyond streaming, Brightcove's premium services include a dedicated account manager and a host of consulting services, as well as seamless integration with marketing automation platforms. Click here to see a sample of how Brightcove and Pigeonhole Live can work together.
ON24

: This webinar platform offers data-rich insights to help you maximize audience interactivity. The ON24 Webcast Elite systems have also been praised as "intuitive" and "visually-appealing".

Kollective

: As a Microsoft partner, Kollective allows you to instantly scale your Microsoft Live Events in Teams, Stream, or Yammer, and offers live event analytics and Video on Demand (VoD).
Simple solutions
Zoom

: A popular no-frills webinar option for its ability to integrate with both Google and Microsoft Office calendars, Zoom allows for private and public chats between attendees, and is free for the first 100 participants.

GoToWebinar

: An all-in-one tool that even comes with built-in webinar templates, automated email reminders, automatic recordings, audience engagement tools, and more. It also integrates with certain CRM platforms like Salesforce and Unbounce.
---
2. Build a branded landing page for your virtual event
Branded landing pages are a great opportunity for you to showcase your corporate presence. In addition to giving an overview of your virtual event, a landing page is also a means for you to disseminate any relevant handouts or materials (much like at an in-person event) to your attendees.
It's simple and easy with solutions like Brightcove Gallery's Live Event template, which will allow you to maximize brand exposure with a pre-event holding destination, a live stream event page, and a post-event video archive. ON24 also has a content hub template for you to park all your videos in one place, manage breakout sessions, and provide keynotes to keep your audience on track.


---
3. Engage your audience with live Q&A, polls, and surveys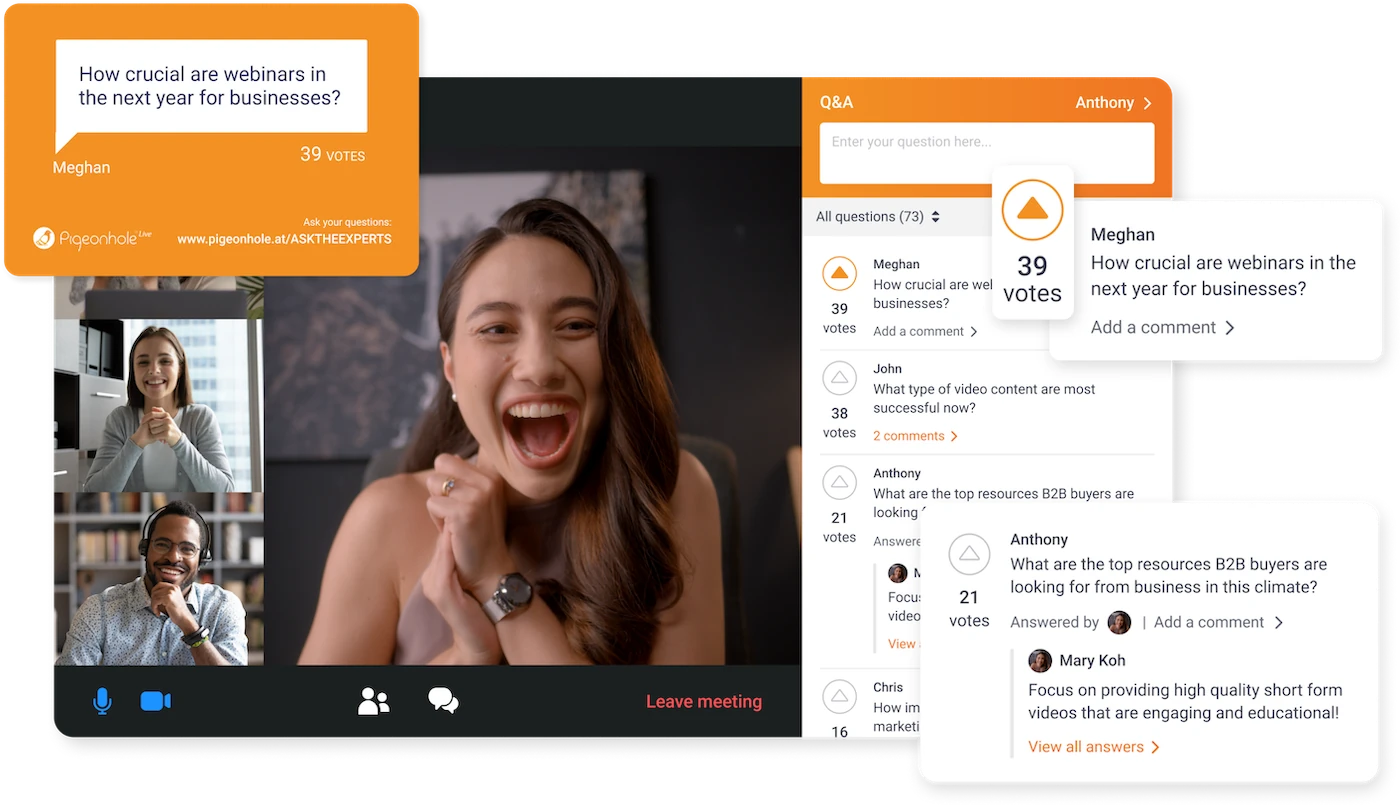 Audience attention is a challenge at any event, whether in-person or virtual. But with the technology on the market today, virtual events can be more enjoyable and engaging than ever before.
When converting your in-person event into a live stream one, keep your audience engaged by:
Sending timely announcements and updates

Crowdsourcing questions and infusing them into your presentation

Running live polls and quizzes

Organising a live Q&A segment

Capturing feedback
To make it easier for audience participation, try positioning the live Q&A just beside the video player. Presenters can choose to address questions collectively in a specific Q&A session, or spontaneously weave in highly voted questions into the ongoing conversation and keep the audience actively listening.
Nest live polls and surveys, and push them to viewers at the right time throughout the event to break through monotony and ramp up engagement. You can even use the live insights as a potential talking point. After the event, send out a survey to gather immediate feedback so you can improve on your next one.
And if you're using Pigeonhole Live for any of the above, there's even a branding feature that allows you to customize the look with your corporate logo and color scheme.


---
4. Use data to customize the audience experience
Virtual events are a great way to generate leads—because attendees are already on their devices, getting them to fill in their information is extra seamless and convenient!
A great way to make your virtual event extra memorable is to use the data you've collected to add value to your attendees. You can do this by profiling your audience or organizing your participant data to provide more insights-driven and customized experiences.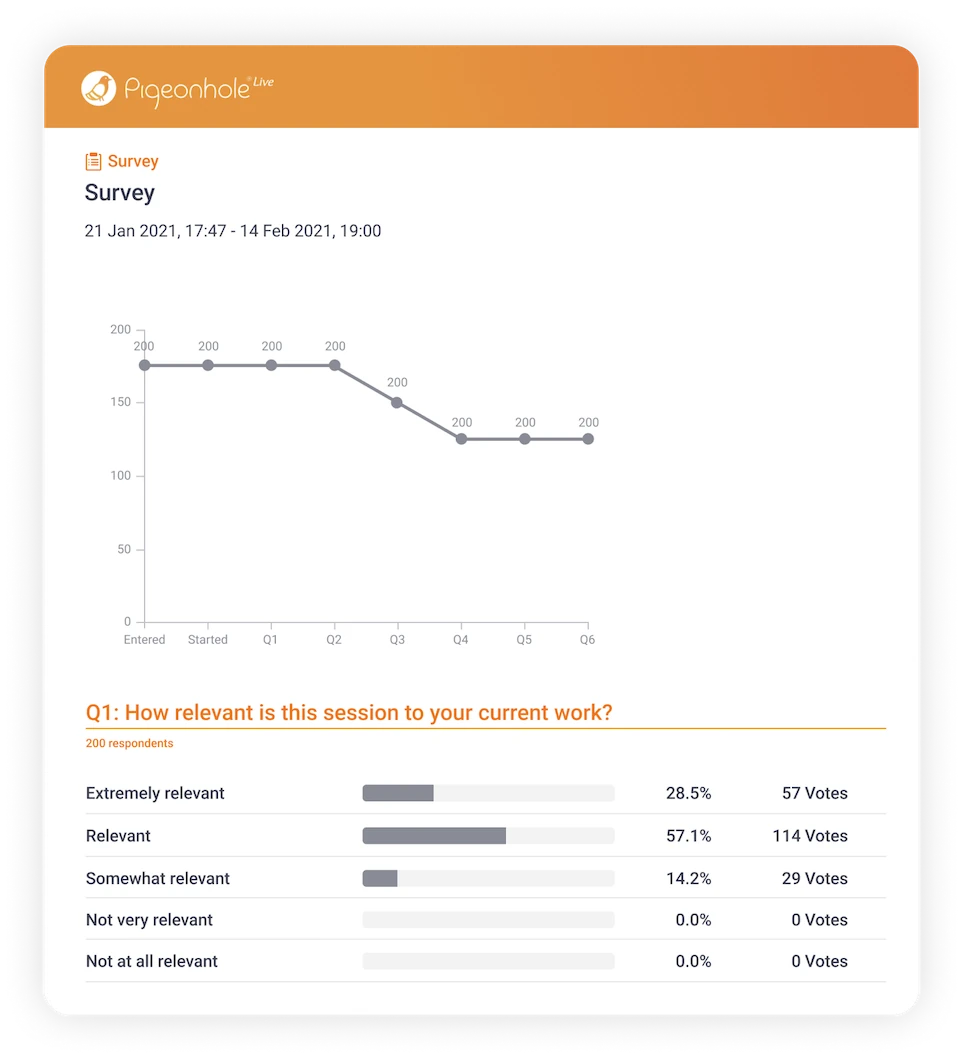 For example, Pigeonhole Live allows you to set information fields you wish to collect from attendees when signing in. As an organizer, you can use this data as part of your CRM efforts to seamlessly offer additional content or services—whether pre-, during, or post-event—that would be relevant to them individually.


---
Offer the best of both worlds
As industries continue to digitalize, more and more event planners and organizers are seeing hybrid events as a way to capture the best of both worlds—the corporate branding opportunities of large-scale in-person events and the convenience, longevity, and wider reach of virtual events.
So whether you're a company looking to add virtual events to your marketing strategy, or an event planner looking to diversify your offerings, now is as good a time to start as any!
Ready to make your in-person event a virtual success?