Events
Announcing new pricing plans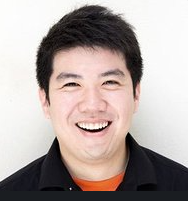 Joon
February 2, 2023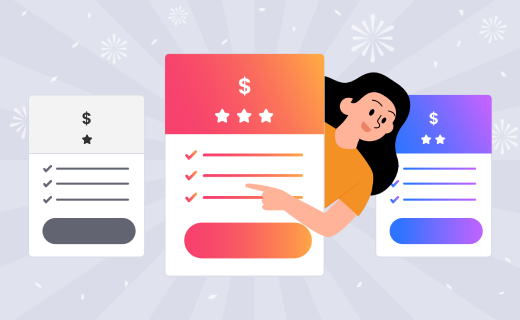 With the evolution of the new normal for meetings and events, our team has been hard at work to build a versatile and powerful audience engagement tool that works seamlessly for in-person, virtual, and hybrid events and meetings alike.

Today, we are excited to announce our new pricing plans –starting 2nd February 2023– that will provide more flexibility and value to our users.

New: Meetings and Events Plans
As the hybrid format becomes the new normal, even for everyday meetings and presentations, it's critical for audience engagement tools like Pigeonhole Live to be incorporated so meetings and events remain inclusive, engaging, and productive, wherever their audiences are.

Find out how Pigeonhole Live powers up your hybrid meetings and events

With that in mind, we wanted to introduce new Meetings Plans that makes Pigeonhole Live accessible to more users regardless of the scale of their meetings. The new Meetings Plans aims to provide more value at an affordable price while offering our users more flexibility in selecting plans based on the features most suited for their meetings and smaller events.

Over the years, we also noticed that our customers had distinct needs when running smaller meetings as opposed to large, complex events. The new range of Pricing Plans also reflects the growth of our product into two distinct solutions for Meetings and Events that complement the different needs our customers have.

So, whether you are running a team meeting with less than 100 people or a complex, multi-track event with 5000 attendees or more, we have designed a plan that will meet your needs. With that, let us guide you through the new range of Pricing Plans and how to select a plan that fits your needs.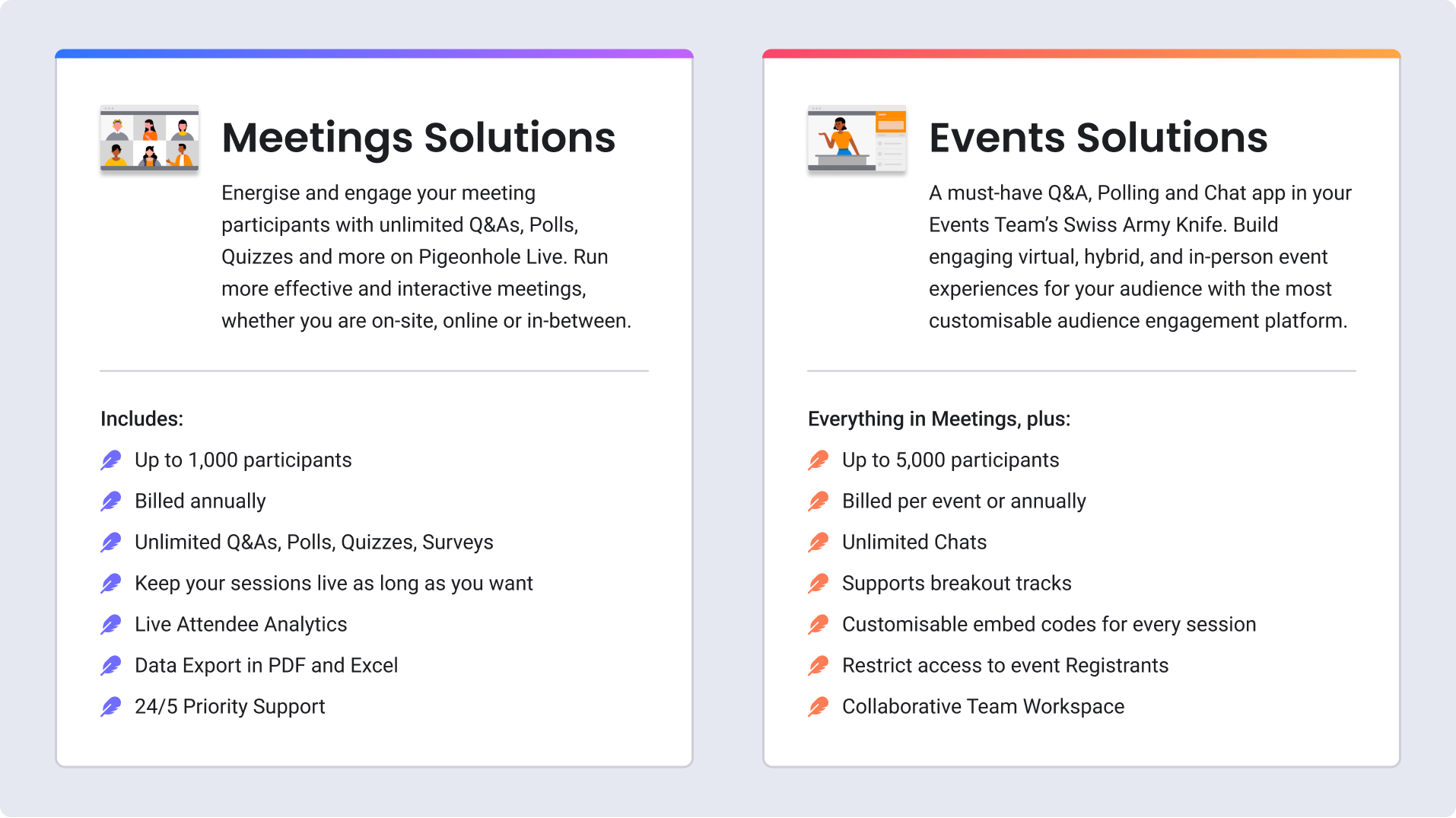 Meetings Solutions
Pigeonhole Live's meetings solutions was created for small businesses, smaller divisions of enterprises, solo presenters, webinars and events with less than 1000 attendees. With prices as low as $8/month, smaller teams can get started with our product at an affordable price and upgrade to a higher plan as their needs grow.
The meetings solutions comes with unlimited Q&As, Polls, Quizzes, and Surveys, as well as complementary integrations with meeting tools like Zoom Meetings, Zoom Webinar, Webex, and Microsoft Teams so your virtual and in-person participants have a common space to ask their questions, vote on a poll or compete to win a quiz, during the meetings. Pigeonhole Live's meetings solutions also comes with an unlimited duration per meeting so you can engage your team effectively during live sessions as well as asynchronously.
Here's the meetings solutions at a glance: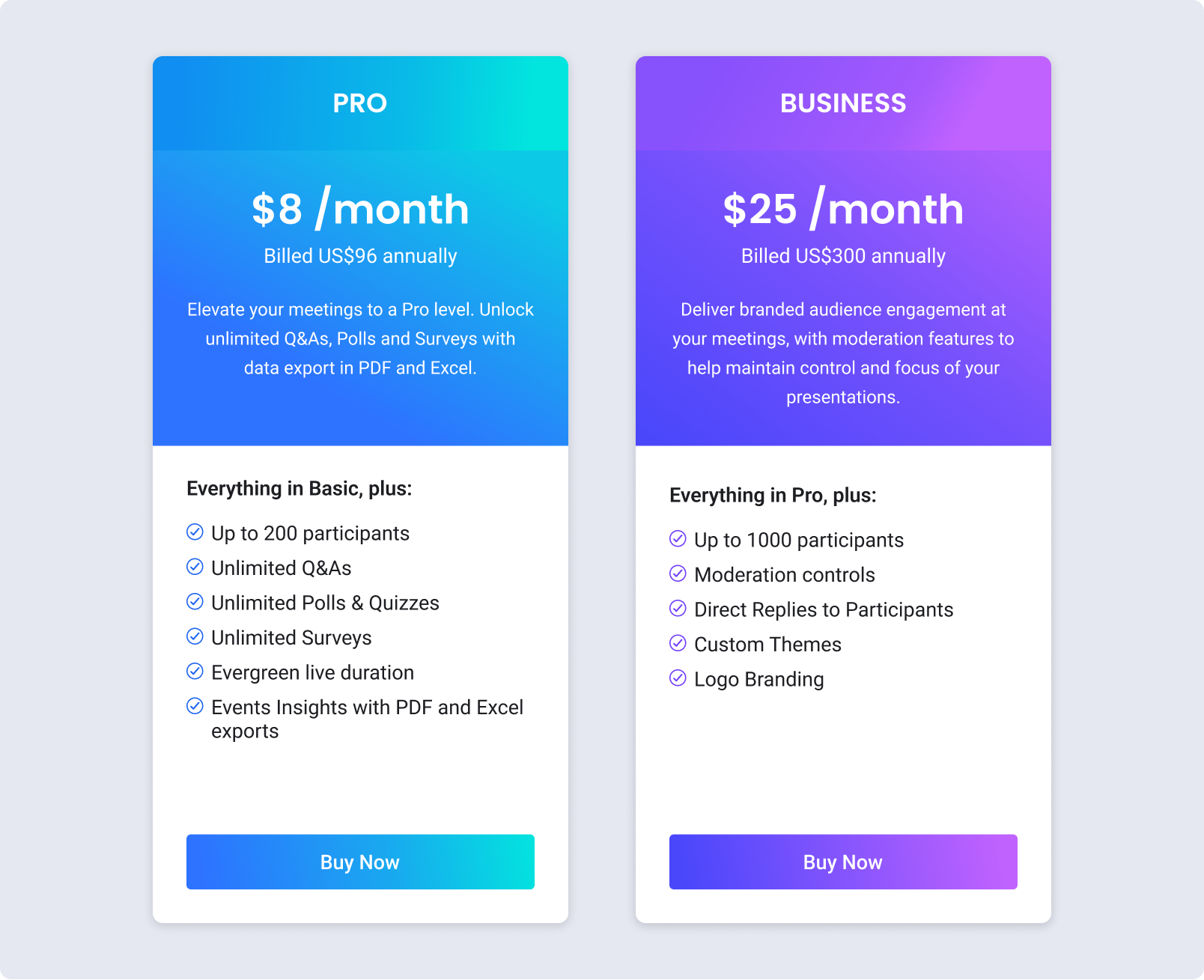 Pro
The Pro plan is the entry-level plan that packs a punch, especially if you run small meetings with less than 200 participants. Starting at just $8 per month, you get unlimited Q&As, Polls, Quizzes, Surveys, evergreen event duration, and downloadable PDF and Excel report with raw data that you can repurpose for analysis, after your meetings.
Business
Our Business plan is the perfect upgrade if you have up to 1000 participants every meeting and require more options for audience management. Our business plan supports all the unlimited interactive features of the Pro plan and tops it off with advanced moderation controls and direct replies to individual attendees. Meeting owners can then have more control and focus on driving engagement in your sessions. It also comes with custom themes and logo branding to keep with your meetings on brand.
Events Solutions
The events solutions is designed for large, complex, multi-track events like hybrid or virtual conferences, all-hands meetings, or leadership events with up to 5000 attendees. It comes equipped with advanced event management and admin collaboration tools, integrations with leading event platforms, and features to engage and manage large groups of live audiences.
Here's the events solutions at a glance: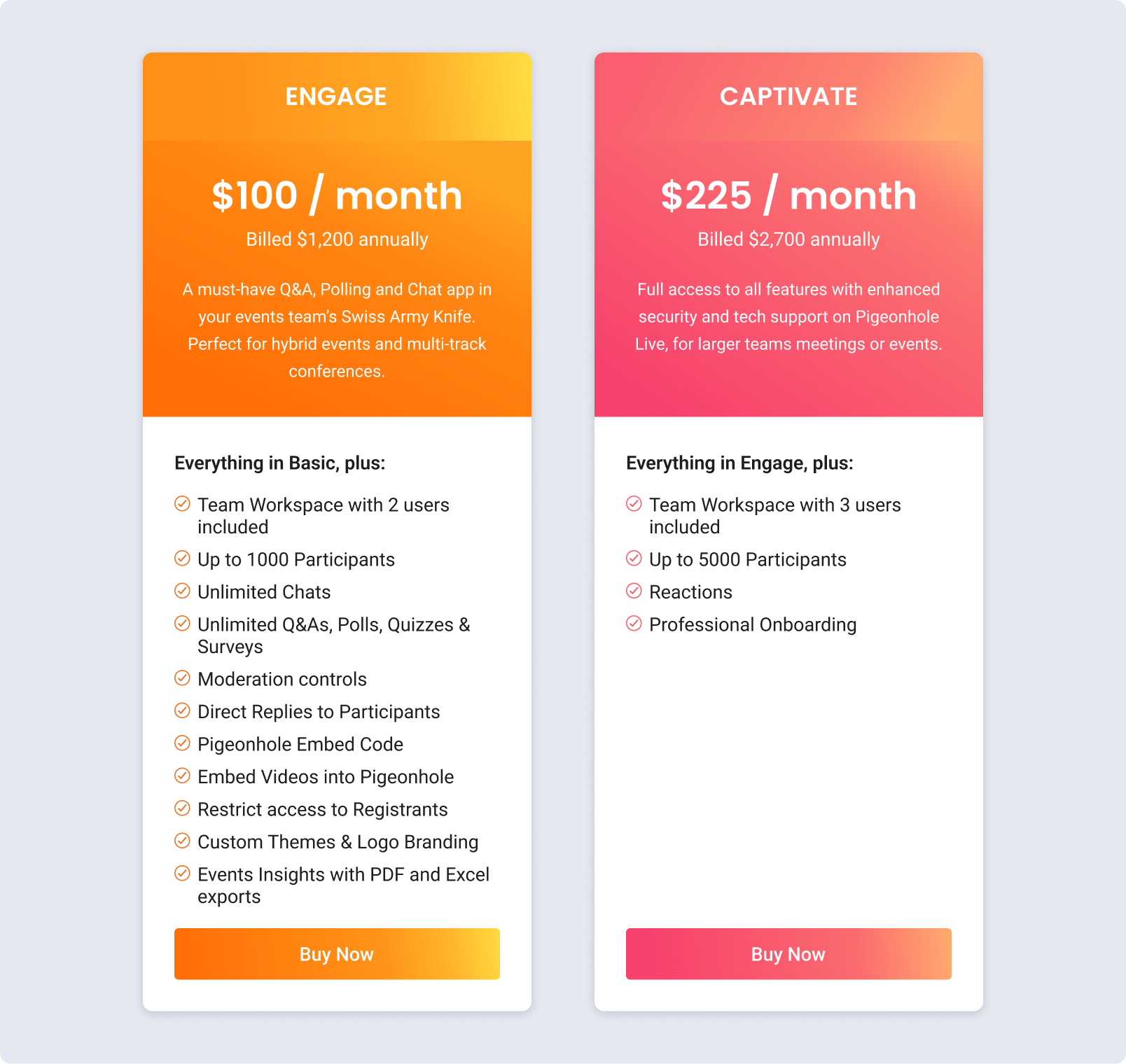 Engage
We have kept our most popular Engage Plan, and made it more powerful with upgrades designed for teams that runs smaller events with up to 1,000 participants. We have added Live Chat support, two-factor event access code, advanced Agenda customisations and advanced Q&A Settings, in our new Engage Plan. Of course, it still comes with a full suite of unlimited Q&As, Polls, Quizzes and Surveys, so you can freely engage your audience and add as many sessions as you want for your speaker sessions.

The engage plan also comes equipped with audience management tools like moderation control to keep Q&As and Chats a pleasant experience for everyone and Direct Replies that help you reach individual attendees discreetly.

Keeping with the needs of event organisers, you will have the flexibility to embed Pigeonhole Live into any event platform of your choice via our custom embed code or select one of our many integrations with leading livestreaming platforms.

Captivate
The Captivate Plan includes all the great features of the new Engage Plan, with the addition of a participant capacity of 5000 and live Reactions that helps you keep your audience engaged and have a pulse on your audience throughout your livestream.

For our customers who are using Pigeonhole Live with your preferred event platforms, we have included Tracking Attendees based on External ID, so it will enable a seamless experience for your event registrants to access Pigeonhole embed through your event platforms and made it easier for event organisers to synchronise the tracking of their interactions via reporting.
The Engage and Captivate plans may be purchased on a one-time basis or as an annual subscription depending on your event needs. Our annual Engage and Captivate plans also come with a team workspace so you can collaborate easily with your organizing team to create and manage the different sessions in your event.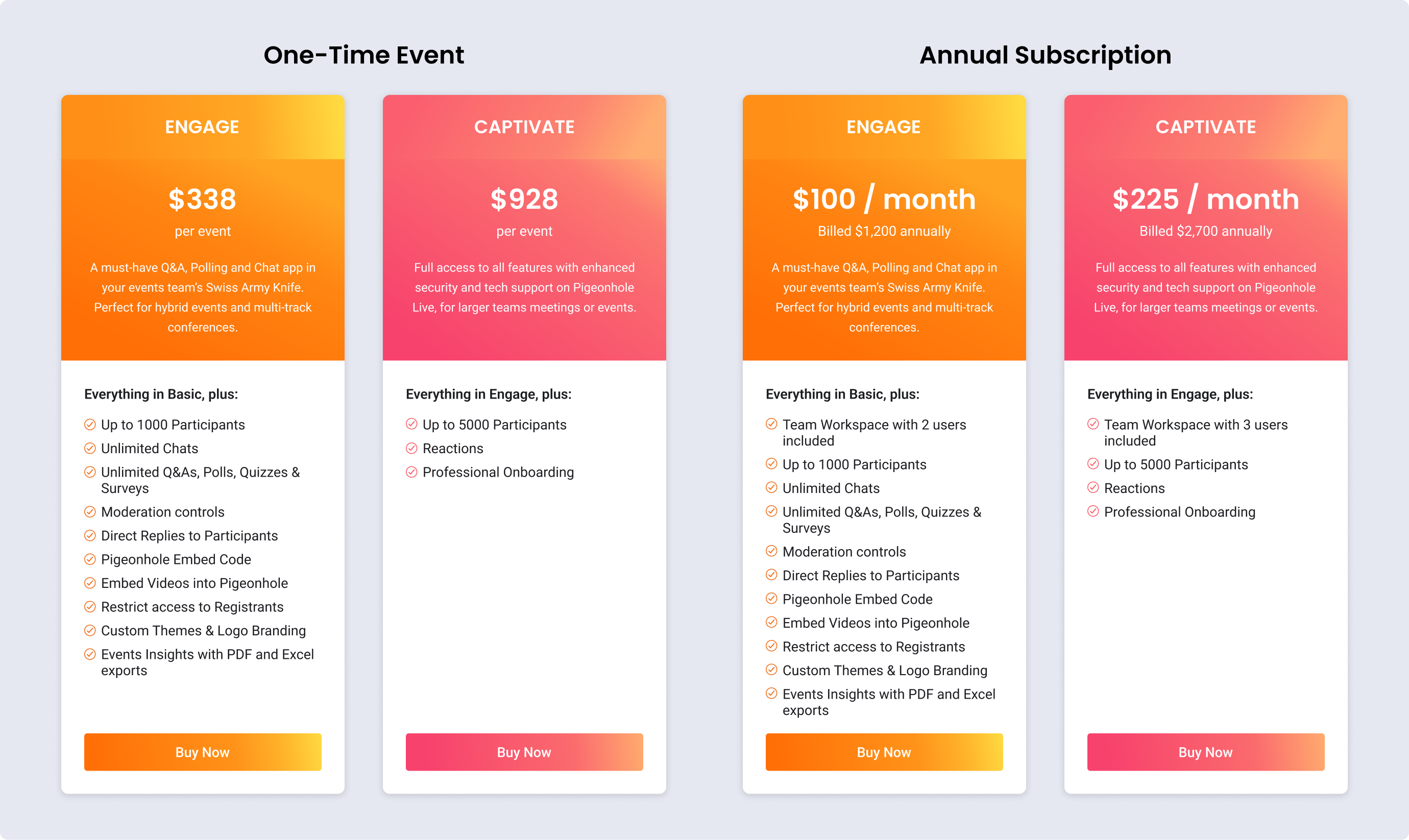 When to ch

oose a one

-

time plan versus an annual subscription for your events

solutions?
The best way to decide is to consider the following questions:
1. How many events do you run in a year? How many attendees are you expecting per

event?
If you run more than two events a year with up to 5000 attendees, you will get more value out of an annual Captivate subscription.
Alternatively, if you plan to only run one event per year with a maximum of 1000 attendees, then we recommend you get a one-time Engage plan.
2. Do you need a team workspace to collaborate with your team members to set up the event and moderate Q&As and Chat sessions during the event

?
If your answer is yes, you will need to opt for the annual Engage or Captivate subscription that comes with a team workspace with 2 and 3 users included respectively.
You will also have the option to add additional team members at $30/month or $50/month respectively.
Enterprise Plans
If your organisation requires specific features, customisation, and security requirements, we also offer bespoke Enterprise plans that will be designed to meet your unique organisational needs.
Our Enterprise plans support advanced features and admin capabilities, such as:
Supports

more than 5

,

000

participants per event

Centralised user provisioning

(SCIM)

Centralised management and enforcement of user policies

SAML based SSO for

Admin, User, and Attendee logins

Custom branding on all interfaces

Custom API integrations with Brightcove, Hopin, Bizzabo, Socialive, Swoogo, RainFocus

and more
Enterprise plans also come with a dedicated success manager who will work with you to onboard your team, support implementation, and ensure that you get the most value out of your plans. Please get in touch with us if you would like to find out more about our Enterprise offering.
Our free forever Basic Plan



We will continue to offer our Basic plan that is completely free-of-charge for you to try out Pigeonhole Live at your meetings and events. On top of the Q&A and Polls, we have added more support for Survey and downloadable Insights reports in PDF format.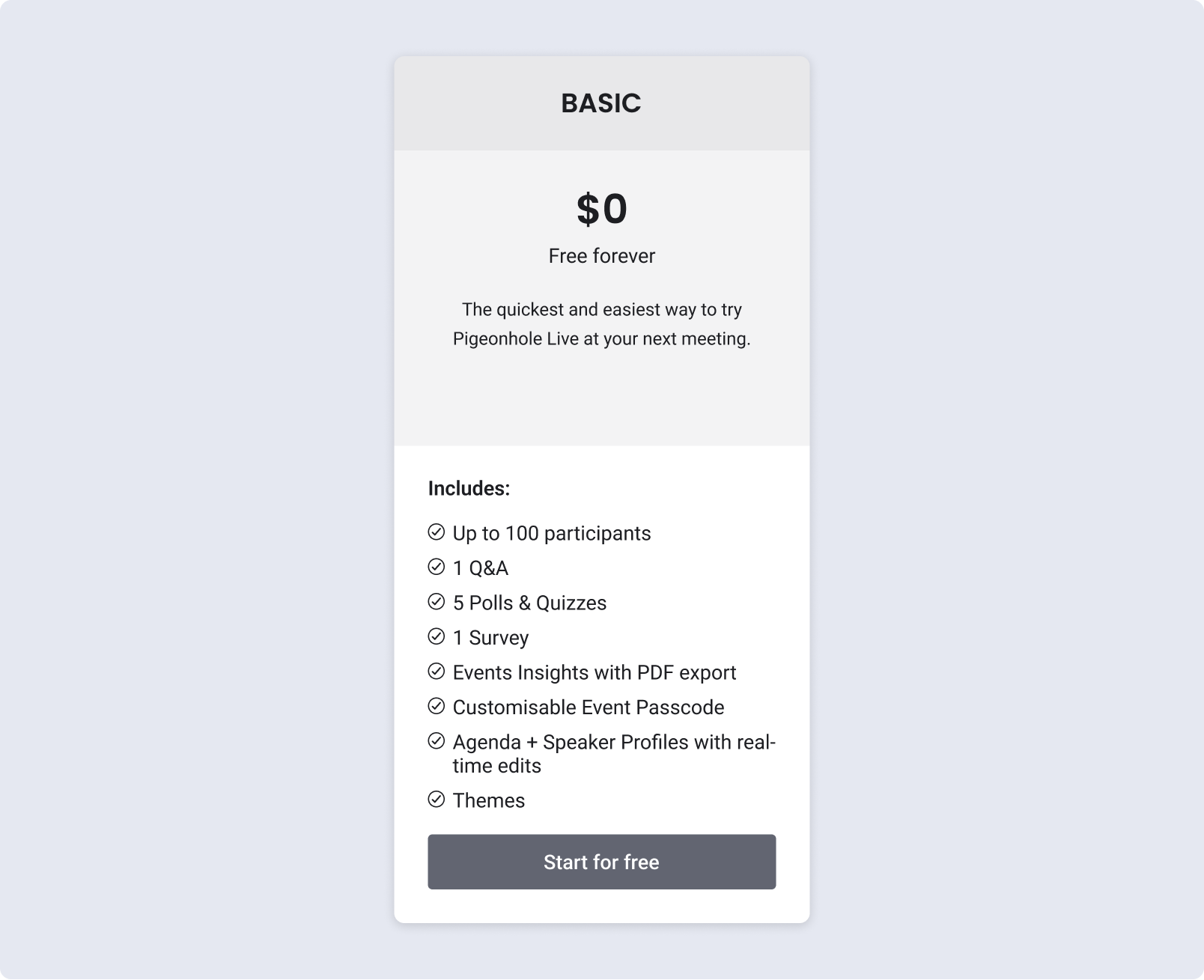 If you are not ready to commit to any of our premium plans yet, the Basic plan remains a great place to start and put Pigeonhole Live to a test within your meeting or event workflow.
We believe that these new pricing plans will make Pigeonhole Live more accessible to a wider range of users and help you to achieve your interaction goals at your meetings and events more effectively. We appreciate your continued support and we can't wait to see how you will be using our new Basic, Meetings and Events Plans.
If you have any questions or feedback, please don't hesitate to reach out to us. If you have an existing subscription using our old pricing model, be sure to check your inbox for emails from us with more information!